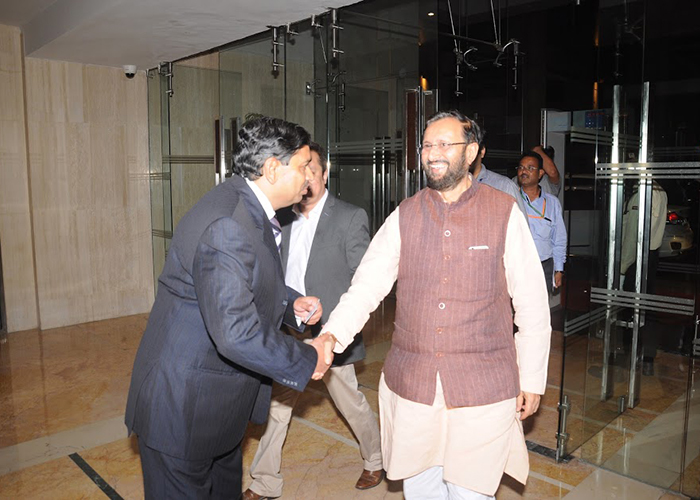 Mail Today Education Conclave 2016 of India Today Group, held at Lalit Hotel, Barakhamba Road, New Delhi on 19th July was the meeting ground for some of the finest minds in the education sector. Global Indian International School (GIIS) participated in the summit of government ministers, chairpersons and renowned educationists to discuss and identify the key growth factors in the education industry.
Can we create a platform where we can identify the uniqueness in children and then develop that uniqueness? Creating the ability in a child to understand and explore is the source of creating happiness.
- Kamal Gupta
COO, Global Schools Foundation,
Singapore
Teachers are central to our project of bettering the quality of education. Teachers who only teach are not good. Those teachers are good who have dreams in their eyes and transfer them to their students.
- Prakash Javadekar

Minister of Human Resource Development
Rao Inderjit Singh, Union Minister of State (IC) of Niti Ayog, in his inaugural speech spoke of Haryana becoming the future education hub and the various initiatives of the government towards achieving the same.
This was followed by a series of panel discussions on transformation of education at the national level. The topics ranged from school learning to higher education, blended curriculum, role of technology to innovation and skill development.
Mr. Kamal Gupta, COO Global Schools Foundation (GSF), while addressing the august gathering of educationists and policy makers spoke about textual and contextual learning. According to him, in order to achieve comprehensive child development, schools should become centres for innovation and incubators for ideas. Thus, creating a platform for students to push their benchmark and become entrepreneurial in their approach to problems and situations. Mr. Gupta referred to the 9 GemsTM holistic learning framework of GIIS which assists in achieving maximum learning outcome in every student.
Rajiv Pratap Rudy, Minister of State (IIC) Skill Development & Entrepreneurship described 'looking beyond the classroom' - an effort of the government which would include vocational skills as part of regular schooling, while bridging the gap between unskilled youth and industry requirements. Adding to the initiative on skills and employability, Abhishek Mishra, MoS for Vocational Education and Skilled Development, Govt. of Uttar Pradesh explained that a major step has been taken to create world's largest skill development programme in India.
Vinay Sheel Oberoi, Secretary, Ministry of HRD shared snippets of the new education policy based on collaboration, connectivity and empowerment.
Prakash Javadekar, Union Minister of Human Resource Development in his valedictory address spoke on the importance of 'quality' in education in terms of resources and reach. Promoting inquisitiveness in students so that they have the power to innovate and make a sustainable country needs a collective effort of both states and education institutions. He urged Public Private partnership for development of quality education infrastructure.
It was an enriching knowledge sharing session and was of great value to the audience who largely belonged to the educational fraternity.