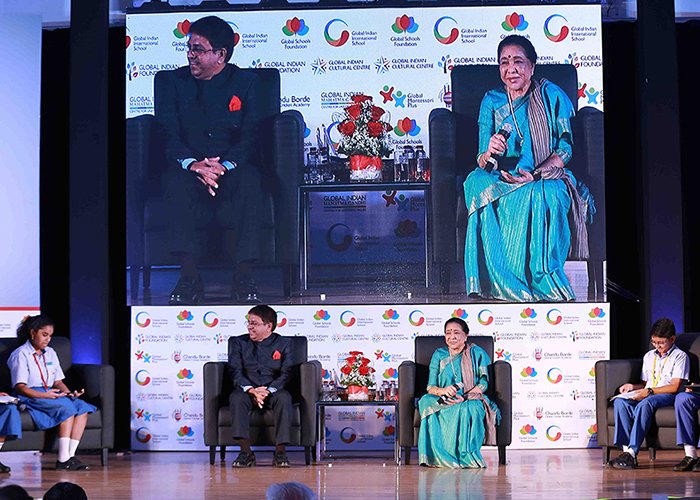 Global Indian International School, Al Barsha -Dubai, hosted Asha Bhosle as the first guest to be part of its iconic Leadership Lecture Series. After receiving a ceremonial welcome by the Principal, faculty and students, Ms. Bhosle paid her tribute to Gandhiji by garlanding his statue. She then interacted with our little kindergarteners, who won her heart with their innocence. The melody queen of Bollywood spent more than an hour fielding questions from students at the event.
Speaking on the occasion, she advised children to concentrate more on studies than get addicted to online diversions, like games and social media. Ruing her lack of command over the English language, she also advised students to imbibe the best of educational practices that would truly make them global citizens.
Leading by example, she shared with students how she continues to learn even today through books in Marathi and Hindi and how she stays updated on the world, via other mediums. She exhorted the children to be lifelong learners. "Only those who work hard day and night and strive in their work can be successful," said Ms. Bhosle, who has recorded over 12,000 songs in her career, which began in 1943.
"Her visit is a continuing attempt to introduce bona-fide examples of leadership so the students may imbibe the virtues they entail", says Atul Temurnikar, Chairman and Co-founder of Global Schools Foundation. He further adds, "It is not only her talent but her perseverance, commitment and discipline that have earned her numerous accolades over a long period."
Besides the students from Abu Dhabi and Dubai, who were present at the event, GIIS Campuses across the globe, too, became part of the series, via live internet broadcast. Students had a wonderful time, interacting with the legend and imbibing her energy and joy for life.