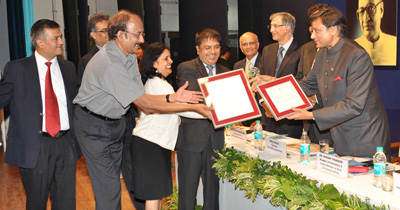 L-R, Mr Kaustubh Bodhankar, Mr B G Shenoy, Mr Harish Doraiswamy, Ms Melissa Maria, Mr Atul Temurnikar, Mr Niranjan Hiranandani, Mr Niraj
Bajaj, Dr Shashi Tharoor and Mr Rajiv Vasudeva

L-R, Mr Rajiv Vasudeva, Mr Harish Doraiswamy, Mr B G Shenoy, Ms Melissa Maria and Mr Atul Temurnikar receive the IMC RB NQ Award citation and certificate from Dr Shashi Tharoor
The National quality award in India, the Indian Merchants Chamber Ramkrishna Bajaj National Quality award brings honour and exceptional recognition to GIIS Balestier Campus.

On April 6 2012, GIIS Sr Management team lead by Chairman & Co-Founder - GSF, Mr Atul Temurnikar, Principal - GIIS Balestier Campus, Ms Melissa Maria, Deputy CEO - GSF, Mr Kaustubh Bodhankar, Deputy CEO and COO - GSF, Mr Harish Doraiswamy, Director - GCEE, Mr B G Shenoy, and Director - GIIS Singapore, Mr Rajiv Vasudeva, received the prestigious award trophy, certificate and citation from Dr Shashi Tharoor, Member of Parliament and Former Minister of State for External Affairs in the presence of dignitaries Mr Niranjan Hiranandani, Vice-President, IMC, Ms Bhavna Doshi, President, IMC, Mr Niraj Bajaj, Chairman, IMC RBNQ Award Trust and Mr Suresh Lulla, Chairman, IMC RBNQ Awards Committee at the Y B Chavan Auditorium in Mumbai, India.

The award is an endorsement of highly commendable academic processes and perseverance of teachers, which have consistently encouraged young GIIS students to achieve their best potential. GIIS Balestier Campus has gained credit for providing delightful learning opportunities with an innovative Toy Room, a focus on Learning Styles and Multiple intelligence as well as ensuring parents are partners in the learning process. The campus has also made excellent use of the campus corridors to provide cognitive stimulation at subconscious level through the wall murals. The academic processes at the campus have been streamlined and monitored through Balance Score Card and other monitoring tools like PROMISE and correlations coefficients Index.

Congratulating the team, Mr Rajiv Vasudeva said, "Winning the IMC RB National Quality award has given GIIS Balestier Campus outstanding recognition for its educational

processes and commitment to ensure success for each child.

The entire school team has continued working with dedication towards nurturing the budding student talent with best academic and co-curricular programmes. I heartily congratulate the team of teachers and staff members, students and parents for this exceptional achievement."

Based on the IMC RB criteria, categories evaluated for the award were: Leadership, Strategic Planning, Customer Focus, Measurement Analysis and Knowledge Management, Workforce Focus, Process Management and Results. Out of the highest obtainable score of 1000 points, GIIS Balestier scored a high score of 792 points.

The IMC RBNQA is given to organisations for their exemplary achievements in excellence. The Indian National Quality Award is one of the most coveted awards in organisational excellence and GIIS made it through tough competition to get the Performance Excellence Trophy with a judging panel consisting of eminent personalities, including Mr Anand Mahindra, Chairman, Panel of Judges.

The IMC Ramkrishna Bajaj Indian National Quality Awards were instituted to give special recognition to excellence in organisations. The Award Criteria emphasise openness and transparency in governance and ethics, the need to create value for customers, and the challenges of rapid innovation and capitalising on knowledge assets. The IMC RB NQA is modelled along the lines of the Malcolm Baldrige criteria of the USA and follows a rigorous process of training and evaluation. The award programme is considered as a catalyst for nation-building.

In the 2011 awards cycle, the relative and absolute performance of each organisation has increased the threshold levels of recognition to make the competition tougher.