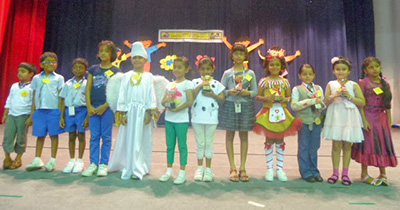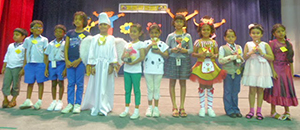 GIIS Balestier Campus, Singapore set up a search for the best storytellers In January 2014, with GIIS Weave-a-Tale, an inter-school storytelling competition for Classes 1 to 5 and presentation for Kindergarteners. Master storytellers arrived with much more than just enthusiastic spirits from all three GIIS campuses in Singapore.
In the first session, nine Kindergarteners put their imaginative skills to use and presented their stories in a friendly competition from across the three campuses. The tiny tots did credit to their young age when they presented the stories with great enthusiasm and zeal. The stories varied from Aesop fables and folk tales to stories with moral message.
GIIS Weave-a-tale presenters from Kindergarten
| | | |
| --- | --- | --- |
| Class | Student | Campus |
| K2 | Christy Mariam George | Balestier |
| K2 | Saayujya Jagirdar | Balestier |
| K2 | Nachiket Shrivastava | Balestier |
| K2 | Geethanjali V Balakrishnan | East Coast |
| K2 | Anushka Mallya | East Coast |
| K2 | Jyoditya Sisodua | East Coast |
| K2 | Aashika Khader | Queenstown |
| K2 | Praseeda V | Queenstown |
| K2 | Deoram Natraja | Queenstown |
The 45 master storytellers from Classes 1 to 5 mesmerised the audience and judges with a web of magic by recounting exciting stories, at a competitive level. Stories from all around the world unfolded with each knot of expert weaves accompanied by dramatic props ranging from artworks and puppets to costumes and masks.
GIIS Weave-a-Tale competition was based on the following topics:
Participants of GIIS Weave-a-Tale competition impressed the judges with their flair for creativity. The young masters were applauded for the efforts put in by them to bring the stories to life with expressive narrations, voice modulations and enacting skills apart from the creative use of props.
It also provided an opportunity for them to improve their confidence, sharpen their presentation skills and vocabulary. For many participants this may have been the first platform to begin a wonderful journey of stage performances.
GIIS Weave-a-Tale competition winners from Classes 1 to 5
| | | | |
| --- | --- | --- | --- |
| Class | Student | Position | Campus |
| 1 | Liana Tresa Martin | First | East Coast |
| 1 | Anshi Nanavati | Second | East Coast |
| 1 | Kashmira Pandit Rao | Third | Balestier |
| 2 | Srishti Sudarshan | First | Balestier |
| 2 | Sharanya Menon | Second | Balestier |
| 2 | Anika Rajesh | Third | East Coast |
| 3 | Nethra Menon | First | East Coast |
| 3 | Ankita Shridhar | Second | East Coast |
| 3 | Eashwar Balasubramanian | Third | Balestier |
| 4 | Abhinav Chilluveru | First | Balestier |
| 4 | Advik Unni | Second | Balestier |
| 4 | Abhinav Sridhar | Third | East Coast |
| 5 | Nevethita Bharati | First | Queenstown |
| 5 | Aanoushka Ahuja | Second | East Coast |
| 5 | Thygarajan Vinith Kumar | Third | Queenstown |