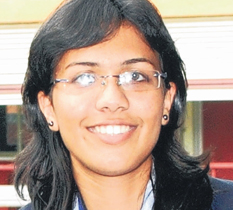 In tabla, (Singapore Press Holdings) Singapore
Perfect Score

GIIS' IB global top student talks about her journey to 45/45 points
BEFORE I joined the International Baccalaureate (IB) programme at the Global Indian International School (GIIS), 7 was yet another digit of the mathematical system for me. That changed after the IB orientation: 7 suddenly became my goal as it was the top score for a subject.

Now, after having achieved my goal – 45 points from a maximum of 45, by getting 42 points from the six subjects that are required and three points from the extended essay and Theory of Knowledge – I feel that my IB journey has definitely been a memorable one, with its share of joyous moments and challenges as well... a turbulent sea punctuated by occasional moments of calm.

Among all those tense moments, if there is one thing I enjoyed, it was the support I received from everyone: My friends, all the teachers and administrative staff at my school and of course my family. Believe me, every good wish counted.

There were times when I wanted to give up the quest for the perfect score, but my support system never failed me. Whether it was last minute doubts to be cleared in physics, mathematics or chemistry, my teachers were always there with unconditional support.

Apart from the studies, I also enjoyed participating in speech competitions, debates, drama,business plan competitions, basketball tournaments and service learning trips. Taking part in all

Star student... Nishi plans
to pursue a career in engineering.

these events has shaped a Nishi Anand who is ready for college... engineering has been a childhood dream I wish to pursue.

The basic mantra I have followed throughout my life is to work hard. Undoubtedly, success doesn't come easily and I too have had to put in a lot of effort. As a high school student, one's career plans should be of prime importance and the person who is able to focus completely on it is the one who achieves. Therefore, it is crucial that students follow a timetable that helps them be organised and focused on studies. Well, that worked for me... and I sincerely hope it helps every student who is reading this article.

I would like to end by quoting a man I admire for his corporate achievements. Infosys chairman N. R. Narayan Murthy, as he chaired the company's AGM for the last time, said: "I am an average person... and my little story should be a confidence-booster for every average person in the world (so)

that he or she can make a difference, at least in a small way, to this world."

That is what I would like to do... make a difference.

Awards for GIIS
ALL three GIIS
schools in Singapore
have won at
the annual
Global Performance
Excellence Award
(GPEA) in the
educational
excellence
category. GIIS
Queenstown was
awarded the
World Class award
(the highest award
in excellence)
while GIIS East
Coast got the Best
in Class award
(second highest
award) and GIIS
Balestier got the
Quest for
Excellence award
(the third highest
award). GPEA is
administered by
the Asia Pacific
Quality
Organisation and
acknowledges
world class quality
performances.
In The Telegraph, India
Teen aces global test

- Jamshedpur girl tops plus two in Singapore
Jamshedpur, July 6: A Jamshedpur girl has proved to Singapore that she is brighter than their best.

Nishi Anand (19), has created a record of sorts in the Southeast Asian country by bagging 45 out of 45 points in the International Baccalaureate (IB) diploma programme, results of which were out yesterday. A student of Global Indian International School, she is possibly the only student in Singapore to have done so.

Formerly an alumnus of Carmel Junior College and city topper of ICSE in 2009 with 98.2 per cent, success is not new to Nishi, but this time, its magnitude is staggering.

The IB, a global curriculum, offers diploma programmes equivalent to India's ISC or CBSE plus two, and are recognised by global universities. The IB programme was founded in 1968 by the International Baccalaureate Organisation, a non-profit outfit in Geneva, Switzerland. In India, only 74 cradles, called "world schools", offer the elite IB.

"It is amazing when your child performs like this," said the teen's

proud father B.N. Prasad, Bhalubasa resident and head of the mathematics department at Jamshedpur Co-operative College.

Not surprisingly, the middle class family is basking in the glory of Nishi's success. Prasad and his wife Meera, a Hindi teacher at Carmel Junior College, unanimously said their children Kumar Nishat (22), an engineering graduate from South Carolina who is currently working in the US and Nishi were "focussed on academic excellence from the very beginning" said Prasad.

What does Nishi feel about her remarkable achievement? The quiet girl, visiting her hometown, an annual event now, smiled. But her face lit up when asked about her plans. "I am keen to pursue engineering in Singapore. My SAT scores are good, so I may go to the US, but Singapore is closer home." It is an understatement to say her SAT scores are "good". Nishi scored 2,400 in SAT reasoning test, which makes her the toast of the US Ivy League colleges.

Surprisingly, the girl, who wants to pursue engineering and work in

Nishi Anand at her Jamshedpur residence on Wednesday.

the corporate sector, is fond of Sufi music. After all, she's no ordinary topper.

She prefers Singapore's academia for not having any rat race. "Students are free to think for themselves instead of about marks only," she said.

So will it be National University of Singapore or Nanyang Technological University for now, or an Ivy League college in the US? Time will tell, but Nishi knows that the world is her oyster.