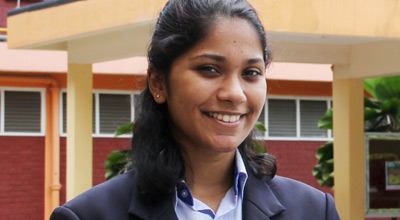 History has repeated itself with GIIS producing yet another 'World Topper' with Nishi Anand scoring a perfect 45 at the International Baccalaureate Diploma Programme Examination, giving credence to the world-class education it promises.
Following closely are Radhika Kannan, Subir Roy and Sudip Roy with near perfect scores of 44.
The stupendous achievements of Nishi Anand, Radhika Kannan, Subir Roy and Sudip Roy have propelled GIIS to be head and shoulders above many other IB schools the world over. The school's subject average stands tall at 5.42 with about 38.7% students scoring 37 and more points.
Nishi Anand has acquired the highest possible IB fulfilling her personal goal and dream and those of her teachers. With equally remarkable scores of 44 are the meritorious students - Radhika Kannan, Subir Roy and Sudip Roy, further contributing to bringing recognition to the alma mater as being an educational institution par excellence.
The distinctive performances by GIIS students will serve as inspiration to the forthcoming batches and has spread a sense of success and euphoria among the members of the school community.The results speak volumes of the efforts put in by the team of teachers and students. The delight and pride of the teachers is evident in words and their beaming faces.
Achieving a 7, the highest grade possible in any IB subject is a feat worthy of celebration and the school congratulates the GIIS IB students for their exceptional scores.
Nishi Anand
(7-In all Subjects)

Subir Roy
(7-In 5 Subjects)

Radhika Kannan
(7-In all subjects)

Sudip Roy
(7- In 5 subjects)
Geetanjali Kannan, IBDP Coordinator:
"I am happy and proud the IB batch of 2011 has produced such excellent results- a testimony to the dedication and commitment of the IB team and the efforts of the students. The months of planning and streamlining the processes of benchmarking, conducting intensive coaching and the focused attention paid to students of concern has stood us in good stead as all our students were well equipped to handle the rigor of the program and the exams."
Sanghamitra Gupta, HOD English and IB English teacher:
"It is always a challenge to teach the IB English programme for reasons such as it being a subject all students are compelled to take. Being Language A, it is of an extremely high and demanding standard and we always deliver to cohorts of mixed abilities. It has been a very gratifying experience to teach the batch of 2011 with some very gifted students. All students, even those who started with some weakness, have toiled hard to overcome every thorn the IB English path is beset with- dealing with 11- 15 texts, oral commentaries, world literature essays and examination papers. It is such a sense of pride and contentment I feel today. It has once again been proved that constant guidance and supervision can never fail to bear fruit."
Overall Outstanding performers:
| | |
| --- | --- |
| Name | Score |
| Nishi Anand | 45 |
| Radhika Kannan | 44 |
| Subir Roy | 44 |
| Sudip Roy | 44 |
| Abhishek Aiyer | 39 |
| Sikha Bagaria | 39 |
| Kinnari Gurnani | 39 |
| Siddharth Boyanapalli | 38 |
| Priyadarshini Majumdar | 38 |
| Shashi Kumar | 37 |
| Aishwarya Tandon | 37 |
| Niharika Iyengar | 37 |