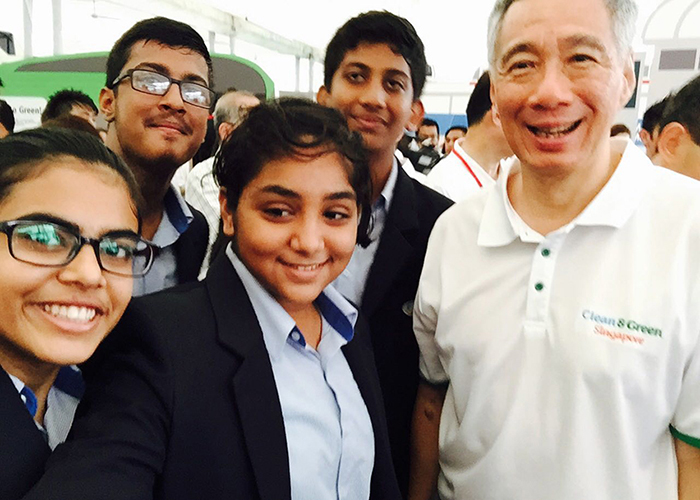 GIIS East Coast Campus (EC) was invited by The Public Hygiene Council of Singapore to participate in the 'Clean and Green Carnival' as partners to support the Clean and Green Singapore (CGS) campaign on (5 Nov). This is an initiative of the National Environmental Council. In addition to this initiative, Singapore's eminent leader, Mr Lee Hsien Loong, Prime Minister, Singapore launched the carnival and he interacted with GIIS Students who felt honoured to meet and interact with him in person.
In his speech, he told the audience that he makes it a point to join the carnival every year as it is a reminder of the importance of keeping Singapore clean and green, and to never take it for granted.
Getting to where Singapore is today took a lot of effort, and the Republic can be proud of what it has built so far, he said in his speech.
Students from GIIS EC Campus, Suneel Nadipalli, Class 10C, Akhil MN Class 10C, Riddhi Mate, Class 9C and Prachi Pranesh, Class 9D were accompanied by Ms. Lakshmi Balasubramaniam to the CGS Carnival.
Global Indian International School students also got an opportunity to set up a booth at the 'School Green Day' event held on (10 Nov) which was held at ITE College, East Campus.
Students explained the concept of Coco peat and composting to the visitors. Composting is a technique by which organic manure is prepared by using kitchen waste. GIIS EC has been practicing and promoting the use of Coco peat, an organic growing medium, which uses 70% less water and is reusable.
The (National Environmental Council) is an initiative that promotes a clean and green Singapore by creating campaigns that motivate people to adopt environmental-friendly habits. 'Clean, Green and Sustainable Singapore Carnival' is one of such events that is organised annually. The main idea of the carnival is to encourage people to care for and protect common spaces and the environment by adopting a clean, green and sustainable lifestyle. This year it was held on 5 to 7 November 2016 at the open field opposite Khatib MRT station.
Many local and international schools were invited to participate in the Carnival on (7 Nov). Students got a chance to view the winning projects of the Environment Challenge for Schools, large-scale interactive exhibits and they got a chance to take part in hands-on workshops and games. From GIIS EC Campus, There were 21 students from classes 6 and 7 who attended the carnival.
As a recognition for the sustained green efforts at East Coast Campus:
GIIS East Coast (Preschool) achieved the Daisy Sustained Achievement Award in the SEC StarHub School Green Awards 2016
GIIS East Coast (Senior Category) achieved the Lotus Sustained Achievement Award in the SEC StarHub School Green Awards 2016
Award certificates were given on (10 Nov) during the School Green Day ceremony at ITE College East Campus and the event was attended by Ms Low Yen Ling, Parliamentary Secretary, Ministry of Education and Ministry of Trade and Industry, Mayor, South West CDC.