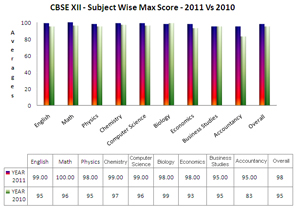 Dear Associates and Friends,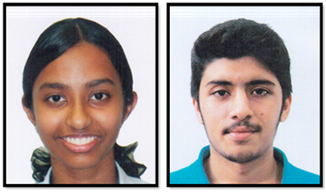 | | |
| --- | --- |
| Shruti Janardhan | Shubhankar Sohoni |
It is with immense joy, that I announce our exceptional results at the Class 12 CBSE examinations conducted in March, 2011. GIIS Class 12 students have created history with outstanding performances delivering what is possibly amongst the best outcome in SE Asia in the 2011 Class 12 exams and outshining, or at par with some of the best school results in India.
The GIIS team of students and teachers have shown their exemplary abilities by surpassing all expectations.
The top scorers for the school are Shruti Janardhanan who scored an impressive 98% followed by Shubhankar Sohoni with 97.4 %
The highlights of the CBSE Class 12 results are as follows:
100% result
98% of students scored above 70% aggregate
School Average stands at a high of 89.77%
87% of students have scored an aggregate of 80 % and above (400 and above out
of maximum 500)
54% of students have scored 450 and above out of maximum 500
100% students scored A1 grade in English, with 2 students scoring 99%
71 % students scored A1 grade in Computer Science
67 % students scored A1 grade in Maths, with 3 students scoring 100%
60 % students scored A1 grade in Physics
54 % students scored A1 grade in Chemistry
The excellent results provide the testimony to the exemplary academic standards at GIIS. Through out the year, our teachers consistently went beyond the call of their duty to ensure that students' enquiries related to any clarifications or their specific doubts were individually addressed. This speaks volumes about the commitment of our teaching faculty.
Academic rigour and excellence is the cornerstone of the GIIS philosophy and is achieved in several ways, including
Weekly cyclic tests combined with remediation and constant improvisations
Individual academic plans and mentoring
Intensive coaching by faculty
Time management (for curriculum completion and revision)
Bench marking Sessions

Let me share with you the personal thoughts of some of my academic colleagues…
K P Sheeja, Senior English Teacher, Coordinator, Class 9-10
"With our best ever CBSE results this year, GIIS Queenstown campus has continued to maintain its position and reputation for academic excellence. We are justifiably proud of the success of all our Class 12 students. The number of students achieving A1s in all subjects has made us proud. The students have benefitted from the benchmarking exercises, intensive coaching and regular class tests."
Shefalika Kumar Chitkara, Senior Secondary Economics teacher
"The intensive coaching with the key pointers given regularly ensured that the students performed their best. The students have always been able to approach the teachers with their problems and take test papers on a regular basis. The test papers have been formatted keeping in mind the students' capacity and then preparing each student for the Board exams accordingly."
S Vasudevamurthy, Chemistry teacher, Senior Secondary
"For Chemistry, my strategy included giving printed notes to the students. A special question bank encourages them to learn even the tough questions easily. We undertake remedial classes and revisions for the students to make them ready for the board exams."
S Sundaramurthi, Coordinator, Senior Secondary, CBSE
"For Maths, we prepared our students for a tough paper and when the students appeared in the board exams they found the questions very easy.
In all the other subjects, our worksheets which included the HOTS (Higher Order Thinking Skills), extra classes on Saturdays as well during the vacation in December 2010, special revision classes in January 2011 as well as grouping the students ability wise helped them to be thorough with each subject and produce such an excellent achievement. Most importantly our team of teachers and students were committed to their work."
The results at a glance:

School Toppers
| | | |
| --- | --- | --- |
| Name | Total (500) | Aggregate Percentage |
| Shruthi Janardhanan | 490 | 98 |
| Shubhankar Sohoni | 487 | 97.4 |
| Aditi Agarwal | 485 | 97 |
| P Varshini | 485 | 97 |
| Ishita Mittal | 482 | 96.4 |
| Prunoti Dutta | 482 | 96.4 |
| Shyamsundar Subramaniyam | 477 | 95.4 |
| Varun Sarwal | 477 | 95.4 |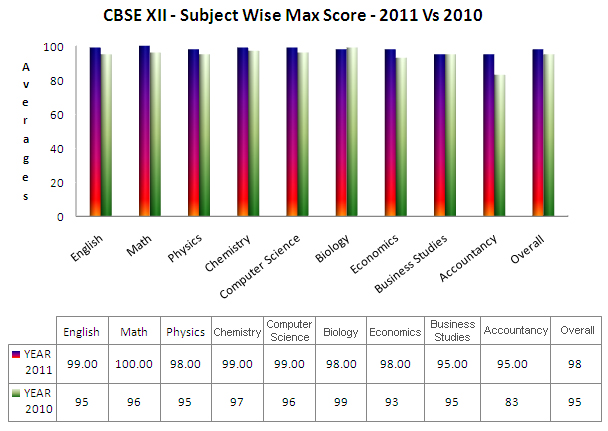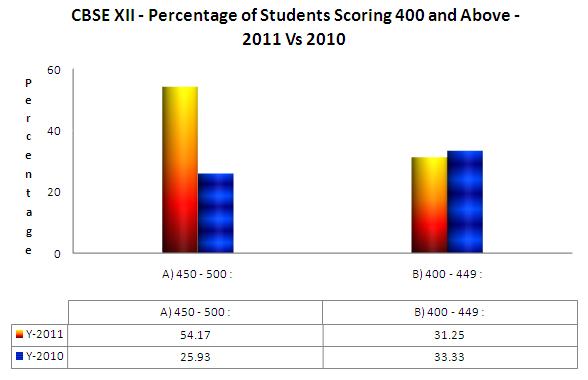 The GIIS Board and Management congratulates all our students on their exceptional achievement. Behind these excellent results, there is a tremendous amount of hard work, commitment and dedication from students, their families and teachers.
As I end this note, I remember what Alvin Price said- "Parents need to fill a child's bucket of self-esteem so high that the rest of the world can't poke enough holes to drain it dry."
Have a great weekend ahead.
Warm Regards
Rajiv Vasudeva
Country Director
Singapore