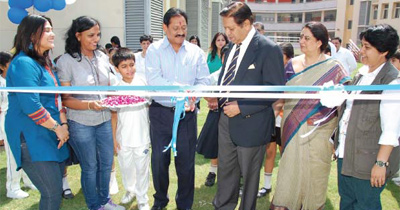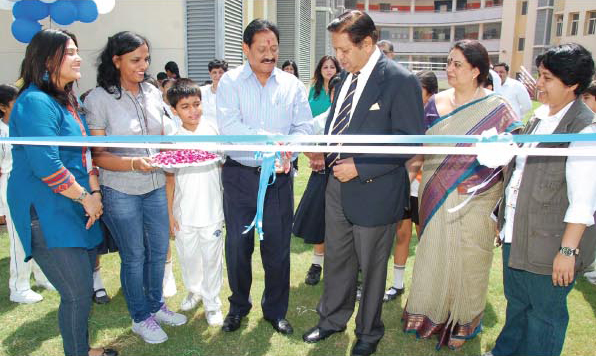 Mr. Chandu Borde Vice-president GSF and famous cricketer Mr. Chetan Chauhan inaugurated the cricket pitch along with Ms. Punam Singhal, Principal GIIS Noida.
GIIS students welcoming Mr. Chandu Borde, Vice-president GSF

Cricketer Chetan Chauhan being escorted by Ms. Punam Singhal, Principal GIIS Noida
& Mr. Rajeev Katyal, Country Director GIIS India
GIIS believes that education is not just about academics but about holistic development of an individual. CBGCA has customized cricket pitches for intense practice under the guidance of professional coaches.
The progress of children being trained at the CBGCA will be monitored by Mr. Borde himself, who will make periodic visits to mentor and guide the team to become one of the leading cricket teams in the future.
In the realm of cricket, Mr. Borde was the ex-captain of Indian National Cricket team and has been the Chairman of the Selection Committee of BCCI for two terms. In July 2007, he was appointed as the Manager of the Indian National Team. He has received various awards including Arjuna Award, Maharashtra Bhushan and Padma Bhushan in 2002.
Mr. Chandu Borde said, Indian Cricket has a very bright future. We have so much talent in our country today that we can easily field two teams. He further explained, in our days we didnt have anybody training us specifically in fielding but in the current scenario with support staff training the players, especially in fielding, our players are living up to their standards. Today, nobody hesitates to dive, take a tumble and attack the ball while fielding. He interacted with the children and encouraged them to become the finest cricketers of our country.
To grace this occasion GIIS was proud to have Mr. Chetan Chauhan, Vice-president Delhi District Cricket Association (DDCA), and a well-known cricketer who played 40 test matches for India as the Guest of Honour. He addressed the GIIS parents as the custodians of their childrens health and urged them to avoid feeding junk food. I advice you to let your kids go out and play for 2 hours daily so that they remain fit and you must ensure that your child is into some sporting activity between 4p.m. & 6p.m. This will help them avoid watching TV and spend their time in pursuing a good sport.
Mr. Borde fondly meets the future
GIIS Cricketers

A moment of celebration as the pitch
gets inaugurated
GIIS cheerleaders dance and
jumped to heighten the spirit

Mr. Chetan Chauhan
hits the ball

A master stroke from
Mr. Chandu Borde
Left to Right : Mr. Rajeev Katayal,
Country Director, Ms. Punam Singhal,
Principal GIIS Noida, Mr. Chetan
Chauan,Vice-president (DDCA), Mr.
Chandu Borde, Vice-president (GSF), Mr
. Harish Doraiswamy, Deputy CEO
& COO

A moment of joy and pride for
GIIS Parents
Media Snapshots -