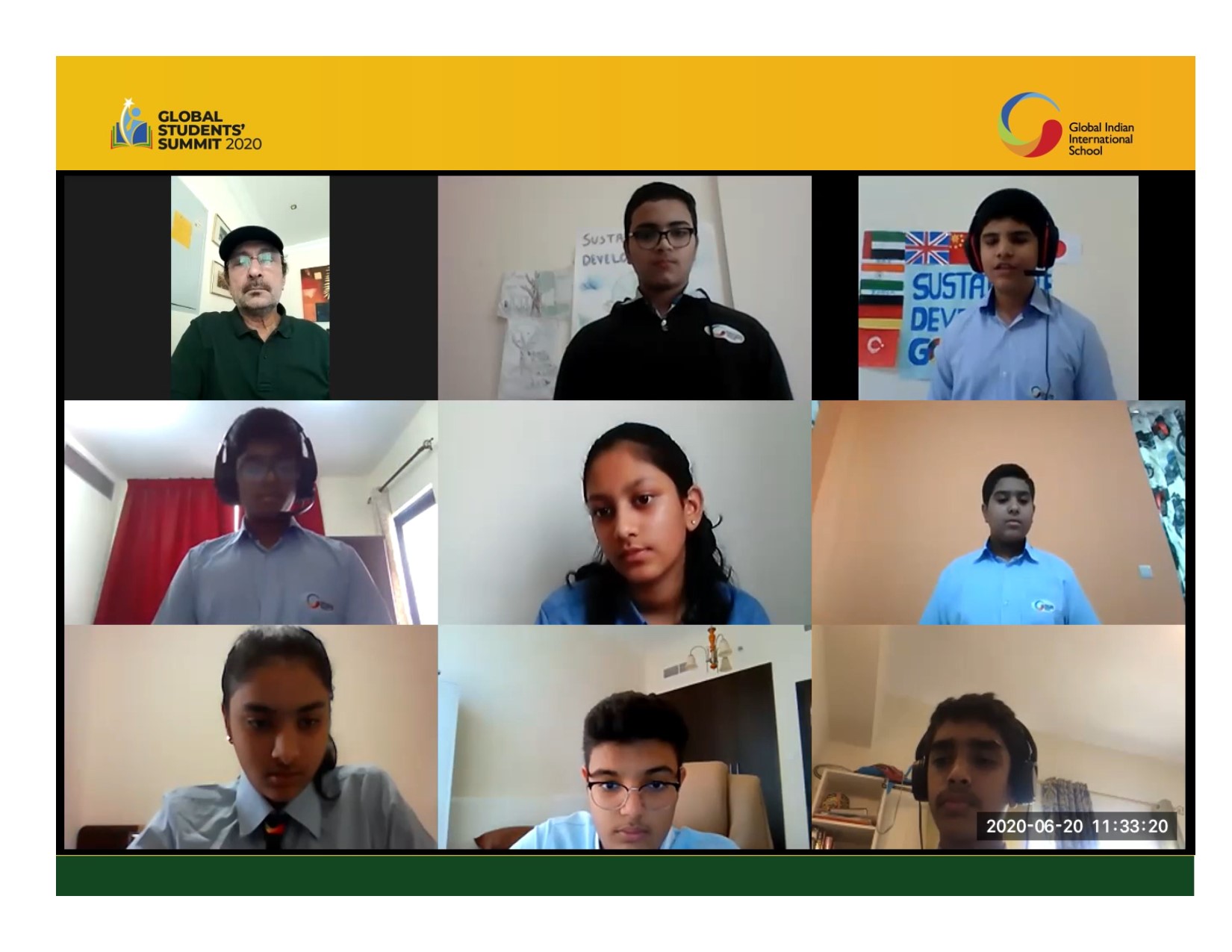 Written by: Anna Annex, Grade 8, GIIS Dubai
"You must be the change you wish to see in the world"
The first ever Global Student Summit (GSS 2020) at the GIIS UAE campuses successfully completed it's very first rounds. An opportunity for young minds to act and think critically about their future. This summit also aligns with our mission to be the change you like to see in the world. An insightful keynote by our chairman Mr. Atul Temurnikar flagged off the morning. He spoke about how GIIS alumni has been achieving success globally, the latest being the Space X launch, where a former GIIS student an Aero Astro Engineer was part of the program. Elocution, Group discussion and debate were the three well -crafted rounds where children displayed their knowledge and understanding on the researched topics. GSS 2020 focused on the UN - Sustainable Development Goals 2030. The Sustainable Development Goals are the blueprint to achieve a better and more sustainable future for all. Sustainable development goals address the global challenges we face, including those related to poverty, inequality, climate change, environmental degradation, peace and justice. Students reflected confidence in the way they presented their point of view. The judges were proactive and involved in keeping the perspective local as well as personal by asking relevant questions. The 17 Goals are all interconnected and in order to leave no one behind, it is important that we achieve them all by 2030. The participants and spectators had sumptuous food for thought as takeaways.
The proactive jury for each round came from various professional backgrounds.
For the debate we had the honor of having
Mr. Prince Arora – leading Marketing Professional, Dr. Shivananda - Principal of GIIS Bengaluru and Ms. Yashashree Khandwekar who interestingly introduced herself as an architect by profession, an explorer by nature and an artist by passion.
For the elocution we had the honor of having Mr. Royston Rodrigues – well-established Public Relation Professional; Dr. Srisudha Vishwanathan - Former ISRO Scientist and Ms. Shameema Ahmed- recently elected as Director for a newly formed Division of Toastmasters International in Abu Dhabi and Al Ain.
For the Group Discussion we had the honor of having Mr. Abbas Ali – Director and Ad Film Maker; Mr. Rajeev Nair- Engineer from SIF, UAE; Ms. Archana Manmohan- a journalism and communication graduate from School of Communications, Manipal, currently working as PR and Social Media professional.
The GSS Debate winners were:
The winner for 'For the motion' - Shreenika Gandasarakula –GIIS Dubai
The winner for 'Against the motion' -Navya Ramesh - GIIS Dubai
'Exceptional Debater' - Kenneth Roy. GIIS Abu Dhabi
The GSS Elocution winners were:
1st place - Maya Vijayan - GIIS Dubai
2nd place - Aminah Afzal - GIIS Abu Dhabi
3rd place - Sia Sudhir Hedge- GIIS Abu Dhabi
The GSS Group Discussion winners were:
1st place - Manasvi Bapna- GIIS Abu Dhabi
2nd place - Ferdinand Dosan- GIIS Abu Dhabi
3rd place - Sivajith Krishna - GIIS Abu Dhabi
The Global Student Summit is a platform where students can step up and express their ideas towards creating a better tomorrow. Global Schools Foundation takes social responsibility very seriously. The future global citizens need to be socially responsible and journey for that begins with awareness, an in-depth understanding and empathy towards the world around them.