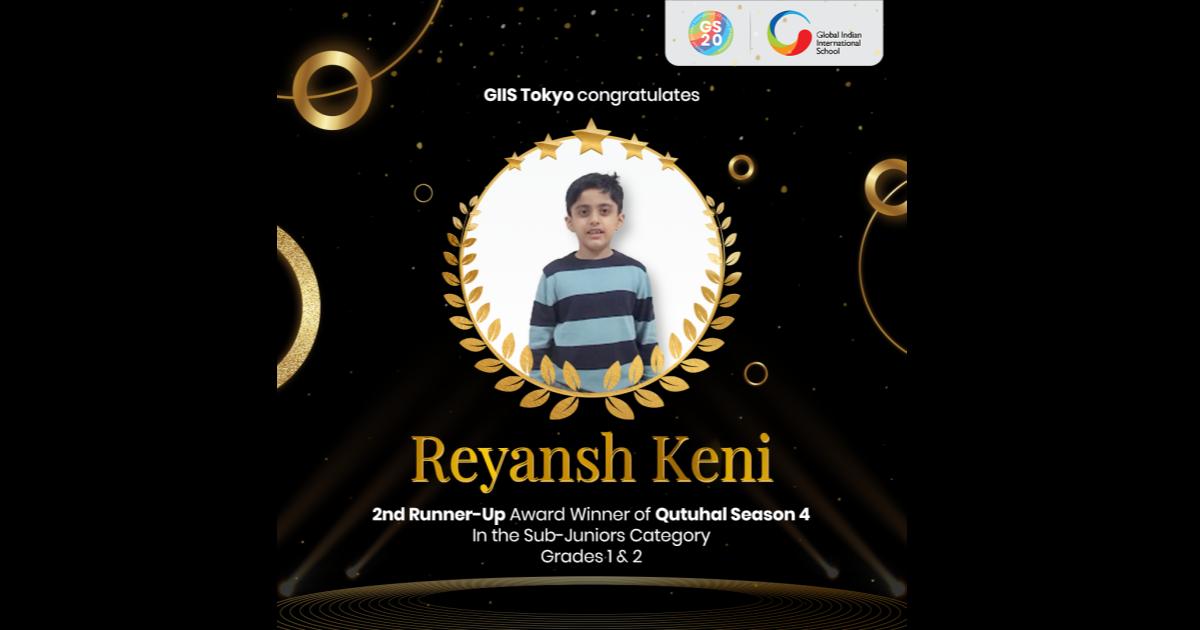 GIIS Tokyo's very own, Reyansh Keni from CBSE Grade 1, won the 2nd runner-up award and AED 200 during Qutuhal Season 4. The award ceremony was held on 28th January '23 where all the winners and champions were facilitated at the event.
Qutuhal, an annual event hosted by GIIS Dubai, aims at fostering curiosity, creativity, innovation and entrepreneurship among students. In its fourth season, Qutuhal ran from 10th October 2022 to 7th January 2023 and saw around 3,000 student participants from 37 schools globally, including Singapore, India, Japan, Malaysia and the UAE.
The program provided global participants from grades 1 to 12 with opportunities to develop their curiosity and expand their knowledge in a range of subjects, including wonders of science, coding, AI robotics, space exploration, math in real life, sustainability, wellbeing, digital arts and business.
Students had the opportunity to learn from world-renowned experts such as Dr Mylsami Annadurai, Ex-ISRO Scientist famously known as "The Moon Man of India"; Dr France Gerard and Dr Semeena Valiyaveetil, senior scientists at the UK Centre for Ecology and Hydrology; and COP 27 Speaker, among others.
The grand finale challenge, Global Innovation and Entrepreneurship Fest 2022-23, took place on 28th January 2023, at the GIIS Dubai campus. Shortlisted students from various schools in the UAE demonstrated their innovation models and entrepreneurship ideas on themes such as robotics for life improvement, sustainable food production and smart cities of the future. Online demonstrations were held for students from international campuses outside the UAE.
Onsite participants from schools in the UAE presented their innovative robotics and coding-based projects, which were judged by University Professors and experts, including Mr Sai Krishna, a manufacturing specialist from Khalifa University Abu Dhabi and Dr Ramprasad Poojary, Associate Professor of Engineering and IT at Manipal University Dubai.
In conclusion, Qutuhal Season 4 provided students with opportunities to learn from experts, and explore new ideas, helping them to develop their curiosity.
GIIS Tokyo Communications