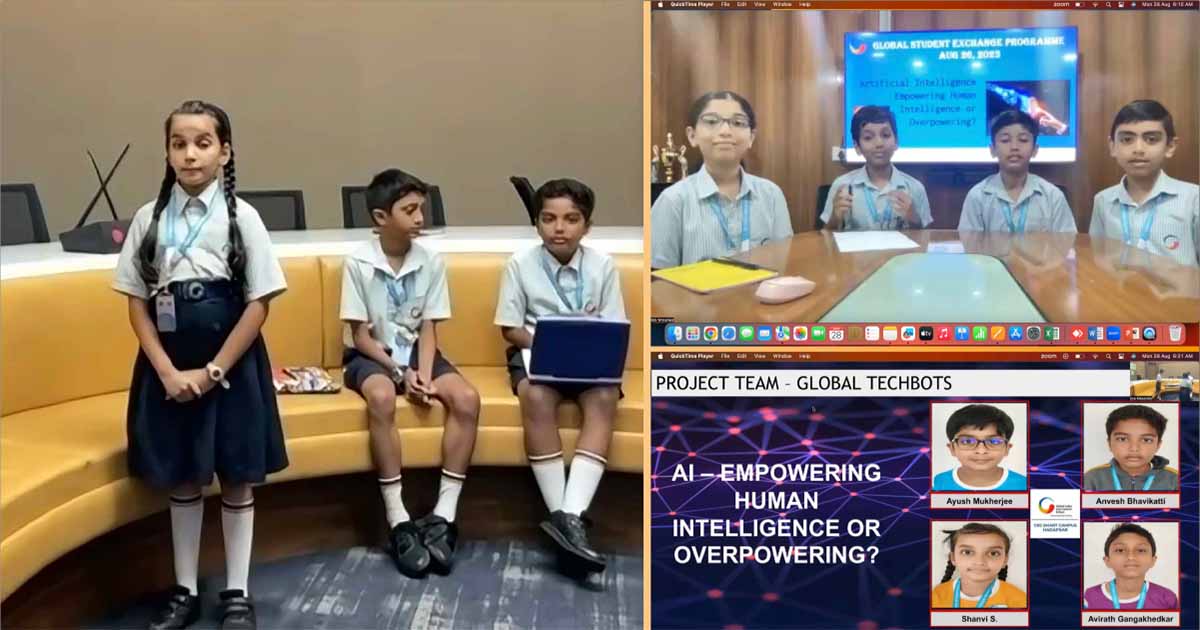 For over a decade, the Global Student Exchange Programme at GIIS has been working successfully to bridge the gap between students from different corners of the world and foster a deeper understanding of global diversity among them. This remarkable initiative, which aims to enlighten students about the history, culture, and social fabric of other nations, has continuously thrived in promoting awareness and the adoption of alternative learning methodologies.
On the 26th of August 2023, GIIS Hadapsar played host to a memorable chapter of the Global Student Exchange Programme that featured students from GIIS Whitefield, GIIS Tokyo, and GIIS Hadapsar as participants. The chosen theme, "Artificial Intelligence: Empowering Human Intelligence or Overpowering?" challenged the students to present their innovative insights through engaging presentations. This opportunity presented invaluable rewards and, equipped students with confidence, effective communication skills, cultural adaptability, and a profound perspective of the international market.
The event was graced by Ms. Vaishali Borde, Head, GMP, GIIS India, and Mr. N. Nagarajan, Academic Head, GIIS India. Mr. Girish Arabbi, Principal of GIIS Bannerghatta campus was also invited to judge the event The presence of other distinguished principals, Mr. Manoj Kumar Tiwari of GIIS Bangalore campus and Ms. Nidhi Gupta of GIIS Nagpur, further added to the event's significance.
After enthusiastic performances of all the teams, Team Hadapsar was declared as the winners, with Team Tokyo and Team Whitefield bagging the second and third place respectively. The students were commended for their remarkable efforts and creative presentations. The event concluded with a heartfelt vote of thanks, acknowledging the enthusiastic participation of both teachers and students.
GIIS remains dedicated to fostering camaraderie and an appreciation of diverse cultures by providing students with opportunities to interact with other schools and students through such exchange programs. These programs, conducted both within and outside the country, encourage students to embrace global perspectives and celebrate the rich tapestry of human experiences.