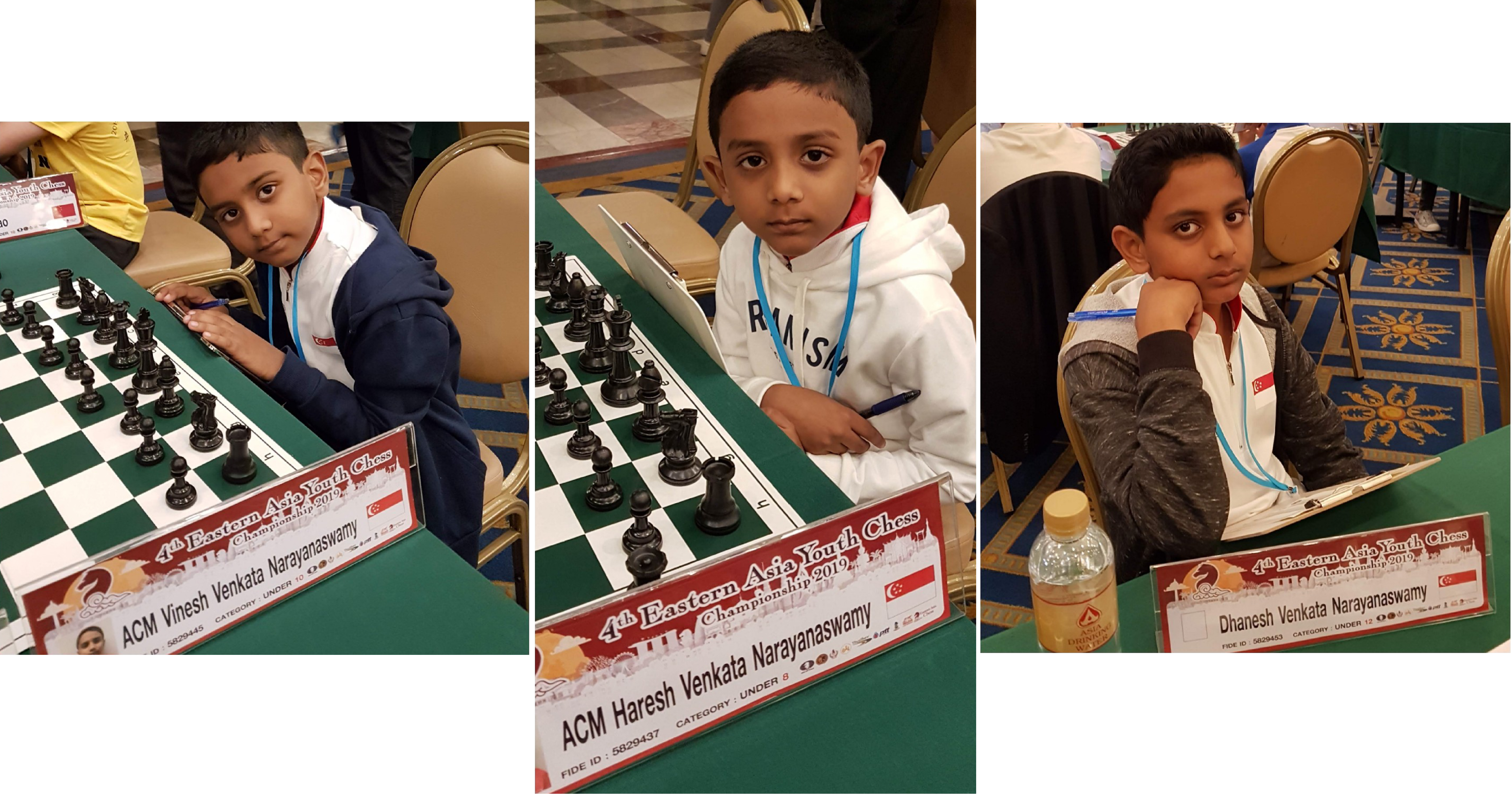 Three students of GIIS SMART Campus, who are siblings, have proven their mettle in the game of chess by earning recognition not only in Singapore but in the entire Asia Pacific region. Dhanesh Venkata Narayanaswamy of Grade 7, Vinesh Venkata Narayanaswamy of IB PYP Grade 4 and Haresh Venkata Narayanaswamy of IB PYP Grade 2 have checkmated various odds to become expert chess players and are well-known among the fraternity.
The trio has played more than 50 international tournaments out of which 23 happened outside of Singapore. Within the last 2 years, they have won 79 titles together.
Ms Kavitha Perumal, the mother of the chess champions shared that the children started playing the game of chess on iPad and laptop and soon developed keen interest in the game. They joined professional chess classes and picked up the nuances of the game very quickly. Their chess skills grew by leaps and bounds and soon they started participating in various tournaments.
Here are the credentials of the three students:
| | | | |
| --- | --- | --- | --- |
| | Dhanesh | Vinesh | Haresh |
| Championship (Gold) | 5 | 4 | 9 |
| Silver | 4 | 1 | 9 |
| Bronze | 3 | 4 | 5 |
| Top 10 | 8 | 16 | 11 |
| Total | 13 Trophies and 7 Medals | 16 Trophies and 9 Medals | 20 Trophies and 14 Medals |
Their passion and involvement in chess are well-balanced with their studies as the teachers fully support them in their endeavours by providing extra guidance whenever they miss lessons due to a tournament. Haresh also learns chess in school as part of his ECA.
When asked about what is it that they like most about chess, they unanimously say, "every choice we make has a consequence, and that's what we love the most about the game." According to Ms Kavitha, while juggling between chess and their studies, the boys have learnt to value time and be more responsible for their own actions.
The trio aspires to represent Singapore at the highest levels and become Grand Masters in future.