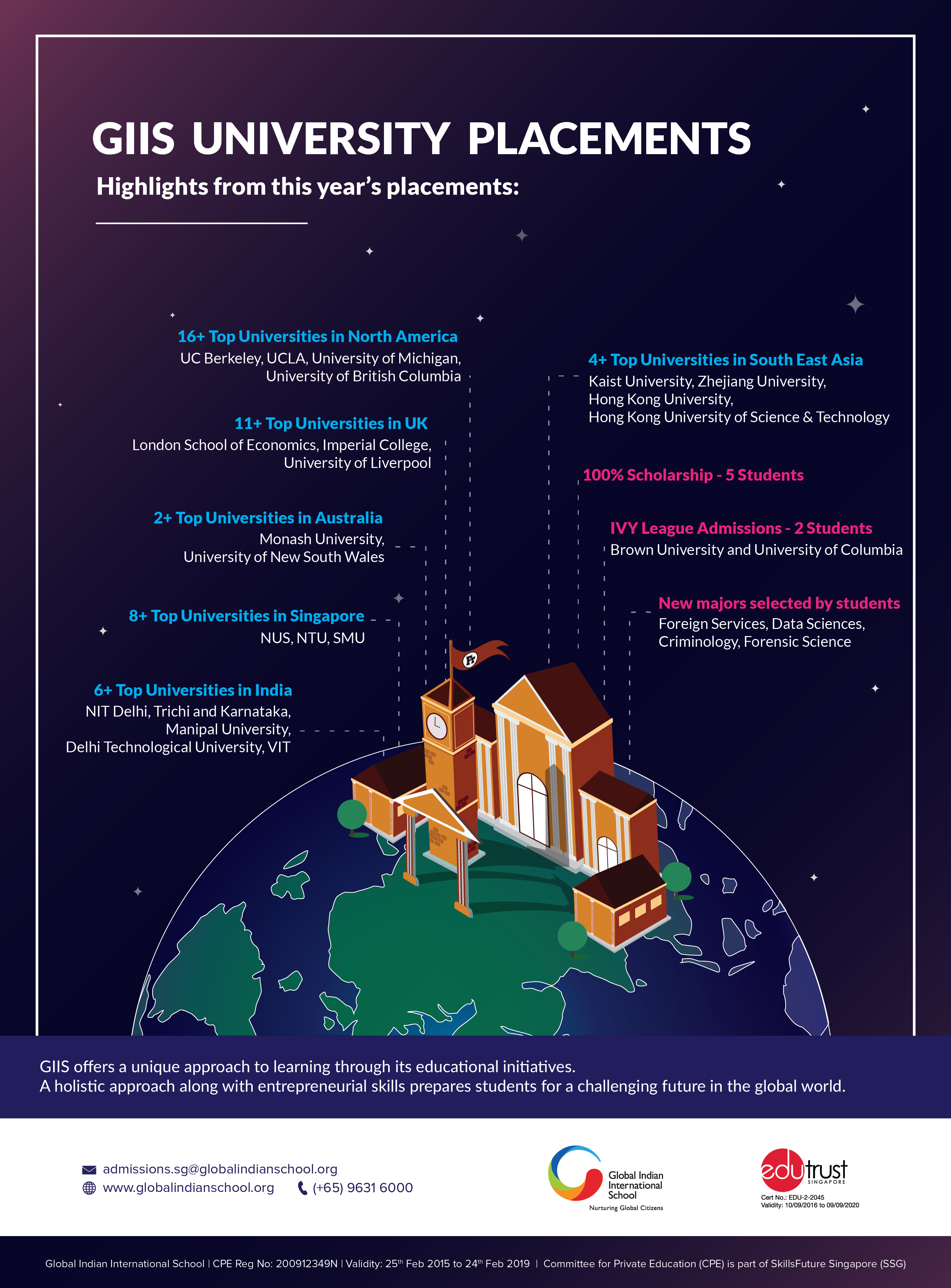 The 2017 batch of GIIS graduates in Singapore, have upheld the educational excellence legacy of the school by securing placements in Ivy league & top universities from USA, UK, Australia, Canada and Singapore.
The 2017 graduates have secured admissions into leading universities, which includes University of Columbia, University of California Berkeley, University of California, Los Angeles (UCLA), Imperial College, London School of Economics, New York University, National University of Singapore (NUS), Nanyang Technological University(NTU), Singapore Management University (SMU), among others prestigious institutions.
GIIS pedagogy is academically focused to ensure that students get a great start in higher education, combined with providing the best career counselling to make an informed decision for higher studies.
Key highlight this year is that a number of students have secured merit based scholarships. Many of GIIS students have managed to get 100% scholarship, while some of them got multiple scholarships as well.
Year after year, each graduating batch of GIIS has secured excellent university placements, a testimony of GIIS' integrated approach to learning, and the support and guidance from the GIIS Career Counselling Cell.
The Career Counselling Cell at GIIS provides guidance and counselling to students on matters concerning higher education. This is supplemented by on-campus information sessions, visit to university fairs, workshops and exhibitions by visiting universities. One-on-one consultation sessions are also facilitated by the Cell to provide necessary support to students with their university research and application process.
Students at GIIS have an option of pursuing the International Baccalaureate (IB) Diploma Programme or Central Board of Secondary Education (CBSE) in Classes 11 and 12. The holistic education approach at GIIS enables students to gain maximum exposure through various learning opportunities provided by the school, which in turn strengthens and distinguishes their university applications.
Ms Seema Kaushik, Career Counsellor, GIIS Queenstown Campus says, "We support our students and parents in identifying suitable universities through a well-structured programme, which includes one-to-one counselling, career fairs, information sessions, university visits, and hand holding throughout the application process."
Students are guided through the application process, which includes preparation of transcripts, recommendation letters, essays, and personal statements.