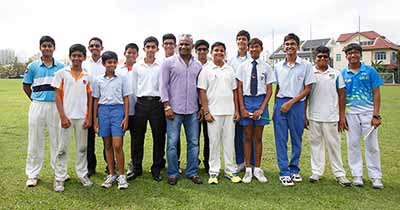 Mr Jayasuriya shared useful tips on cricket with students during his visit at Dr L M Singhvi
Stadium, GIIS East Coast Campus
GIIS East Coast Campus was bustling with excitement as legendary Sri Lankan cricketer Mr Sanath Jayasuriya visited the campus for the GIIS Leadership Lecture Series on Saturday, 12 December 2015. The interactive session between Mr Jayasuriya and the students was inspiring and motivated them to follow their ambitions and dreams.
Amidst applause and cheers, Mr Jayasuriya was welcomed by enthusiastic GIIS students who are part of Singapore's U-16 National cricket team. The school's U-15 cricket team and the U-19 team members were also present to receive the former captain of Sri Lankan Cricket team. The excitement among students was strikingly evident with sheer presence of maestro himself.
Along with students, Mr GSS Rao, Director-Operations, GIIS; Mr BG Shenoy, Director of Global Centre of Education Excellence (GCEE), Ms Melissa Maria, Principal, GIIS East Coast Campus, along with parents and teachers attended the interactive session.
Students and guests accompanied Mr Jayasuriya to the school's sports stadium, where he shared useful tips about cricket with students. This was followed by an interaction session at the AV room. He shared with students that if they aspire to become international players, they must put in hard work, dedication and perseverance and perform outstandingly well. "It is important to have a balance between schoolwork and sports, because if you do not stand a chance in cricket, you have education to fall back on," said Mr Jayasuriya.
The interaction session was followed by a Q&A spread. HC Anirudh, Class 10 student and captain of Singapore's U-16 team asked, "Could you tell us the process of how you got selected in the Sri Lankan National team and share with us about your experience in your debut match at the Melbourne Cricket Ground (MCG)?" To this, Mr Jayasuriya replied, "The Sri Lanka 'A' team was touring Pakistan. I was a part of the 15-man squad, but the selectors were not giving me a chance to play. The Colombo Cricket Club (my first class team) was putting a lot of pressure on the selectors to give me a chance to play. Before the start of one of the matches, one of my team players was sick and feeling unwell, and selectors then gave me a chance to play. I went out there and scored a century. The next match I scored a 200 and the next match was another double century. I made sure that the selectors would never drop me from the team ever." Adding further, he said, "In my debut match I just could not handle it! There were 90,000 people cheering (at the MCG), when I walked in to bat. The atmosphere was fantastic. Unfortunately, I did not score much in my debut match. However, I bowled really well with some tight fielding."
Rahul Parthasarthy, school Head Boy and Class 10 student, asked about his advice to the younger people playing the game and his feelings about test cricket. To this, Mr Jayasuriya shared, "Success would only come to us by hard work. When you work, work very hard. When you play, play very hard. When you study, study very hard."
Mr Jayasuriya, one of the world's best all-rounders in the sport's history, quoted the secret of his achievements in three lines and said, "Test cricket has always been the most difficult format in cricket. But I have always told myself, do not ever change your game. Always play your natural game."
Bir Bikram, a Singapore U-19 Player asked Mr Jayasuriya, to share his plan for practice and things he do to prepare himself before a big match. "I usually use the bowling machine for practice. I would try to play around 100 to 200 balls for every shot (pull, cover drive, sweep, etc.). Besides this, before a match, I would always tell myself, if you do not score today, you will be dropped from the Sri Lankan Cricket Team. The approach is a bit negative, but it has worked for me over the last two decades," shared Mr Jayasuriya.
In addition, Mr Jayasuriya also shared about the struggling phase in his life. He said, "Coming from a school that was not popular in the cricket world, I had to perform outstandingly well to be given attention. My main goal was to perform, and to be the best player, you have to work hard and give it your best and if it fails, work harder to improve yourself, and it was the only way I played against Australia in the 'Under-19 World Cup', which was when I experienced my first achievement."
While addressing the students, Mr Jayasuriya, shared his childhood experiences and said, "My parents could not afford to finance my dreams in wanting to become an international cricketer and I had to even borrow money from friends to go for my trainings at times." His mother was not keen in him playing cricket instead wanted him to focus in his studies, as she believed education was more important than sports.
The visit was a motivational platform for students of GIIS East Coast and Queenstown campuses to develop their character. According to Mr Rao, "Having Mr Jayasuriya amongst us has truly boosted the sportsman's spirit among students. He is a master of the game and an inspirational figure. We all have learnt a lot from him."
Facts about Sanath Jayasuria:
He is the first cricketer to be appointed as a UN Goodwill Ambassador
He is second to Sachin Tendulkar (former Indian Cricketer) in the list of most fours hit in a career with 1,500 fours
Sanath Jayasuriya and Muthaiah Muralidharan (former Sri Lankan Cricketer) have played 408 International matches together but they never got to bat together
Santha Jayasuriya has more ODI wickets than Shane Warne (former Australian Cricketer)
In the GIIS Leadership Lecture Series, prominent personalities from various fields interact and share their insights with GIIS students. The school believes that achievers from different walk of life can engage, energise, and inspire students to take up challenges and persevere towards success.
The series has been graced by eminent personalities over the years. This includes former President of India, Late Dr A P J Abdul Kalam; former cricketer and sports legend, Sachin Tendulkar; Academy award-winning composer, A R Rahman; Nobel Laureate, Professor Richard Ernst; award-winning Bollywood director-actor father-son duo, Rakesh and Hrithik Roshan; legendary cricketer Sunil Gavaskar; and tennis stars Sania Mirza and Rohan Bopanna, among others.