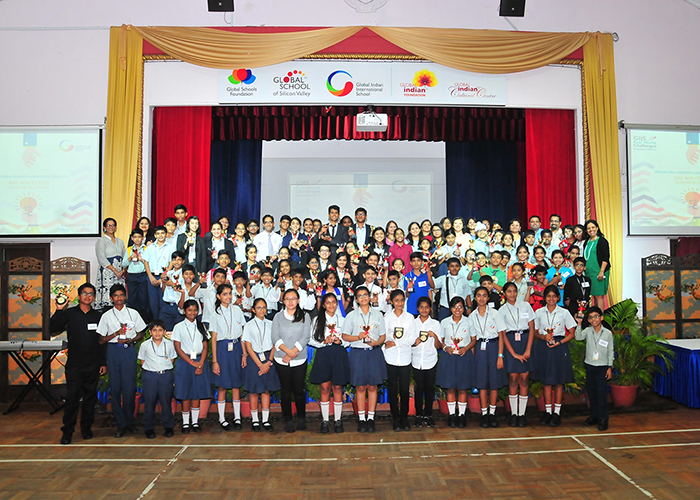 It's raining awards for Team GIIS India in RWCC at Singapore!
Applause. Eulogy. Frenzy. The much-awaited Real World Challenges Convention (RWCC) held at Global Indian International School – East Coast, Singapore, witnessed heightened hysteria with Team India's winning streak. The students of Global Indian International School (India) campuses of Ahmedabad, Bangalore, Chinchwad, Indore, Noida and Surat, not only exhibited commendable participation at the international level but created history and stunned a bevy of spectators from across the globe.
'ICE' – Innovation, Creativity and Entrepreneurship was the theme of the convention which aimed at bringing together GIIS schools from Singapore and other Asian countries. The convention was open to all students from Kindergarten to Grade 12 either/and for solo and group competitions like Quality Circle Presentation (present a problem, solution and analysis), Lil Mavericks (product promotion), InnoBeats (innovative rhythmic beats), Conference (discussion on current global issues), AdZapp (video advertising for innovative product), Transformation Turncaot (debate with a twist), Innovative and Social Entrepreneurship Challenge (for senior students), Art competition and Essay Writing (impact of 'ICE'). The Guest of Honor, Mr. Ash Singh, one of Asia's top start-up coaches graced the convention which had over 500 students participating in either prejudged or on-the-spot competitions.
RWCC is held annually in Singapore, providing GIIS students an international exposure and giving an opportunity to network, foster innovation and international entrepreneurial skills. Team India stands tall with an array of awards and an experience of a lifetime in art, essay, speeches, debates and multimedia presentations.
GIIS Ahmedabad:
1st runner-up in (MS) Innobeats
1st runner-up (UP) in Quality Circle
2nd runner-up AdZapp (MS)
GIIS Chinchwad:
Winners (MS) and 2nd Runner Up (SEC) in Quality Circle
Winners and 1st Runner Up in Conference
Winners and 2nd Runner Up (SEC) in AdZap
Best Speaker in Conference
2nd Runner up (MS, SEC) in TurnCoat
Winner for Teacher Essay- Learning from failures
1st and 2nd Runner Up (MS, SEC) in Student Essay Writing
2 Consolations in Art
GIIS Bangalore:
Winner (UP) in Innobeats
1st runner-up (MS) in Turncoat
2nd runner-up (UP) in Quality Circle
2nd runner-up (MS) in Quality Circle
GIIS Noida:
Winner in AdZapp (MS)
2nd runner-up Innobeats
GIIS Indore:
1st runner-up AdZapp (MS)
2nd runner-up Innobeats (MS)
"The value of creativity and innovation is to provide a gateway for astute entrepreneurship-actively searching for opportunities to do new things and to do existing things in extraordinary ways. RWCC provides a challenging platform for students of GIIS India to come together and showcase their ideas and collaborate with other campuses to execute projects shaped on real life situations. The students have done well and I am glad to have witnessed their superior style of contemplation and implementation." said Ms. Vaishali Borde- National Academic Head (Co-Scholastics & Early Years)."