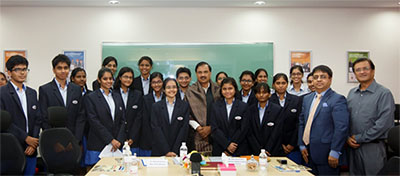 Minister holds an interactive session with students of the school as a part of his visit to Singapore
Dr Mahesh Sharma, Union Minister of State (Independent Charge), Ministry of Culture; Ministry of Tourism; and Union Minister of State, Ministry of Civil Aviation, with Mr Atul Temurnikar, Chairman & Co-Founder, Global Schools Foundation and Mr Rajiv Vasudeva, Country Director - Singapore, GlIS along with students
Dr Mahesh Sharma left GIIS students
inspired with his vision for a modern India
Global Indian International School (GIIS) in Singapore hosted the GIIS Leadership Lecture Series on 17 June 2015 with Hon'ble Minister Dr Mahesh Sharma, Union Minister of State (Independent Charge), Ministry of Culture; Ministry of Tourism; and Union Minister of State, Ministry of Civil Aviation.
Dr Sharma was received at the campus by Mr Atul Temurnikar, Chairman and Co-Founder, Global Schools Foundation. The minister was accompanied by the school's management team in paying homage to Mahatma Gandhi, after which they proceeded for a brief tour of the school.
Dr Sharma joined GIIS students and staff members in the video-conference room for the GIIS Leadership Lecture Series, which was attended by GIIS' teams in Singapore, as well as Kuala Lumpur, Noida, Bangalore and Ahmedabad via live video-conferencing. During his interaction with students , Dr Sharma touched upon various topics; ranging from promotion of the Indian tourism sector, national campaigns such as 'Swachh Bharat Abhiyan' (or Clean India Mission) and opportunities presented by the power of social media. He spoke about the evolving Indian identity and growing sense of pride that Indians have towards their country, which is being expedited by the new developments and reforms getting introduced in the country.
In his message to students, Dr Sharma said, "I want you (the students) all to be Ambassadors of India." While replying to a question on the importance of promoting domestic tourism in the country, he said, "I want our youth to experience cultural heritage and richness of India." Responding to a question on government's efforts to improve tourism in India, Dr Sharma acknowledged the current shortcomings and assured improvement in this field.
He shared various initiatives taken by the government to overcome issues, such as introduction of toll-free helplines for tourists, which will be available in several international languages. He also mentioned that nearly 25 national monuments of India are associated with the 'Swachh Bharat Abhiyan' in order to improve and maintain cleanliness.
Acknowledging the power of social media, Dr Sharma said, "Social media is our strength and we should use it to our benefit with a positive approach." Students who were part of the interaction were inspired by Dr Sharma's vision. Vishara Prakash, an IB student studying at GIIS Queenstown Campus said, "His positive views and farsightedness imbued us with a sense of pride and enthusiasm."
A doctor by profession, Dr Mahesh Sharma is a philanthropist. He is actively involved in helping economically weaker sections of the society through a Trust, conducting camps, and charitable dispensaries.
Dignitaries present at the event were Mr Kaustubh Bodhankar, Deputy CEO, Global Schools Foundation; Mr Rajiv Vasudeva, Country Director - Singapore, Global Indian International School; Commander Bharatkumar Unercat, Director - Infrastructure, Global Schools Foundation; and Ms Madhu Khanna, Principal, GIIS Queenstown Campus, among others. The discussion with Dr Sharma was informative and insightful for students, leaving them with new perspectives on various topics.
Click here to read the event coverage in Tabla magazine
In the GIIS Leadership Lecture Series, prominent personalities from various fields interact and share their insights with GIIS students. The school believes that achievers from different walks of life can engage, energise, and inspire students to take up challenges and persevere towards success.
The series has been graced by eminent personalities over the years. This includes former President of India, Dr A P J Abdul Kalam; former cricketer and sports legend, Sachin Tendulkar; Academy award-winning composer, A R Rahman; Nobel Laureate, Professor Richard Ernst; award-winning Bollywood director-actor father-son duo, Rakesh and Hrithik Roshan; legendary cricketer Sunil Gavaskar; and tennis stars Sania Mirza and Rohan Bopanna, among others.