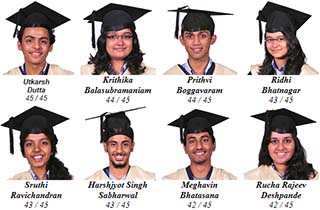 Yet again, GIIS student emerges as an IB World Topper with a perfect score
IB batch of 2015 secures outstanding results with exceptional School Average score of 36.09 points
GIIS' IB students have once again achieved outstanding success in the International Baccalaureate (IB) Diploma exams, as Utkarsh Dutta emerged GIIS' IB World Topper 2015 with a perfect score of 45 out of 45 grade points. Over 30% students secured 40 grade points and above, while over 62% students scored 35 points and above. The school average stands at a high of 36.09 grade points, 20.7% higher than the world average score.
The school achieved excellent results with 100% students receiving Grade A in Hindi Extended Essay (EE), Tamil EE, and Chemistry EE. The entire cohort scored 7 grade points in Tamil SL and Bengali SL. For the first time, a GIIS IB graduate - Odria Arshiana - secured a bilingual Diploma in English and Bengali.
The results reflect the calibre of the IB Learner Profile at GIIS. This combined with the guidance and dedication of our experienced IB faculty has resulted in the achievement of top scores and producing world toppers, year after year. While the scores are testimony to the school's academic rigour in delivery of the IB curriculum, it also boosts university placements of GIIS' IB graduates across leading universities worldwide.
Key Highlights
Outstanding School Average score of 36.09 grade points; 20.7% higher than the World Average score
Utkarsh Dutta emerges as an IB World Topper with perfect score of 45/45
Krithika Balasubramaniam and Prithvi Boggavaram secure a near-perfect score of 44/45
30.30% students score 40 points and above
62.12% students score 35 points and above
Odria Arshiana is the first-ever GIIS IB graduate to secure a bilingual Diploma in English and Bengali
Percentage of students scoring 7
Grade Points (subject-wise)
Tamil SL: 100% students
Bengali SL: 100% students
Physics SL: 66.66% students
Business Management SL: 40.09% students
Chemistry SL: 42.85% students
Biology HL: 27.27% students
Economics SL: 26.31% students
Business Management HL: 25% students
(HL: Higher Level; SL: Standard Level)

Percentage of students scoring A
Grade (Extended Essay and
Theory of Knowledge)
Extended Essay (EE): 36.36% students
Chemistry EE: 100% students
Hindi EE: 100% students
Tamil EE: 100% students
Mathematics EE: 50% students
Business & Management EE: 50% students
Theory of Knowledge (TOK): 31.81% students
School Toppers
Utkarsh
Dutta
45 / 45

Krithika Balasubramaniam
44 / 45

Prithvi
Boggavaram
44 / 45

Ridhi
Bhatnagar
43 / 45

Sruthi
Ravichandran
43 / 45

Harshjyot Singh Sabharwal
43 / 45

Meghavin
Bhatasana
42 / 45

Rucha Rajeev Deshpande
42 / 45

Sagarika Raman
42 / 45

Ashwini Venkatesh
41 / 45

Mythili Baskar
41 / 45

Kriti Mathur
41 / 45

Aparna Vasuki
Nellore
41 / 45

Natasha
Rajiv
41 / 45

Shyna
Kher
41 / 45

Sri Aditya
Gadam
40 / 45

Kuheli
Das Gupta
40 / 45

Ajeya
Mantri
40 / 45

Komal Reddy Raghunath
40 / 45

Shinil
Raina
40 / 45
Congratulating students on their success in exams, Mr Rajiv Vasudeva, Country Director - GIIS Singapore expressed, "I am extremely proud of the achievements of our IB students, they worked hard, and were ably supported by determined staff. These well-deserved results will now set them up for a very bright future indeed. Having performed so well in this very important stage of their education, we look forward to hearing about their progress and achievements as they make their mark in the world of university education and in the world of work in the years to follow."
In her message for the students, Ms Madhu Khanna, Principal, GIIS Queenstown Campus, said, "I would like to congratulate all our students, teachers and parents on their success, and we recognise their considerable efforts over the last two years. The school's environment and teaching staff are instrumental in producing confident and future-ready students. I have no doubt that our blend of high quality professional staff and rigorous training have enabled these high levels of success."
Further on Ms Sutha Ramakrishnan, Academic Supervisor - IB Diploma and IGCSE, GIIS Queenstown Campus asserted, "The excellent results was possible due to the constant monitoring and guidance of our faculty at GIIS. Students have achieved results beyond all expectations proving the success of pedagogy at GIIS."
Overwhelmed with the excellent IB results, Ms Deepa Chandrasekaran, IBDP Coordinator, GIIS Queenstown Campus said, "I am extremely happy that the batch of 2015 has produced excellent results. These results bear testimony to the dedication and hard work of GIIS teachers, and their commitment to inculcating the IB learner profile in our students. The school@aps@s unique performance-measuring metrics tracked and monitored each child@aps@s academic results, enabling teachers to determine and continuously help them to improve their academic record."
Guiding students to leading universities worldwide, Ms Seema Kaushik, Career Counsellor, GIIS Queenstown Campus said, "We endeavour to provide high quality education as well as to equip our students with best tools to succeed in the outside world. We support our students and parents in identifying suitable higher studies options through a well-structured programme, starting in class 11 till the end of class 12, which includes one-to-one counselling, career fairs, information sessions, university visits, SAT workshops, etc. Our students this year have received offers from the top universities such as Oxford University, University of Cambridge, Georgia Tech, and New York University, etc."