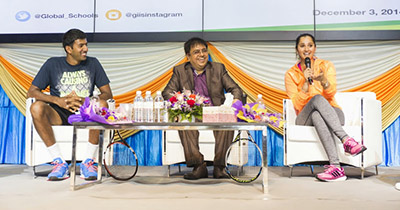 Tennis super stars Sania Mirza and Rohan Bopanna inspired and enthralled students to follow their dreams at the tennis clinic and interaction session as part of GIIS Leadership Lecture Series
The world class tennis players were visiting Queenstown Campus as a part of the GIIS Leadership Lecture Series on December 3, 2014. Students were excited to have their dream came true, when they served and volleyed with world acclaimed tennis players Ms Mirza and Mr Bopanna.
The exciting event was hosted at the GIIS Queenstown Campus and was simulcast live across all 20 GIIS campuses through myGIIS, the school information portal, connecting thousands of students and parents to witness the inspirational event.
Ms Mirza and Mr Bopanna arrived at the campus to enthusiastic cheering from the students and proceeded to pay homage at the statue of Mahatma Gandhi along with Mr Atul Temurnikar, Co-Founder and Chairman GSF and members of GIIS' Management team. The excitement among students was palpable as the guests made their way to the tennis court.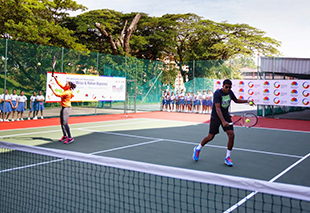 The iconic players took to the tennis court to test out the budding tennis stars of GIIS and gave students playing tips and valuable advice. Present on court were tennis players from GIIS campuses in Singapore and GIIS Kuala Lumpur, Malaysia. While Mr Bopanna was impressed with IB Year 1 student Bhuwan Bansal's powerful shots, he also encouraged Bansal to move around the court and to cover the shots. Ms Mirza on the other hand praised Rishab Namashivaya, Class 8 IGCSE student for his excellent shots. Another student, Shivank Bhatnagar, Class 9, student stole the show when he scored a point against Ms Mirza. The clinic ended as Ms Mirza volleyed while Mr Bopanna moved down to the court coaching the students to watch their pace and to remember tennis rules.
Mr Bopanna and Ms Mirza then told the students that if they aspire to become international players, they need to play more than an hour every day. "Rohan and I play four to five hours a day," Ms Mirza shared. "It is very important that you have fun and enjoy the game, only then you can succeed professionally. We hope to see a professional player come up from the GIIS campus soon," Ms Mirza added enthusiastically as she encouraged the players to continue their practice diligently.
The tennis clinic was followed by a Q&A session as a part of the Leadership Lecture Series in the auditorium. GIIS students Anuraj Rawat and Asmita Raja welcomed Ms Mirza and Mr Bopanna on stage before inviting them for the Leadership talk.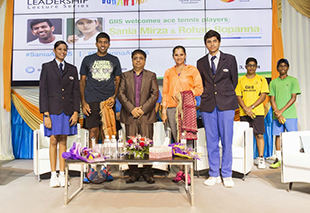 When asked to share some lessons and experiences, Mr Bopanna said, "I have been in the same position as you when I used to listen to international achievers. However, to become a professional, you need a lot of hard work. I dedicate six to seven hours tennis every day. For the past seven years, I have been waking up at 5 am every day. To become a professional player, you need total dedication and commitment to the game. The more dedicated you are the better are your chances to be able to represent your country. I hope that Sania and I can inspire you in some way."
While addressing students, Ms Mirza stood up to talk to them and proved yet again, why she is a role model and an idol for youngsters. She spoke from the heart when she said, "As kids we all dream of being the best and we can be by doing well in your chosen field and I humbled and honoured that I have been able to represent my country at international level."
Ms Mirza shared how she faced several hurdles in her career being a girl who was determined to play professional tennis. "I come from middle class Muslim family and unfortunately, we set cultural barriers for girls. I faced much criticism myself as my Uncles and Aunts would tell me - you are a girl and if you play in the sun all day, you will get dark and who will marry you then? 'What can you do?' they would ask me. 'Would you be able to play Wimbledon and beat Martina Hingis? So, it was a proud moment for me and a personal achievement when I actually beat Martina Hingis," Ms Mirza shared with a resounding applause from the audience.
She told the students to continue to believe in themselves and their dreams. "Don't let anyone tell you that you cannot do it. Adapt to your opponents. You have to be very strong mentally. For me sleep, hunger is secondary. Playing well and giving yourself the best chance to win comes first," she said.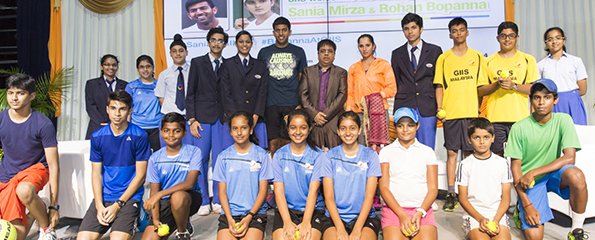 Ms Mirza truly inspired everyone when she added that infrastructure is much better now and when she had started playing tennis at the age of six, there were no clay courts in India. "We used to play on courts evened out by cow dung. Nowadays, you are fortunate that you have supporting parents. If your parents support you, then you can conquer the world," said Ms Mirza
The visit was a motivational and memorable experience for the students across GIIS campuses in Asia Pacific to develop qualities of courage, character and strength - values that will guide these budding leaders throughout their careers. Previous speakers under the GIIS Leadership series have included industry stalwarts and achievers like Sachin Tendulkar - legendary Cricketer, Dr APJ Abdul Kalam - Ex- President of India, Abhinav Bindra, Olympic Gold medalist, A R Rahman - Oscar winning musician, Nobel Laureate Professor Richard Ernst, Former RBI Governor Dr D Subbarao and Interim BCCI President Sunil Gavaskar, among others.