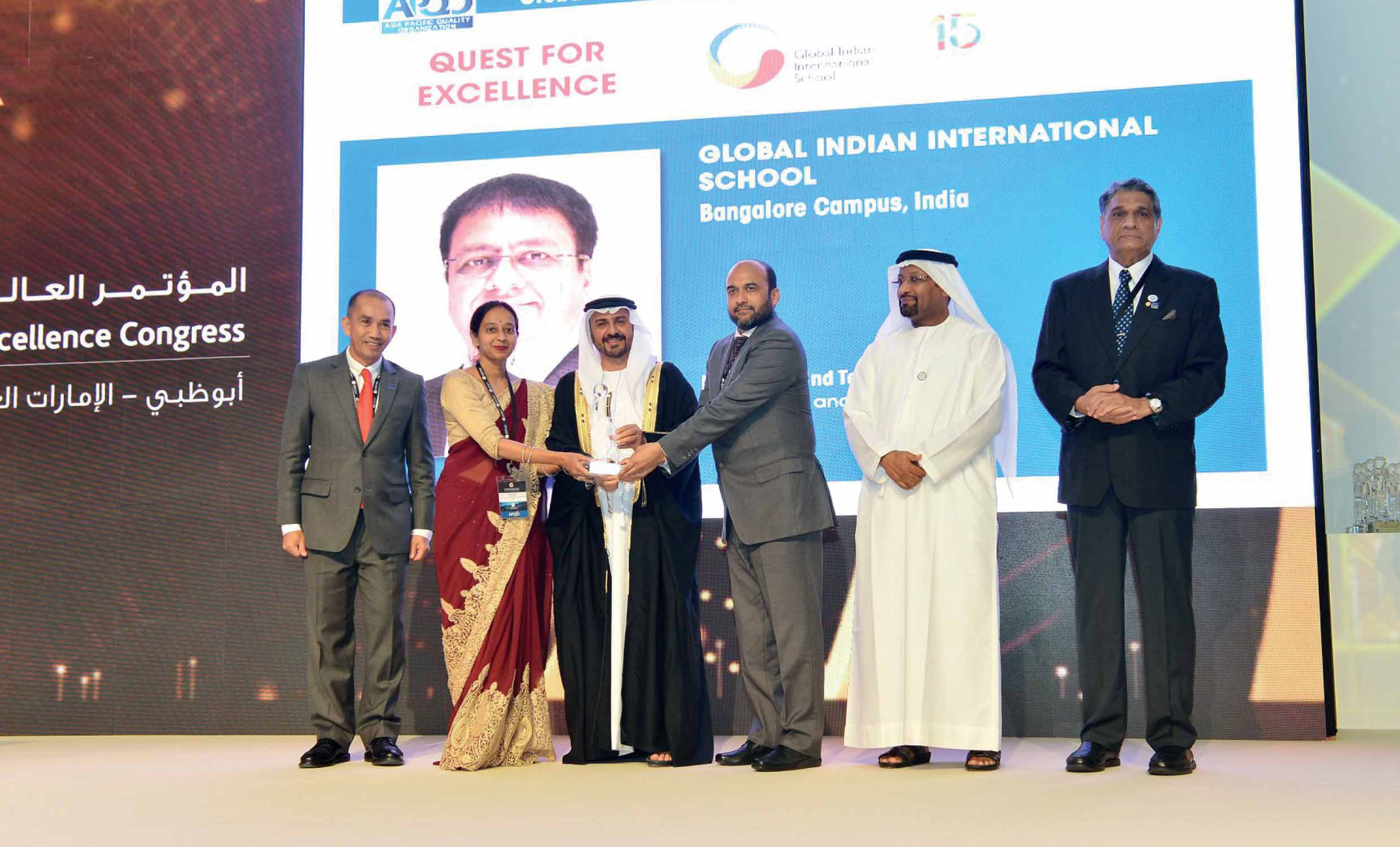 BENGALURU, 21 JANUARY, 2019 - Global Indian International School, Whitefield, Bengaluru received 2 prestigious awards at the 24th APQO International Conference (Asia Pacific Quality Organisation), held at Jumeirah Etihad Towers Hotel, Abu Dhabi. The trophies for the same was presented on 11th December 2018 at the international conference.
The categories in which GIIS Whitefield won were, 'Global Performance Excellence Award - 2018 - Quest for Excellence' and 'Commitment to Excellence'. The 'Commitment to Excellence' award was won by Team Falcon (Aashi of Grade 8 and Aarisia of Grade 9) for their Quality Circle Presentation on "Bullying and worrying in school". The presentation was highly praised by the panel of judges and the audience. The topic was selected after a thoughtful discussion on an issue that children from the class range of Grade 1 to 10 wanted to shed light on. The Students Council played a major role in connecting with children through the Bully boxes and Worry boxes which were kept in the Primary and Secondary segments. The students were free to write their concerns in paper chits and drop it in the respective boxes. It was up to their discretion whether to write the name or maintain anonymity. The chits were reviewed, vetted and resolved by the Counsellor, the Academic Coordinators and the Principal Sir depending upon the level of the issues. This practice was a huge success, many students gave up their shyness and shared genuine concerns with faith. The whole process was conceptualized, incorporated and presented in an effective and confident manner by the GIIS Whitefield students.
It was a great moment of pride to see the appreciation pouring in from foreign delegates for our dear students and an honour for the whole GIIS family to see the team work of teachers, staff, students and parents being appreciated.