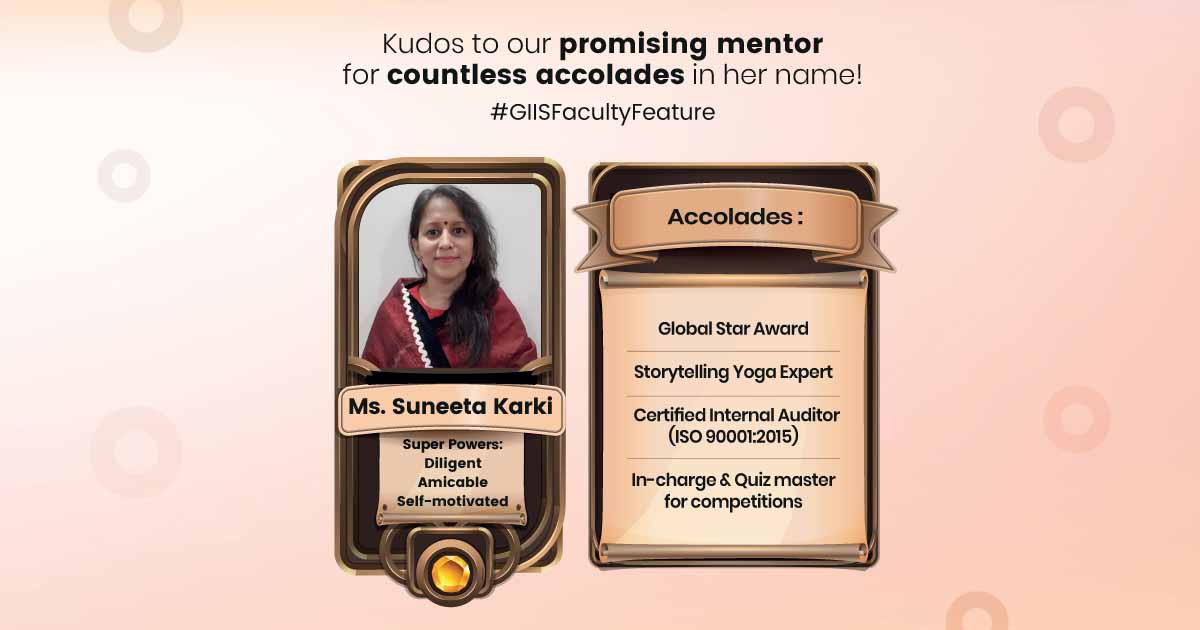 "It is the supreme art of the teacher to awaken joy in creative expression and knowledge."
It is often noticed that a teacher who always wears a lovely smile in any situation, steals the heart of anyone. If this is a quality of a kindergarten teacher, then the kids would definitely love to be around her all the time.
A smiling persona, a go-getter, an honest teacher with a deep passion to teach children through innovative activities and storytelling would be some of the many characteristics of Ms. Suneeta Karki. She, as a judicious and caring teacher of KG 2 has been nurturing the best of learning and knowledge in the tiny tots, for more than 5 years in GIIS Whitefield.
Her valuable contribution to the school does not limit to the classroom. She has a lot of feathers of achievements to her name. This makes her stand out with so many qualities as a teacher, trainer, and mentor for students. Her diligence, self-motivation, and dedication to always go the extra mile to achieve the best possible results are admired by all.
GIIS Awards and Recognition to her credit.
Global Star Award: A well-deserved Global School Award 2019-20 in recognition of outstanding performance and contribution to the organisation.
Long Service Award: Proud recipient of Global School Award 2019-20 in recognition of long-term commitment and contribution to the GIIS Family.
Best and Innovative Pre-primary teacher Award: She has received an appreciation letter and memento for outstanding dedication and punctuality in attending school for 3 years (2016-17, 2018-19, and 2019-20).
Certified Internal Auditor as per ISO 90001:2015: She has been appreciated for the outstanding service rendered for obtaining ISO certification for the school for the period of 2017-20.
Her Journey of Achievements at GIIS is exciting and inspiring.
Since 2015-16 onwards, as part of International Yoga Day celebrations, she has been in charge of pre-primary Yoga Day. Ms. Suneeta is a yoga expert and has been handling yoga day every year for Pre-Primary students in addition to her other duties. She has provided Montessori training various times to teachers of other campuses like Hadapsar, Surat. She holds a distinction in Diploma in Montessori, Kindergarten, and Nursery Teacher's Training from St. Mary's Maria Montessori Kindergarten and Nursery Teacher's Training Centre. She has certifications pertaining to Coding in Early years, and the Importance of Play in early years among others.
She conceptualised and developed the webinar on the topic 'Sailing on a Sea of words' for the admission-related initiative which garnered more than 300 viewers and an outstanding 100 % voted excellent/good in the poll conducted.
In the teacher category, Ms Suneeta is leading the Quality Circle Presentation (QCP team Pinnacle on the challenging topic of Safety in Transport which will be showcased during the virtual site visit by the IMC RBNQA examiners. She has been in In-charge & Quizmaster for conducting many Inter School Competitions like Fun-O-Paint Inter-School Competition and Hi Q Interschool Quiz Competition.
She has conceptualised and conducted the First Virtual Inter GIIS Quiz competition- 'Quizzards of GIIS' in a team of two. She has received appreciation from the school for (preparing presentation and hosting the quiz) successful conduct of the event.
In line with GCEE's TQM journey, every campus will have a Kaizen club. She is nominated (along with a fellow teacher) to represent pre-primary and a part of Core Team member of the Kaizen Club GIIS Whitefield. She has implemented various Kaizen at her own level and which has also been adopted horizontally by her colleagues.
Ms Suneeta was part of the two-member team during the 'ATULYA BHARAT' Annual Day Scriptwriting (2019-20). She has written and developed the script for the first time ever in Hindi for the anchors and trained the students to deliver a phenomenal performance which resulted in a standing ovation from the audience at the end of the show.
As the iCare in charge of Pre Primary, she was instrumental in introducing the plastic-free lunch that was appreciated by parents and school. She also set up the "Recycle station" as a big step towards recycling waste. She handled the iCare programme for Pre-Primary and was instrumental in building a working rainwater harvesting model and Greenhouse (effect) for children.
Ms. Suneeta Karki is a true gem and a strong pillar of GIIS Whitefield. She is highly respected by parents for her magnificent role as a teacher who believes in giving the best to her children with love, care, and right guidance in their tender age at school.