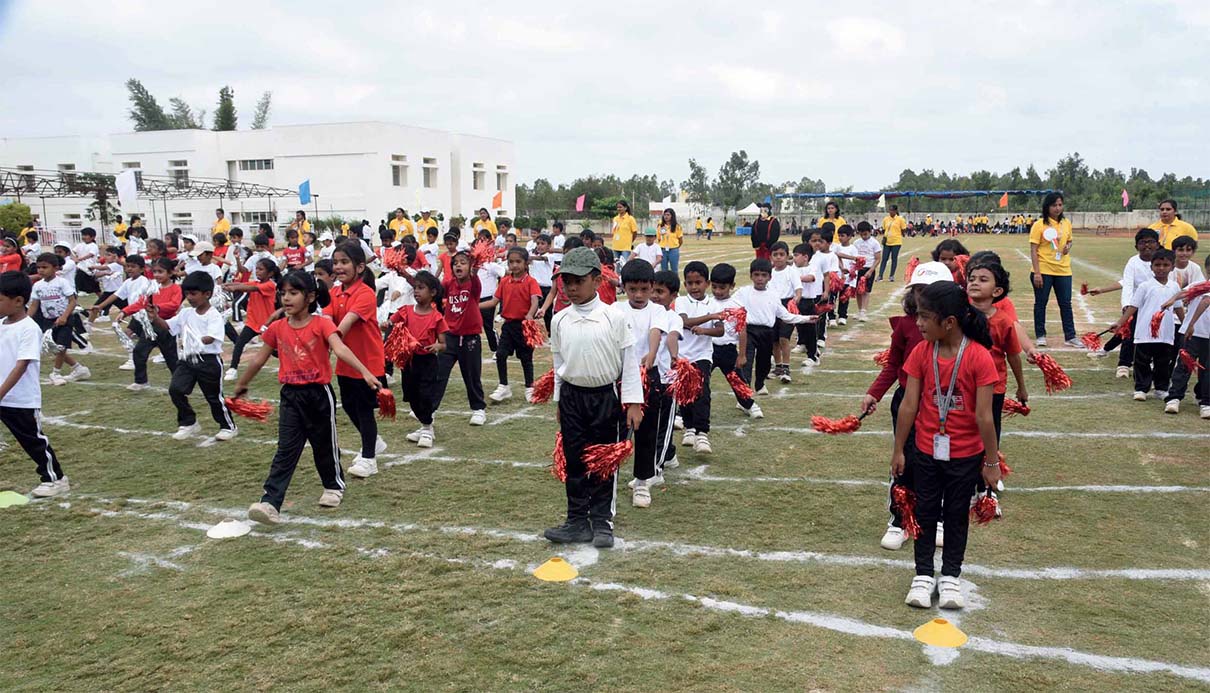 The students, teachers and parents of Pre Primary, Grade 1 and 2 of GIIS Whitefield, Bangalore witnessed the 9th Annual Sports Day- Khelotsav on 7th December 2019. Young children were smartly dressed and very enthusiastic to celebrate the Sports day. The Chief Guest for the day was Ms Reena George, an International Athlete, and an Asian Medallist. She is a renowned sprinter of (100 and 200 meters) and is also employed with the Central Excise and customs, Mysore as a tax assistant. She has represented India at the 100mts Asian Grand Prix held in China and Japan and has also won several medals in the National Level.
The event was divided into two segments. In the first segment tiny tots of Pre Primary were thrilled to perform for everyone. The programme began with the torch run and the oath-taking ceremony headed by the young GIIS student council members. Then the sports meet was declared open by the Chief Guest. The tiny tots from the following levels - Nursery, KG 1 and KG 2 took turns to enthral the audiences through their performances. There were races and drills performed by every class and it was a colourful vista of their display of sports. Every child was proud to flaunt their gold medal with a smile and pride on their face. The parents also participated in the races organized specially for them by the teachers.
The students of Grade 1 and 2 were excited to display their spirit of sportsmanship on the day of Khelotsav. The event was well-planned and very well executed and the teamwork of the teachers was commendable. The students gave their best performances. There was a mass drill by Grade 1 boys and girls and Zumba performance by Grade 2 boys and girls. 60 meters Sprint races for the boys and girls of Grade 1 and 2. Students of Grade 1 and 2 (boys and girls) also took part in the 4x50 meters relay and martial arts display. There was Locomotor race (Grade 1) for boys and girls and Obstacle race (Grade 2) for boys and girls.
Dr Shivananda C S (Principal) motivated the students by sharing the importance of healthy food habits for a healthy lifestyle and emphasized to eat good food right from their childhood days. He was happy to see the passion towards sports and games exhibited by the students of GIIS. He appreciated the hard work of the Sports coaches and teachers of, who have helped them develop a keen interest in various sports activities.