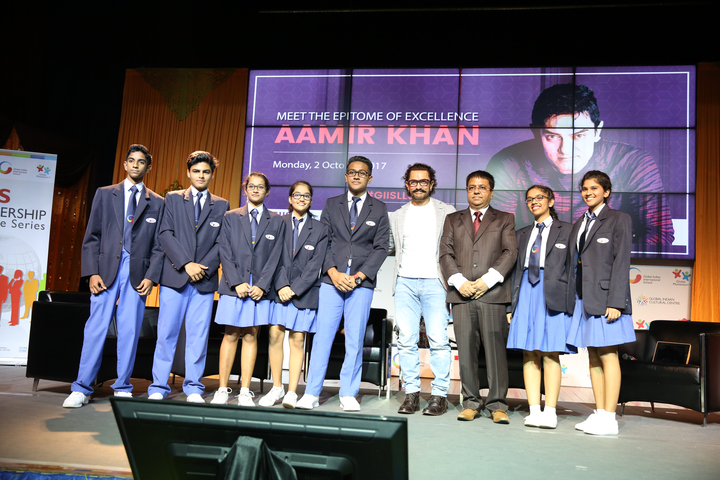 Global Indian International School, welcomed the epitome of excellence, Bollywood superstar Mr. Aamir Khan in October 2017, as a part of the GIIS Leadership Lecture Series.
October 2nd also being Gandhi Jayanthi is very special to GIIS, as the school is a follower of Gandhi's values and inculcates them in the students. And what better way to celebrate this day but with the legendary actor, filmmaker Mr Aamir Khan himself.
GIIS management team very enthusiastically welcomed Mr Aamir Khan, who first walked towards the statue of Mahatma Gandhi to pay homage to him as a fitting start to this sacred day. The lion dance, bhangra dance, bharatanatyam dance marked the grand welcome. He was then escorted to the school auditorium, but not before greeting the enthusiastic pupils.
Engaging Q&A session with student panelists
Mr. Aamir Khan joined GIIS student panelists on stage for the striking conversation, where students across GIIS campuses worldwide asked him different questions based on his movies, his interests, and personal life.
GIIS invited not only the students from all the campuses in Singapore, but also a huge global student audience of over 15,000 students, who were able to watch the event LIVE from the 23 campuses across 7 countries in South East Asia and Middle East.
When asked what suggestion he would give to students to self-discover their hidden superstar talents, Mr. Khan addressed the young crowd to try out different things. He said, "Not everyone can achieve superstar status, but all of us can be the superstar in our life. By being a good human being, if you can bring a smile to anyone' face, you can be a superstar."
@aamir_khan admits that his #SecretSuperstar is none other than his #mother. #GIISLLS #GIIS #AAMIRKHAN #inspiring #leadershiplecture pic.twitter.com/np0cK6lu9j

— Global Schools (@Global_Schools) October 2, 2017
Mr. Aamir Khan spoke about his passion for movies and also his character Shakti Kumar in the upcoming movie, Secret Superstar. He also spoke with passion about his most fulfilling achievements - The 'Paani Foundation' which is a not-for-profit company set up by Mr. Khan and wife Kiran Rao in early 2016 in order to work towards creating a drought-free Maharashtra, and the show Satyamev Jayate which broke social barriers when he addressed topics of female foeticide, child sex abuse, medical malpractice and more. Dr Justice CS Dharmadhikari - Co Founder and Patron Global Schools Foundation, was invited on Satyamev Jayate to share his views on the subject of untouchability and casteism in India.
Mr. Khan answered all the questions with great zeal and enthusiasm. The conversation with Aamir Khan will definitely be the one to be cherished forever. It was an unforgettable experience for the students, parents and the entire GIIS staff. Without any doubt, his visit to the island nation made a huge impact.