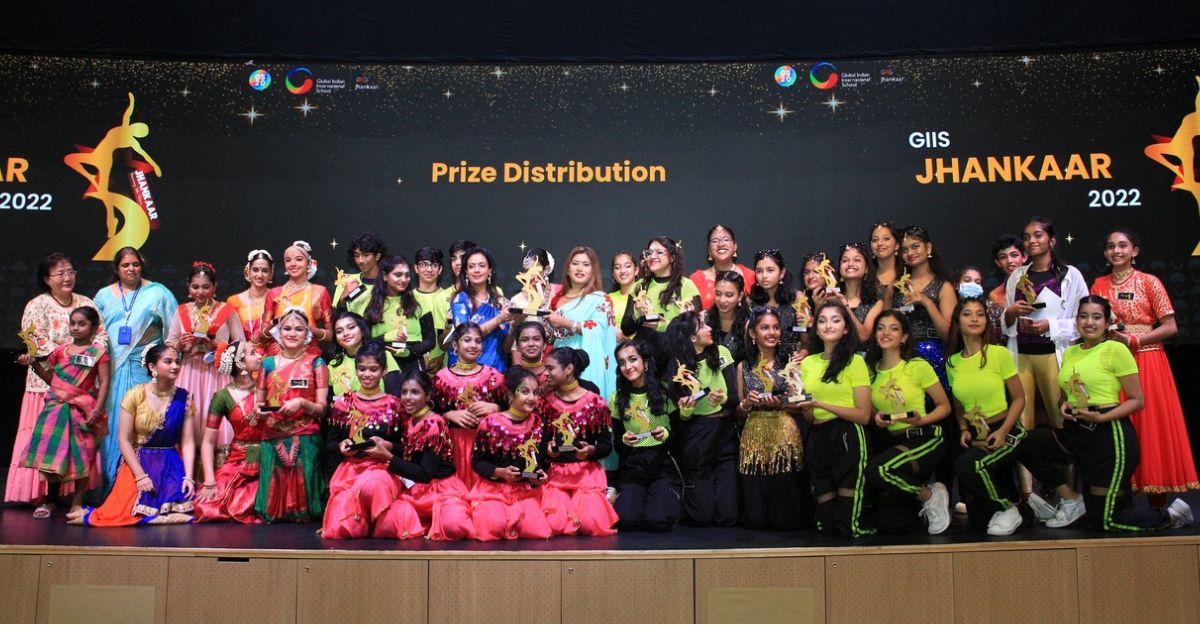 GIIS' SMART Campus hosted the much-awaited annual dance competition, Jhankaar 'Dancing like the Stars' on August 26 amidst much cheer and enthusiasm. The competition witnessed huge participation of students from 9 international schools across Singapore showcasing their prowess in various dance forms.
The Primary division of the school hosted the event physically, after a hiatus gap of two years wherein students from international schools such as National Public School, Yuvabharathi International School, Middleton International School, GIG International School, Kindle Kids International School, and Wise Oaks International School participated.
The competition was classified into four categories namely; sub junior, junior, sub senior, and senior. The participants in the sub junior category performed under the theme freestyle solo and freestyle group, whereas, for the other three categories the students got the option to participate in classical and freestyle themes. The participants went through several vigorous rounds of the selection process with a total of over 265 participants reaching the finale. On the day of the finale, the performance by the specially-abled students from The Guild International College won the hearts of everyone present.
The spirit of Jhankaar stitched various stages of the competition together and after difficult and careful deliberation, the team of esteemed and professional judges declared the names of the winners. The judges of the sub junior and junior categories were Ms Chitra Shankar, Ms Nayantara Parpia, and Ms Vicknesvari Vadivelagan, on the other hand, Ms Gayatri Sriram, Ms Jyotika Joshi, and Mr Anil Dandge judged the performances of the students in the rest of the categories. Overall it was a fruitful event and the amount of hard work put in by the participants showcasing their talent in different dance forms is noteworthy.
GIIS strongly believes in the holistic development of its students and encourages them to explore their talent and skills beyond the boundaries of their classrooms. Platforms like this, which is in line with one of GIIS' 9 GEMS, The Visual and Performing Arts, allow the students to enhance their skills and carve a niche for themselves in the field of performing arts.
Here is the list of winners:
Sub Junior - Freestyle Solo

Titles

Name

School

Winner

Anvita N Navin

GIIS East Coast Campus

1st Runner Up

Aashvi Mehrotra

GIIS SMART Campus

2nd Runner Up

Saanvi Singh

GIIS East Coast Campus

Sub Junior - Freestyle Group

Winner

Divine Divas

GIIS East Coast Campus

1st Runner Up

Dance and Dazzle

Wise Oaks International School

2nd Runner Up

Shining Stars

GIIS SMART Campus

Junior - Classical

Winner

Abirami Ramnarayanan

GIIS SMART Campus

1st Runner Up

Neha Ramanathan

GIIS SMART Campus

2nd Runner Up

Santhanam Neha

Yuvabharathi International School

Junior - Freestyle Solo

Winner

Dilraj Kaur Virdhi

GIIS SMART Campus

1st Runner Up

Indrani Sahane

GIIS SMART Campus

2nd Runner Up

Smriti Mahesh

GIIS East Coast Campus

Junior - Freestyle Group

Winner

India Vale

GIIS East Coast Campus

1st Runner Up

Rhythmic Eagles

GIIS SMART Campus

2nd Runner Up

Red Mirchi

GIIS SMART Campus

Sub Senior - Classical

Winner

Disha Rout

GIIS East Coast Campus

1st Runner Up

Janessa Mathai

GIIS SMART Campus

2nd Runner Up

Angular Soumya Riddhi

Yuvabharathi International School

Sub Senior - Freestyle Solo

Winner

Veda Mandaliya

Yuvabharathi International School

1st Runner Up

Rhythm Gupta

GIIS SMART Campus

2nd Runner Up

Sunishka Sriram

GIIS SMART Campus

Sub Junior - Freestyle Group

Winner

Pranavalya

GIIS East Coast Campus

1st Runner Up

Shades Of Slay

GIIS SMART Campus

2nd Runner Up

Golden Girls

GIIS SMART Campus

Senior - Classical

Winner

Hiranmayi Anand

GIIS SMART Campus

1st Runner Up

Yashna Ranjan

NPS International School

2nd Runner Up

Maya Senthil Kumar

GIIS SMART Campus

Senior - Freestyle Solo

Winner

Vaanika Bharti

Yuvabharathi International School

1st Runner Up

Dikshita Ganapatiraman

GIIS SMART Campus

2nd Runner Up

Ritisha Hooda

GIIS SMART Campus

Senior - Freestyle Group

Winner

Aura

GIIS SMART Campus

1st Runner Up

All Stars

GIIS SMART Campus

2nd Runner Up

Ablaze

NPS International School