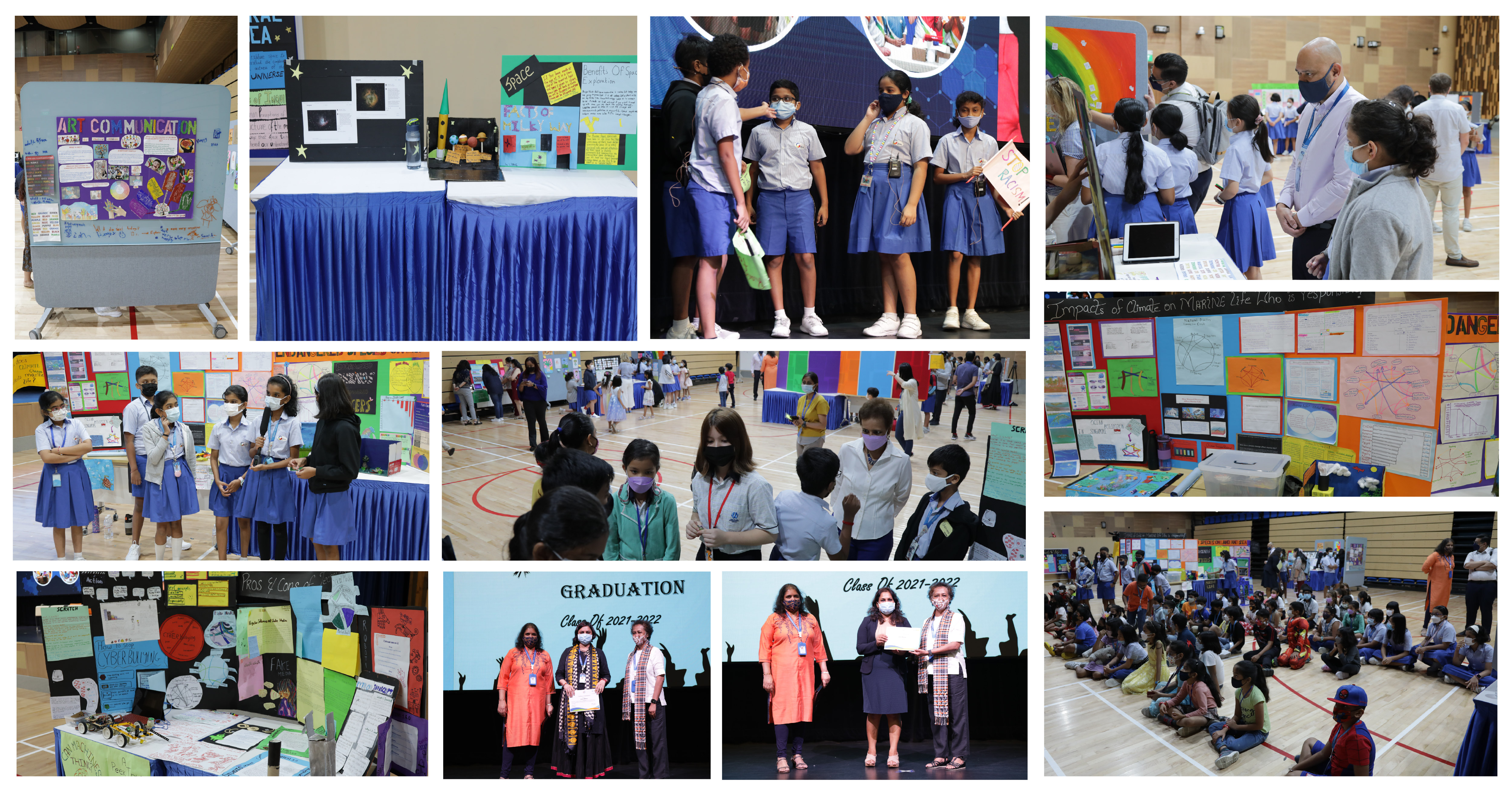 The graduation ceremony of PYP Grade 5 SMART Campus students was held on March 15, 2022, with much pomp and gaiety. The event is organised as the culmination of the PYP final year, where the students showcase their acquired knowledge by presenting projects in front of the teachers, parents, classmates, and other guests.
This year, a total of 51 students successfully graduated from the PYP Grade 5. The students showcased their learnings through thoughtfully created models and charts, role-play performances, and amazing live experiments. The confidence and enthusiasm with which they exhibited their projects were applauded by everyone present.
The students were awarded a certificate of recognition for the successful completion of the PYP Exhibition. The Grade 5 homeroom teachers Ms. Nidhi and Ms. Anjuna, and the mentors were also appreciated with certificates for their invaluable support and efforts in grooming the students.
Respected guests such as OWIS Principal Mr. Mark Renie, Senior PYP Coordinators and teachers from OWIS, PYP Coordinator of EC Campus, IBDP Coordinator Deepa Chandrashekharan, SMART Campus Principal Melissa Maria, Vice Principal Rekha Varghese, Early Years Coordinator Ms. Rema Rajiv, Associate Country Director Mr. Prashant Bafna, PYP Coordinator Manju Nair graced the event. A few students from OWIS Grade 4 and 5 visited the campus and were enthralled by the presentations done by the SMART Campus students.
As part of their projects, the students started by selecting a topic related to global issues that they resonate with the most and take an active part in solving the same. Some of the topics they worked on include; racism, natural disasters and marine life, the pros and cons of technology, and solar energy. They also displayed projects on history, art, and the solar system.
The students collaborated with their classmates who share the same dreams and passions. Each team created their central ideas and lines of inquiry before they began researching their chosen issues. They conducted an in-depth inquiry into global issues under the guidance of their teachers and mentors. Apart from recognising the global issues, the students also passionately shared what actions they are taking to solve them.
The PYP exhibition provides students with an opportunity to explore and reflect upon their learning journey through the PYP. Through events like this, the students get to explore multiple perspectives and apply their learning from previous years to reflect upon their journey through the PYP.
The approach of the IB PYP programme at GIIS is student-centered, wherein they get to take active participation in their own learning journey. It fosters an encouraging learning environment that motivates the students to achieve their goals.