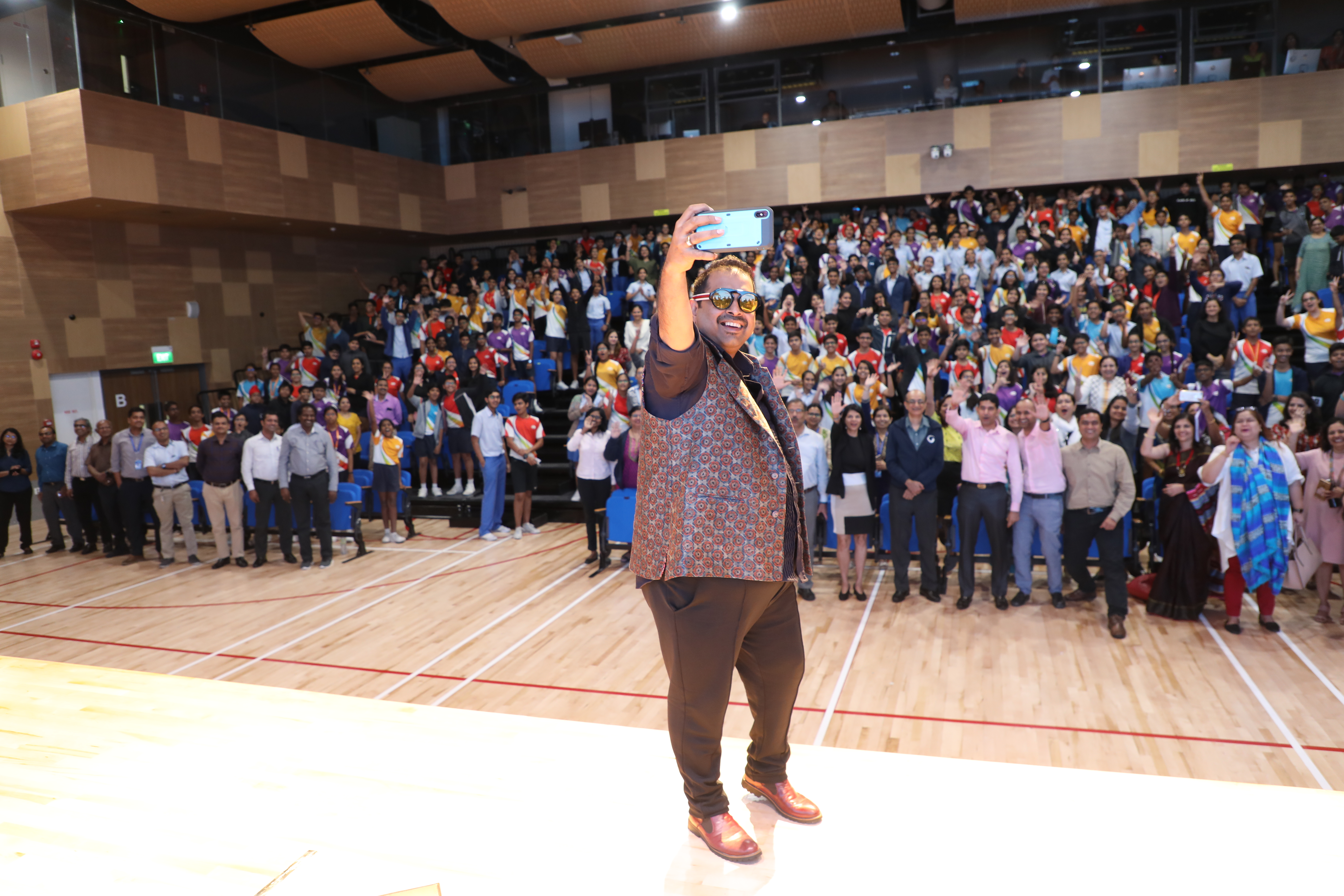 SINGAPORE, 25 OCTOBER, 2018: SMART Campus students were fascinated by a wonderful tête-à-tête with Shankar Mahadevan who visited the school as part of the GIIS Leadership Lectureship Series. The legendary Bollywood artist shared some great insights about music and life and the session turned out to be highly inspiring for the students.
Shankar Mahadevan is one of the great music composer and singer of Bollywood who has given hits like 'Kajra Re', 'India Walle', 'Galla Goodiyan', and many more. The singer is famous for his talent in breathless singing and his most famous breathless song is 'koi jo mila to'.
The great singer shared the stage with selected emcees who asked him interesting questions pertaining to music and career. Mr Mahadevan, satisfactorily answered all the questions with a touch of wit and humour.
When students asked him whether music should be a part of school curriculum he wittingly replied that a few academic lessons should be replaced by music classes as it creates a kind of joy and ecstasy that takes us into another world and frees our mind from all worries. The students agreed with the proposal in unison and there were loud cheer and laughter.
On being asked about the role of a teacher in life, he emphasised that Guru is imperative to everyone as he or she shows us the real path. He shared how his own music teacher taught him great ways to handle music in the real world. With his teacher's inspiration, Mr Mahadevan has learnt to use the basic principle of music in various ways and create innovative compositions.
Other interesting questions were pertaining to changing scenario of music and the relevance of reality TV shows for budding artists. To the question on the changing face of music, he responded that since change is the only constant thing in life and everything undergoes change, why should music be left behind. To the question on reality shows and how is it helping budding artists, he responded that such shows provide a rich platform to artists from every nook and corner of the country who could otherwise never avail the opportunity to showcase their remarkable talent.
The great musician of Bollywood is a qualified Engineer who left his profession to become a full-time singer as he felt that music is something he can enjoy for a long time without getting bored.
Students also asked him about the common mistakes that young artists make and to that he advised that budding artists should not start calculating their success and relentlessly go after quality work.
Mr Mahadevan also visited the state-of-the-art Radio Station of the SMART Campus and expressed his appreciation for the ultra-modern facilities and equipment present there. He was thoroughly impressed by the infrastructure of the SMART Campus and constantly urged the students to avail the facilities to the best of their advantage. He commented that, "I have never seen a school like this."
In the end, Mr Atul Temurnikar, the Chairman and co-founder of Global Schools Foundation presented him with a token of respect.
GIIS Leadership Lecture Series is conducted by the school to inspire creativity, passion, and action in our students, encouraging them to be responsible citizens, both now and in the future.