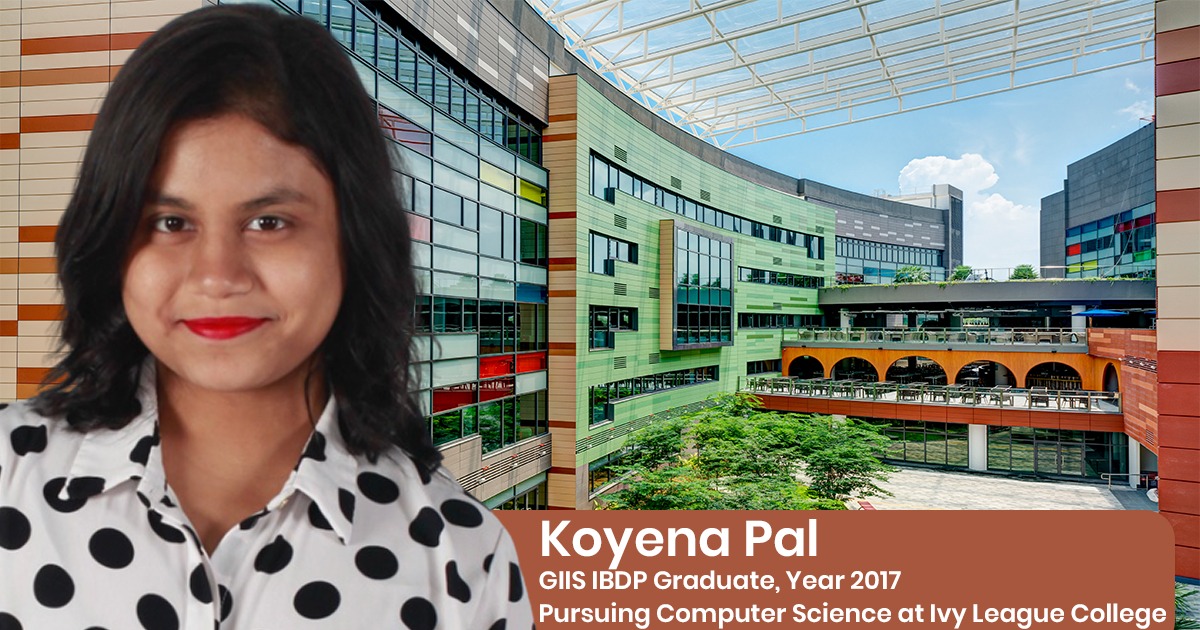 "Be true to yourself and show your true self in college applications" is the message by Koyena Pal, to other GIIS students who are aiming to get into an Ivy League college.
A 2017 IB graduate from GIIS, Koyena is currently pursuing Computer Science at Brown University. She has been a GIIS student all throughout before moving to Brown University. Koyena graduated with 43 points and got through in the Ivy League University for undergrad course.
GIIS was one of the few international schools in Singapore offering IB Diploma Programme and Koyena feels happy that she chose IBDP. She says, " I believe that completing the IB Diploma Programme was a huge personal milestone. It has been helpful for me at university in terms of time management, managing workload pressure, doing multitasking and academic requisites like writing essays."
Koyena always wanted to join the top international university and pursue computer science, but it was not an easy process. She says, "With SATs and other crucial school deadlines, working on college applications can be really stressful." However, with the guidance of the school's career counsellor was a huge help for her in managing time, catching deadlines and submitting accurate applications. Koyena was introduced to resources like CIALFO and Prep Zone by the school's Career Counsellor, that helped her with all the necessary information for applying.
Koyena's most memorable achievement in school was co-authoring an IEEE published research paper with her colleague as part of an internship during the summer school break. This is when she realized her interest in the area of cybersecurity and her research capabilities.
At GIIS, she was a member of Student Government, Sports Club and a couple of other student-run organisations. Having participated in multiple activities at school prepared Koyena to adjust to the high-paced environment of the university and stay engaged in more than one pursuit at a time. At university also Koyena wears multiple hats.
Koyena says, " At Brown, I have been pursuing what I want to do, sticking to my passions and exploring new cultures." She is part of the Bengali Students Club and Daebak, a K-pop dance association at Brown and RISD students. Being in these clubs allows her to connect with individuals who share similar interests. She loves the fact that Brown has a diverse set of students which allows her to explore a whole new world of food, culture and language.
At the academic level, Koyena is involved in learning about related fields other than Computer Science. She says, " being at Brown, you can not only concentrate on what you want to do but also explore related fields that you may otherwise not have. For instance, in my next semester, I plan to take Policy and Psychology courses in addition to Computer Science."
Every student at the university should add value and get involved in hands-on tasks. Koyena is also a Teaching Assistant for a selected Computer Science courses, where she gets the chance to mentor and relook at the course from a different angle.
GIIS wishes all the best to Koyena Pal and wishes her luck in all her future pursuits.