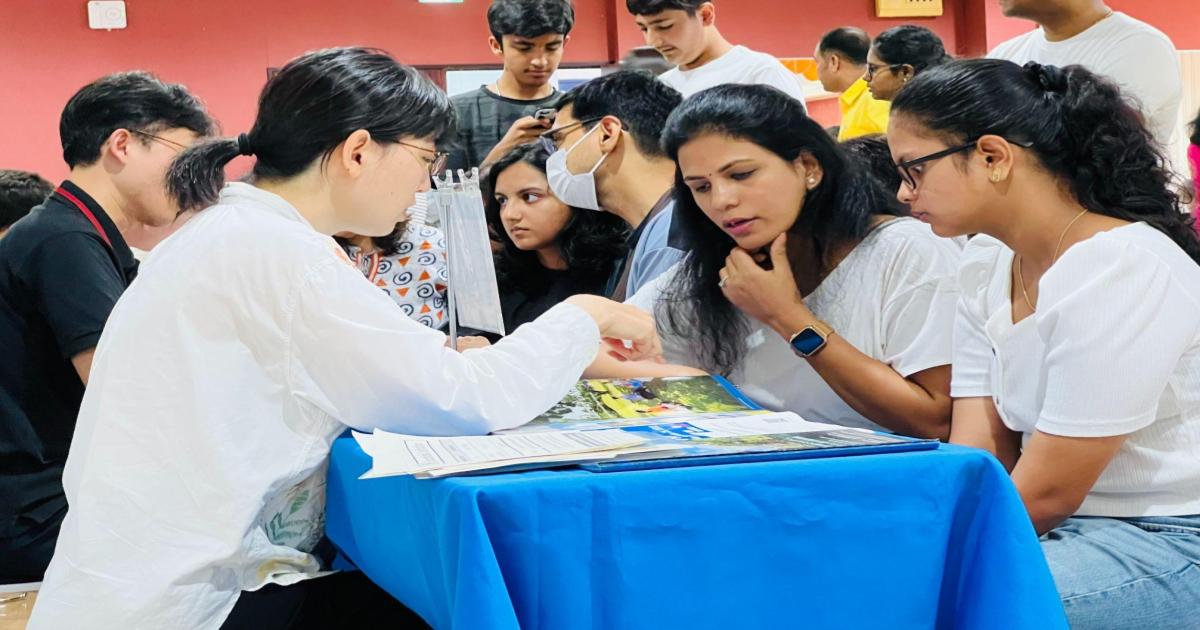 Global Indian International School (GIIS) Tokyo's Nishikasai Campus Auditorium was brimming with enthusiasm on Saturday, August 26, 2023, as the Career Counseling Department orchestrated a dynamic university fair.
A total of 12 Japanese universities, offering English-based study programs, participated in the event, showcasing their educational offerings to a captivated audience.
The participating institutions comprised a distinguished lineup, including the International College of Liberal Arts at Yamanashi Gakuin University (iCLA), International Christian College, Kyoto University of Advanced Science (KUAS), Lakeland University Japan, Nagoya University (NU), Nagoya University of Commerce and Business (NUCB), Ritsumeikan University, Temple University Japan Campus (TUJ), Tokyo International University (TIU), University of Aizu (UoA), University of Tsukuba, and Waseda University.
Setting up their informative booths in the GIIS Tokyo Nishikasai campus auditorium from as early as 9:30 a.m., the university representatives prepared to engage with eager students and parents.
The event commenced with a warm welcome from Mr. Sumit Mishra, the Global School Foundation (GSF) Country Director for Japan and South Korea. Mr. Mishra extended his greetings to the attending university representatives, esteemed guests, teachers, and other participants. During his opening speech, he emphasized GIIS's mission, growth trajectory, and educational excellence. He underscored the significance of forging partnerships and Memoranda of Understanding (MoUs) between universities and GIIS to facilitate seamless student placements. Following this, Dr. Md. Mukhlesur Rahman, the Career Counselor of GIIS Tokyo, presented the university placement report of GIIS graduates and elucidated the event's essential guidelines to the university representatives.
Over the course of the fair, 237 attendees navigated the various booths between 10:00 am and 2:00 pm, engaging in discussions about admissions-related information with the university representatives. This year, not only GIIS Tokyo students, but also students and parents from seven other schools, namely UIA International School, Indian International School Japan (IISG), Ueno Gakuen, Hope International School, Sky Ryder Secondary English Boarding School, Kasai Minami High School, and Gunma Kokusai Academy, attended the event. Additionally, individual students and parents keen on university admissions also made their way from one booth to another. Representatives from Information Management Innovation Professional College (iU) and Keio University also graced the event with their presence, observing the proceedings.
Throughout the fair, university representatives engaged in insightful conversations, addressing inquiries from eager students and parents. They distributed informative brochures, leaflets, and other relevant materials to the attendees. Notably, several universities extended early bird online registration opportunities for prospective students.
As the event drew to a close, Dr. Rahman extended his heartfelt appreciation to all participants, university representatives, and staff members whose collective efforts culminated in the resounding success of the university fair. The event not only provided valuable insights to aspiring students but also fostered connections between academia and future scholars.
For more details and a glimpse of the event, stay tuned to the official GIIS Tokyo website.
GIIS Tokyo Communication