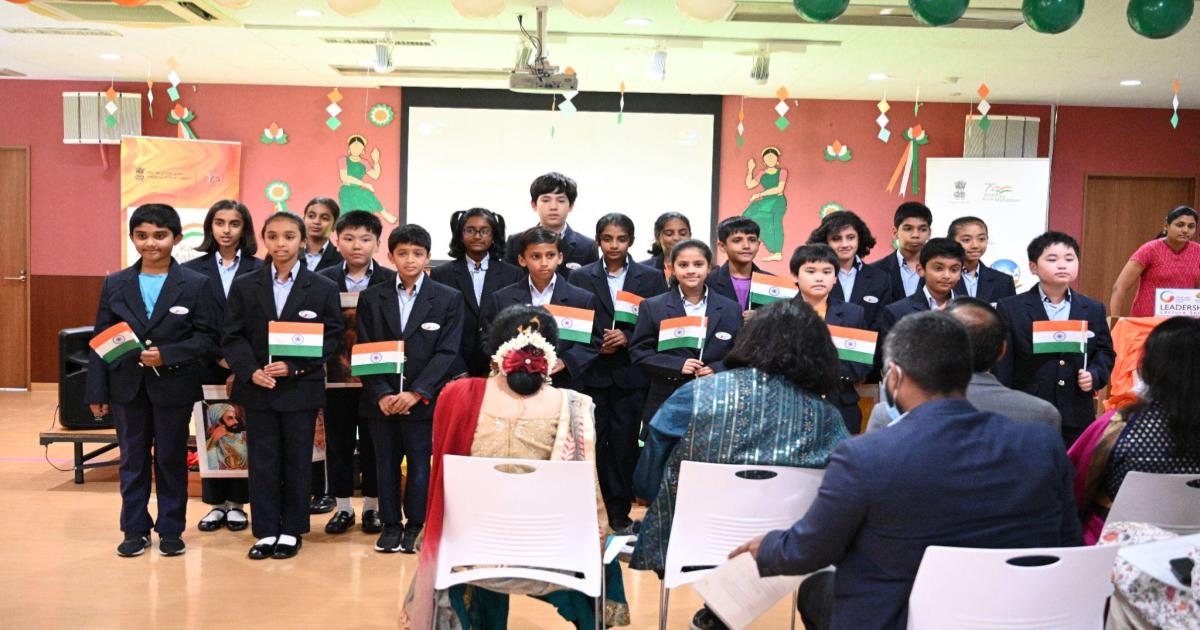 In a celebration of culture, education, and artistry, GIIS Tokyo continued its tradition of fostering leadership through the prestigious Leadership Lecture Series. On the 14th of August, 2023, the Nishi Kasai campus was abuzz with excitement as it played host to this enlightening event.
This year's lecture series coincided with India's 77th Independence Day and was a collaborative effort with the Embassy of India, adding a special international flair to the occasion. The event featured two distinguished artists, Mrs. Nalini Toshniwal and Mr. Johar Ali, who graced the event as the esteemed Guests of Honour.
Mrs. Nalini Toshniwal, a renowned Kathak artist, choreographer, and performer with over 36 years of experience, took centre stage. She has also held the position of President at CID-UNESCO Ashiya Japan for 14 years and received the prestigious "SHE THE CHANGE – NARI UDYAMI AWARD 2019" during the 15th Pravasi Bharatiya Divas in Varanasi. Joining her was Mr Johar Ali, a classical singer and the eldest disciple of the late Ustad Gohar Ali Khan. His melodious voice has resonated in over a hundred venues worldwide, including a special representation of India at the 60th anniversary of UNESCO in Paris.
The event's Chief Guest was Ms Kanika Agarwal, Director of VCC and First Secretary at the Embassy of India. Since September 2022, Ms. Agarwal has held the position of Director of the Indian Cultural Centre (VCC) in Japan, a prestigious appointment by the Indian Council for Cultural Relations (ICCR), Ministry of External Affairs (MEA), Government of India.
The lecture series drew an enthusiastic audience that included not only students from the secondary segment but also parents. The two-hour event unfolded with a panel discussion led by CBSE 9th and 11th-grade students, offering valuable insights into the maestros' skills and learning journeys. This engaging dialogue was followed by mesmerizing performances by the two virtuosos, accompanied by their exceptionally talented troupes. Students had the opportunity to interact with the artists, delving into the intricacies of rhythms and 'taals,' leaving them utterly captivated.
The event surpassed all expectations and garnered resounding success, leaving the students eager to attend more such sessions in the future. The evening culminated with the felicitation of Chief Guest Ms Kanika Agarwal, as well as Mr. Johar Ali and Mrs. Nalini Toshniwal, along with their respective troupes. GIIS Tokyo continues to set new standards with each event and initiative, cementing its reputation as a leader in nurturing holistic development and cultural appreciation.
GIIS TOKYO COMMUNICATIONS