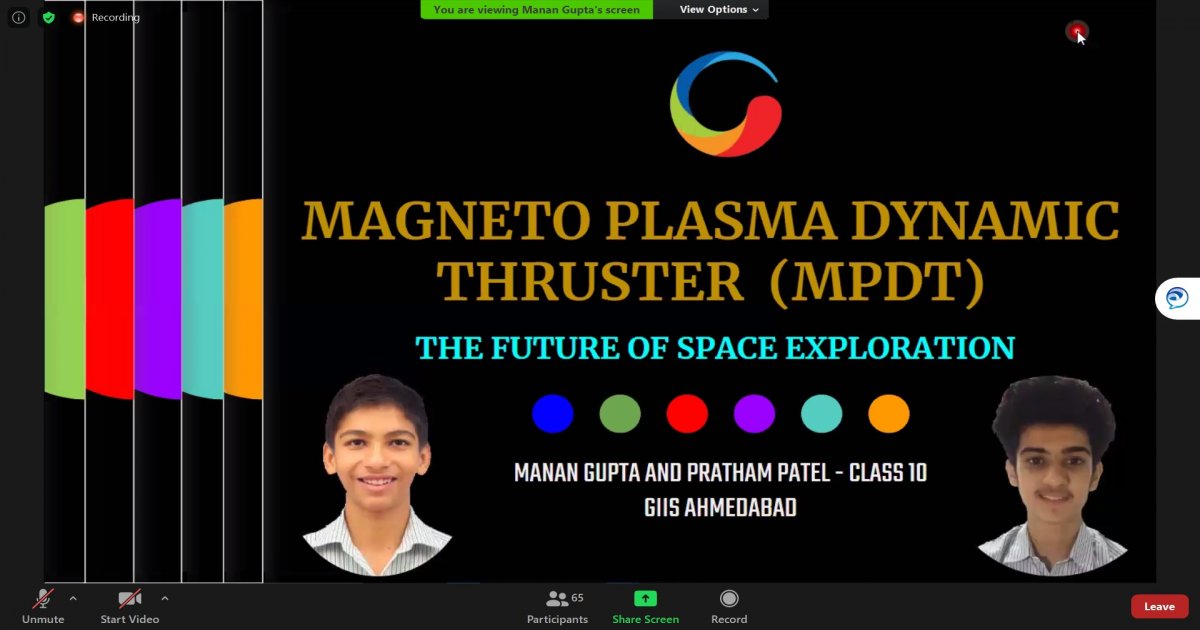 An Inter GIIS Global Student Exchange Competition was recently conducted on the Physics Project Presentations with the theme 'How things Work' for gadget/devices to help students explore the world of machines and find what can make them go and create wonder in everyone's lives. This was a great learning experience for students of Grade 9 and 10 across 5 GIIS campuses, viz., Noida, Ahmedabad, Balewadi, Bangalore and Surat.
Two teams from each campus presented their projects virtually through Zoom. They understood as to how those concepts of motion, electricity and magnetism were interlinked. The time limit for each presentation was 5-7 mins. All the teams explained very interesting physics concepts and mechanisms like LDR, Microwave, Touchscreen, Maglev, Electromagnets, Hydraulic system etc. through PowerPoint presentations.
After every presentation, there was a question-answer round by the judges – Ms Deepika Sodhi - Academic Supervisor for International Curricula at GIIS, Singapore and Mr Ravi Raj Shekhar -Physics Teacher in GIIS, Abu Dhabi. The judgement criteria comprised of scores on the organization or logical presentation of ideas, clarity of concept, physics principles involved, innovation and creativity, teamwork and presentation.
Results are as follows:
Position

Campus

Participants

Project Title

1st

GIIS Balewadi

Garv Srivastava, Atharva Khursale, Pranav Satti (10A)

LDR lamp

2nd

GIIS Ahmedabad

Manan Gupta, Pratham Patel (10 B)

Magneto Plasma Dynamic Thruster- The Future of Space Exploration

3rd

GIIS Ahmedabad

Neeva Nanavati, Hetvi Sidhpura (9C)

Vortex Windmill-Reinventing Wind Energy

3rd

GIIS Whitefield

Aryan Vishal Karmore,

Srikarthik Sankarkumar,

Dhruv Raj Nair (9)

Overview on touch screen technology-types, working and application
Ms Sunita Jaisingh, National Academic Head of GIIS India, appreciated all the students for their creative presentations and indeed she has always been a guiding light for students to unleash their creative side through this thoughtful and wonderful initiative of Global Student Exchange programmes. This has made it a breeze for students from various campuses to come together, meet, share and learn via the virtual medium. These GSE programmes are conducted all the year-round, to help students discover innovative and solution-centric ideas and do research with proper analytical presentations on various topics.