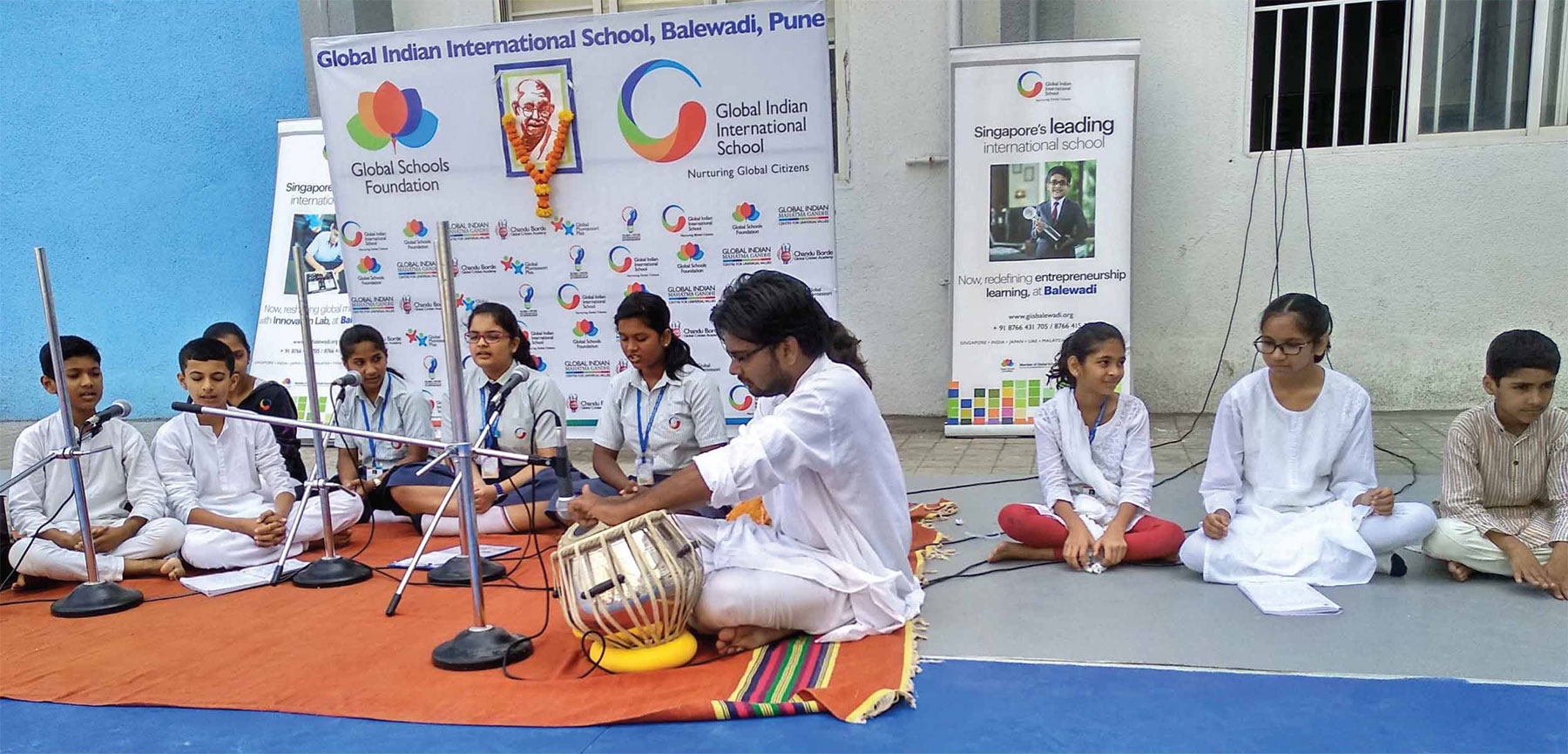 As part of the series of activities, in October, 2018 our students celebrated the Birth Anniversary of Mahatma Gandhi and International Non - violence day by starting their school day with a special assembly presented by the students. The participants were dressed up in white traditional dress to symbolize peace, one of his main principle. His favorite devotional song 'Raghupati Raghav Raja Ram' was sung by Chrysanthemum House. Information regarding Gandhiji's life was given by Orchid house. Core values of Mahatma Gandhi was explained in detail by the Sunflower house. A skit was performed on Unity in Diversity by the students of hibiscus house.
On 2nd October, meditation was conducted to ensure peace among the students. There was the lighting of the lamp to celebrate the essence of love and peace by the youngest and the eldest child of the school. Yoga exercises were performed by the students, teachers and other staff members. Collage making activity was conducted for Grade 6 to 8 on various topics, viz., Celebrating festival by spreading love and care, Preserve me - Monument of India, and My India of 2050.
After completing the activity, Swachh Bharat Abhiyan was conducted by the students in the school premises to maintain cleanliness. The Students Council conducted the games for the support staff members of the school to ensure everyone is involved in celebrations. All the members participated and enjoyed the games. After the games, theses members were offered with lunch brought by the student to show their concern towards them and also at the same time, feel the joy of giving as an act of kindness.
To create an awareness about Gandhi's life and his contribution to achieve freedom every day, each class conducted an assembly with different topics from 3rd October to 12th October through skit and information. On 3rd October, Grade 3A conducted the assembly on Gandhiji's childhood life. 4th October, Grade 3B conducted the assembly on Gandhi's journey to South Africa. On 5th October, Grade 4 showed the Satyagraha Movement and its significance in India. On 8th October, Grade 5 presented the assembly on Sabarmati Ashram. 9th October, Grade 7 shared the information about the Non-Cooperation Movement & Dandi March. On 10th October, Grade 8 showed few glances of Quit India Movement through the skit. On 11th October Grade 6 read the selected letters of Gandhiji and explained its importance. Importance of medicinal plant & Natural plants as a best cure was shared by the Grade 1 and 2 students daily. On 12th October, pre-primary students conducted a special assembly focusing the morals depicted by the three wise monkeys and shared amongst students to inspire them to speak no evil, hear no evil, and see no evil in their daily lives.
Grades 1 to 8 also conducted quiz on Gandhiji's Life, Space Knowledge and A.P.J. Abdul Kalam which was very informative and children truly learned a lot from these sessions.