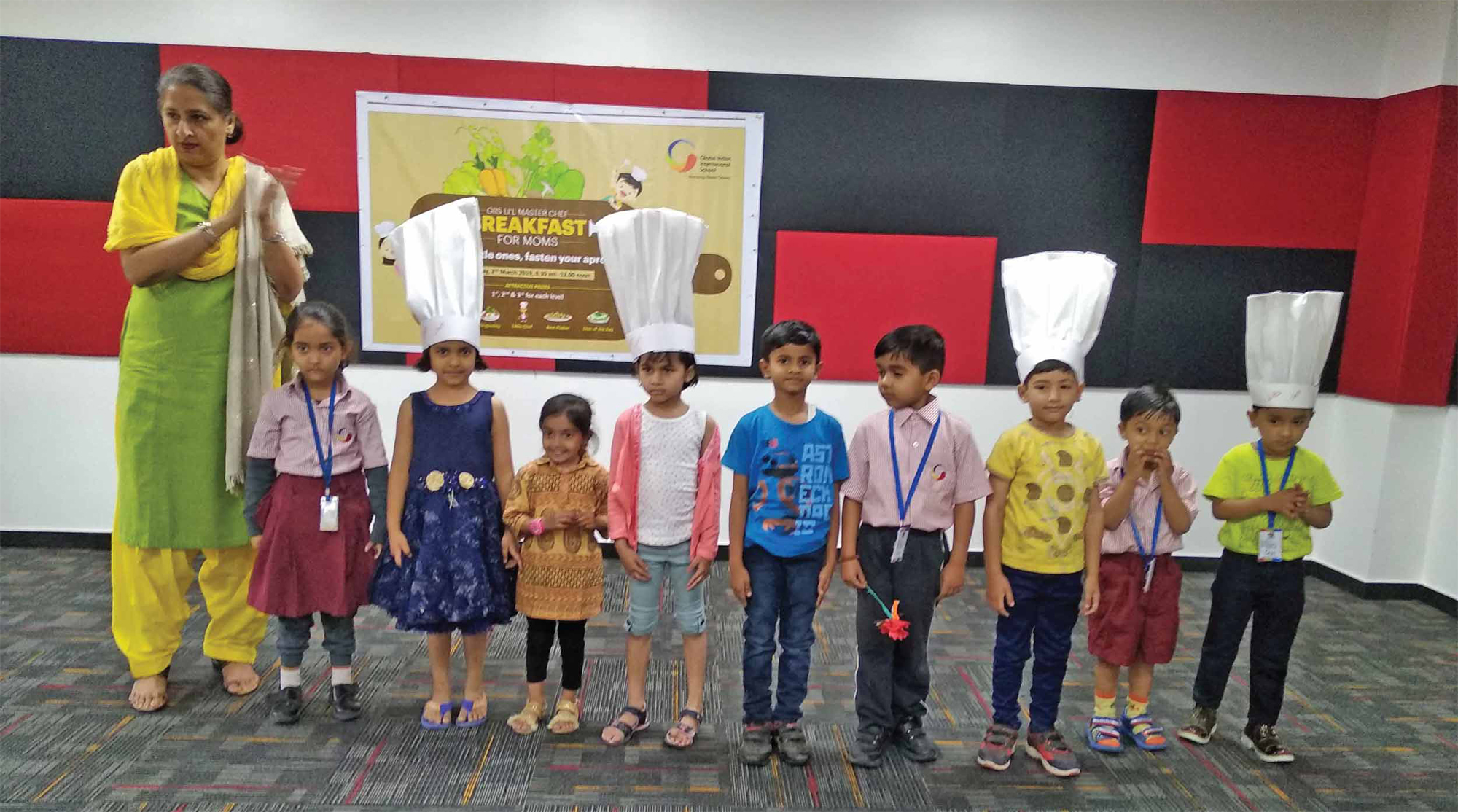 Global Indian International School, Balewadi organized Li'l Master Chef Fireless Cooking Event in March 2019, where special breakfast was prepared in her honor, for her, by her own loved ones (Father and Child). The theme of the event was "Breakfast for Moms". Students of Pre-Primary along with their fathers participated enthusiastically in the event and prepared healthy and mouth-watering breakfast without using fire. Curd Fruit Special Salad, Sprout Matki Chat, Vegetable Cheese Sandwich & Mix Vegetable Koshambir were the main source of attraction among the judges and viewers.
Dr. Rupal Jasani, a proficient Dietitian (Rupal's Diet Clinic) and Ms. Christina M. Reddy, Neonatal Nurse Specialist were the chief guests of the event. Mothers spent quality time and prepared attractive gift cards while children and fathers preparing breakfast. Fathers were happy to showcase their culinary art along with their tiny ones. They said that GIIS Li'l Master Chef Fireless Cooking Event helped in creating a great bonding with their kids in kitchen. Mothers felt honored and were happy seeing the efforts made by the fathers and kids as a team. The breakfast was delicious and made with love. All the parents praised GIIS Balewadi team for involving fathers in the event and providing an opportunity for a quality family breakfast time.
GIIS Balewadi Principal, Ms. Savinder Kaur said, the purpose of this event was to also promote eating healthy habits among children. In our busy schedule, we often eat outside food and fast food more often, which is unhealthy and unhygienic too resulting in severe health problems like obesity etc. Thus, she recommended to prefer home cooked healthy & hygienic food. She added and said that the balance food is more important, so we should include more seasonal food, diary food and natural food in our daily life for better health. In this event, children not only got involved in preparation, but also learned to make, eat and share healthy food. Such fun learning events are memorable and have a high degree of retention.