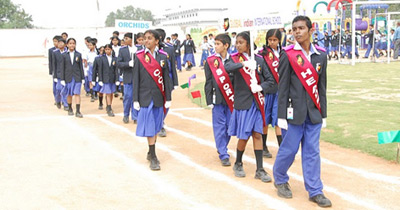 Global Indian International School, Uppal Campus, Hyderabad, celebrated its second INVESTITURE CEREMONY (2010-11) on 30th of October, 2010.
Shri. S. Prabhakar Reddy, IPS, Commissioner of Police, Cyberabad was the honourable chief guest, accompanied by Mr. Shiva Prasad, IPS, Deputy commissioner of Police, Alwal Zone.
The event started with the students marching past the chief guest, showcasing the Cabinet Body and the four houses of the school namely, Chrysanthemum, Hibiscus, Sunflower and Orchids. The student cabinet was headed by the head boy of the school, Master. Ashish Raj of standard 8. The elected members were then sworn in and pledged their oath, to undertake the responsibilities entrusted to them, under the able guidance of the chief guest.
Shri. Prabhakar Reddy applauded the enthusiasm and discipline exhibited by the students and expressed that "Leaders are born only when they are entrusted with responsibilities". He also emphasised that in today's word not only studies but sports also play a vital role in overall development of a child. He also requested parents to encourage their children for the same. He appreciated the school management - ARCA Education Society for providing this kind of encouragement to the students.
The programme also had Executive Vice Chairman, Mr. Narasimha Murthy, Executive Director, Mr. Satya Prasad; Principal, Mr. Nageshwar Rao, Staff, Students and ever encouraging parents supporting the entire event until the vote of thanks.
The event was a grand success with the support of entire Arca team.
Link to Photos:



http://picasaweb.google.com/giishyderabad/InvestitureCeremony#