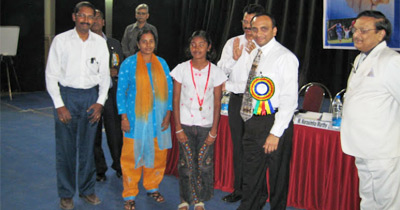 Children when nourished and taken care, grow into responsible and independent individuals. With the concept of Nuclear families and both parents working round the clock, it is indeed becoming a challenge for parents when it all comes down to PARENTING.
There are many solutions and suggestions regarding the Art of Parenting, but only parents know and can opt for adapting the suggestions as per their personal experiences and situations. Many doors are open to help the parents in their parenting. Which one do they want to choose depends on their choice.
Many such enriching and useful choices were presented to all the anxious parents by Mr. Yandamoori Veerendranath, - organized by THE HINDU EDUCATION PLUS, in association with the GLOBAL INDIAN INTERNATIONAL SCHOOL - UPPAL CAMPUS, Hyderabad ON SUNDAY, 30TH JANUARY, 2011.
Gold Medals were awarded to All round Achievers (CCA,ECA & Academics) of Global Indian International School – Uppal Campus, Mr. Sai Swapnil of VI, Ms.Vethavarshini of VII and Mr.Sourab Pandey of VIII by Mr.Yandamoori Veerendranath acknowledging their achievements for 2010-11.
Link to Photos:



https://picasaweb.google.com/giishyderabad/ARTOFPARENTING#