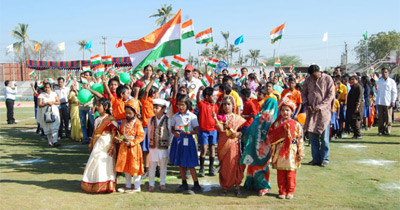 The entire fraternity of GIIS, Uppal gathered together in the campus and celebrated India's Republic Day on January 26th, 2011.
The Chief Guest of the day, the Executive Vice-Chairman, Mr. Maganti Narasimha Murthy, also the founder of ARCA Education Society had a review of the School's parade led by Head Boy Master. Ashish Raj and hoisted the National Flag, marking an opening to the day celebrations.
The students exhibited their splendid performances displaying different drills and dancing to the famous patriotic songs "Vandemataram" and "Jai Ho"
The Chief Guest, Mr. Muthy addressed the gathering, expressed his gratitude to our national leaders because of whom we are enjoying independence today and acknowledged the importance of the constitution formulated by Dr. B.R Ambedkar.
Mr. Murthy also urged the students to prepare well for their fast approaching final exams. The event also had the Executive Director - Mr. Satya Prasad, General Manager - Mr. Ravi Shankar, and Principal - Mr. Nageshwar Rao along with parents and staff who blissfully enjoyed the event.
Link to Photos:



https://picasaweb.google.com/giishyderabad/RepublicDayCelebrations201011#