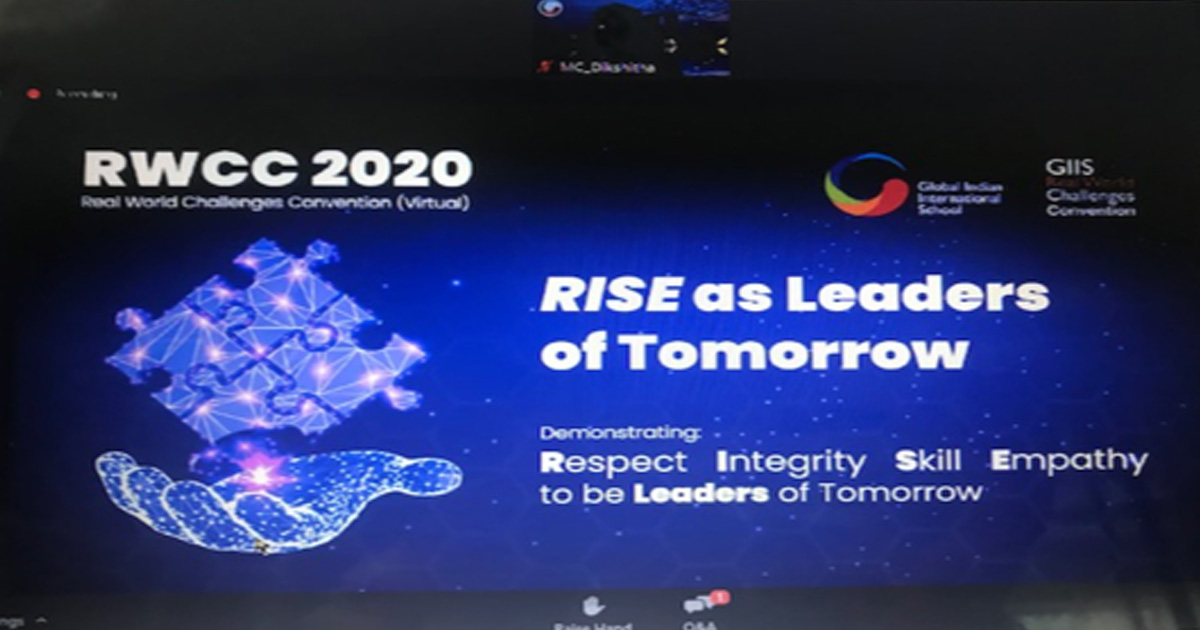 Kuala Lumpur, December 8, 2020.- RWCC –Real World Challenges Convention is organised every year by Global Indian International School, where students from all Global School Campuses are given opportunity to take up the real challenges. The year 2020 has been a different year with tremendous challenges, but that has not stopped the Global Schools from conducting this Gala event. In fact, this year, more people witnessed the valediction ceremony and other online competitions. The theme was "Rise as Leaders of Tomorrow".
Like every year, this year too, students of GIIS, KL took part in various competitions organized at RWCC platform and they were trained by their teachers to show their skills in this competition. They took part in AD Zap, Quality Circle, Apnnovation, Smart Strokes, Transformation Turn Coat, Innovative Social and Commercial Entrepreneurship Challenge, Student Conference, Little Mavericks and Perspective matters.
Three competitions- Student Conference, Quality Circle and Transformation Turncoat were conducted live. GIIS KL students performed with vigour and zest. All other competitions were pre judged and submission was done by uploading the students' work in RWCC drive. This year, the shortlisted ADZAPS were floated on School Social Media – GIIS SMART CAMPUS Face Book page and winner with highest number of votes was chosen and GIIS Malaysia secured 2nd Runner up position.
The results of all the competitions were announced during Valediction Ceremony on 2nd of December. It was a well –coordinated grand event. It started with the introduction which was followed by scintillating dance performance. In his speech, the Chairman and co-founder Mr. Atul Temurnikar, stated how timely investment in technology has helped Global School Campuses during pandemic. The guest of honour, Dr Wilson Chew, addressed the online audience with his inspirational speech. After his speech, the judges of all the competitions were introduced and then winners were announced.
GIIS KL team was declared 2nd Runner up under The Best Team Title in Student Conference, Quality Circle for secondary category and bagged individual prize for Middle school category in Transformation Turn Coat and Prospective Matters. Under Innovative Social and Commercial Entrepreneurship, GIIS, KL became 1st runner up in team and Individual category and in Appnovation, GIIS, KL was declared as 1st Runner up in team Category. The 1st prize in Smart Strokes for young folks was bagged by the student of GIIS, KL. The hard work and perseverance by students brought glory to the school.
The splendid event was concluded with the closing remarks and a vote of thanks.