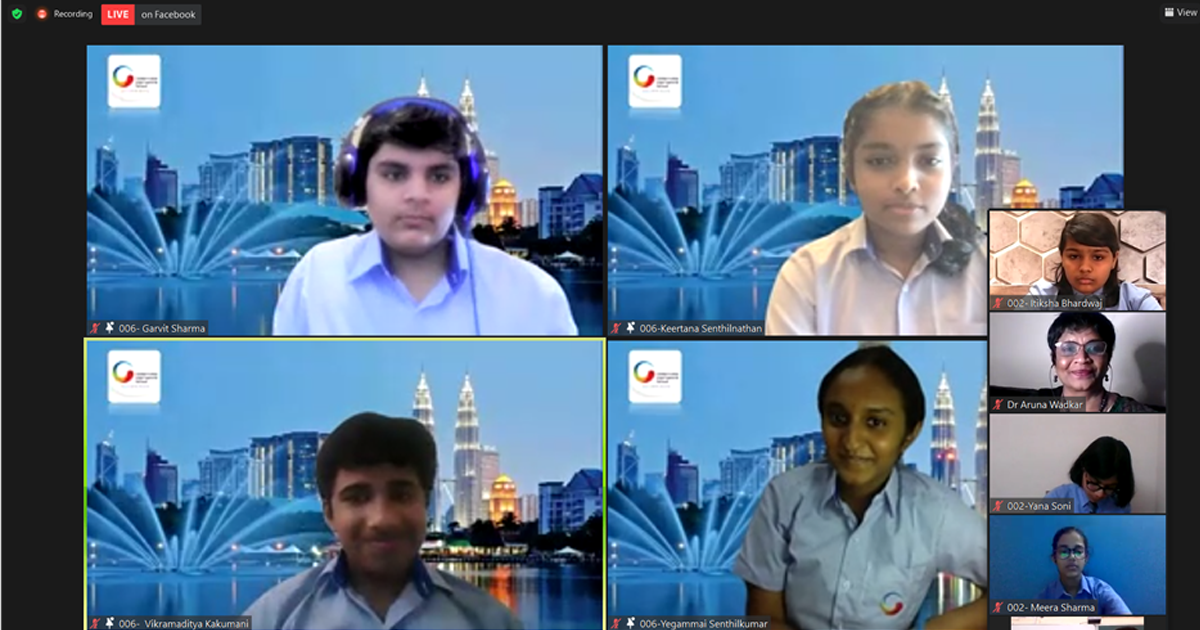 Kuala Lumpur 25 March 5, 2021.: Albert Einstein has rightly said, "The only source of knowledge is different experience." This virtual cultural program was definitely a different experience for Keertana, Yegammai, Garvit and Vikramaditya- students of Std. 8 GIIS KL. "If you have one idea and If I have one idea and when we exchange, we both will have two ideas", with this beautiful thought the event was started by the host, Mr. Aditya Bisaria. This program was organized by HETS- Harvest Educational Transformational Solutions. GIIS KL was in TEAM ACES. There were nine schools which participated in this program from different states of India like Karnataka, Madhya Pradesh, UP, Delhi and from Dubai. They organizers had given the option to choose from a variety of topics like Art and Culture, Tradition, Technology and Ecology. GIIS had chosen Ecology. It was not a competition but an exchange of ideas where students could learn different ways of presenting their perspective through various modes of arts and technology.
GIIS KL had prepared a presentation on Ecology, which explained the importance of ecology along with the damages caused, the preventive measures and how GIIS KL has contributed in maintaining balance in ecology through the campaign called Eco Transformer. Overall it was executed in a fun and an entertaining way. To test whether the students were attentive while others were giving their presentations, they held a small Q/Ans. session in which each team had to ask a question to the other school and answer their queries regarding the presentation.
There is no knowledge without learning and there is no wisdom without experience. Organizers appreciated GIIS KL presentation and their perspective on ecology. There was a special mention of it towards the end of the event. The felicitation ceremony was held on Sunday 28th February 2021. All the students, coordinators and principals were felicitated with the certificate of appreciation. The chief guest of the felicitation ceremony Adv. Vaishali Rode gave a motivational speech and appreciated the efforts of the teachers during Pandemic.