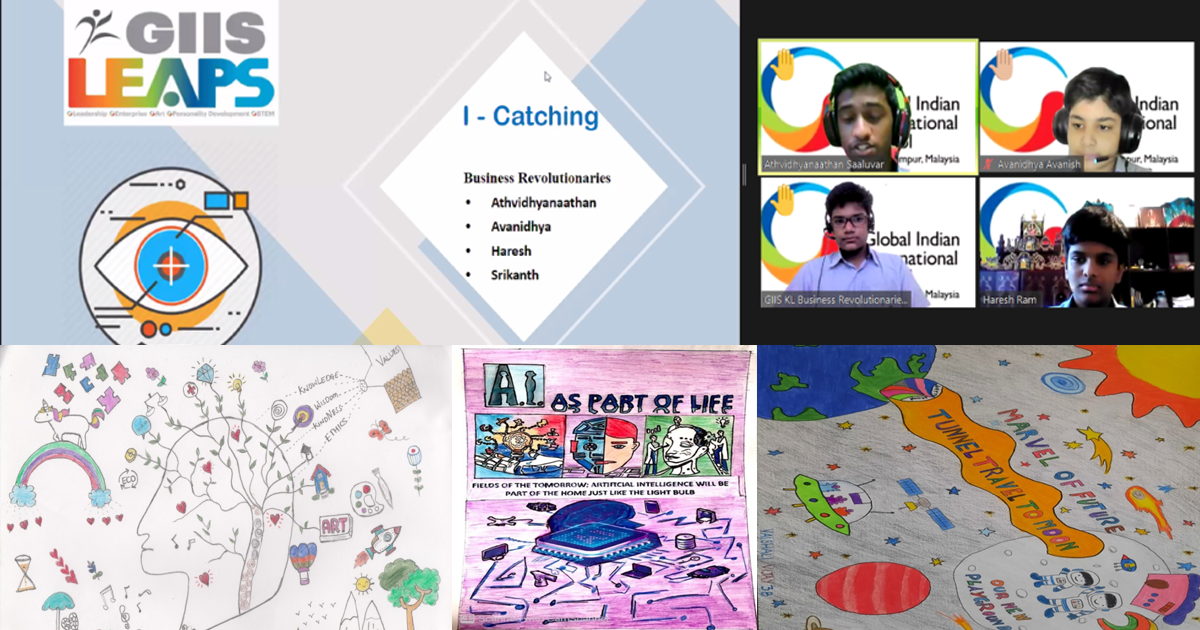 KUALA LUMPUR, March 5,2021.: GIIS KL participated in the inter-school competition GIIS LEAPS organized by GIIS Hadapsar. The events in which the students participated were- Dramatize, Words Matter, Start-up, Oodles of Doodles, Junkyard, Jingle It, Intellectual Combat, GIIS Beams and Create a buzz.
Nandini of Class 8, achieved 3rd place in Word Matter category as she presented her writing skills succinctly. Students from Class 9, Athvidhyanaathan, Avanidhya, Haresh and Srikanth showed their entrepreneurial skills in the event 'Start-Up'. Aarya, Hamsini, Akshayraj, Vaidik and Roshan brought fame to the school with their artistic skills in, 'Create a Buzz'. Tanishq, Saksham, Allen and Mudhurima created an innovative working model on waste management in 'Junkyard- Steam Challenge'. It was fascinating to witness all the participants putting up magnificent performances and kept the virtual audience enthralled throughout.
The endless cooperation, support, guidance and love of GIIS KL teachers have always encouraged the students to feel more confident to face this competitive world. CBSE teachers contributed with their expertise and experiences and engaged the students in a fruitful, constructive and open exchange of ideas throughout the preparation of this competition. The use of virtual platform has motivated teachers and students to go the extra mile and constructively contribute to fully reap the benefits of all the efforts that went into this ambitious exercise.
GIIS KL holds the vision to offer such opportunities to the students to gain substantial experience, showcase their skills, analyze and evaluate outcomes and uncover personal aptitude. Participation in any such event, motivates GIIS students to adopt innovative techniques and develop their ideas and skills.
In the words of Gandhiji "Champions are made from something they have deep inside of them- a desire, a dream, a vision." GIIS KL constantly endeavors that such competitions prove to be a great source of self-evaluation for students and help nurture their experiences and skills further.