Turning ten with GIIS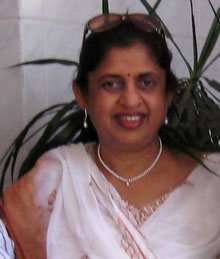 Sandhya Shete, Teacher, GIIS East Coast Campus, Singapore
When I joined GIIS as teacher in 2002, it was the only Indian international school in Singapore. Its home was the lovely Mount Sophia campus and the focus of attention was 60 students. We used to have our school assembly in one of the classrooms! The school back then was like a small family where the teachers and management worked hand in hand to overcome the initial challenges, learning new things every day. My memory is still fresh with our first team building session – an outing to A'Famosa Resort in Malacca, Malaysia.
The experience was unforgettable! As the years passed by, bonding with the school and colleagues became stronger and stronger. I yearned to be in the classroom and follow my dream to teach. When such an opportunity became available in Singapore, I knew it was the right one for me. It was very exciting to work for the only Indian school in Singapore in 2002. I initially signed on to teach at the 'Indian Central School' (as GIIS was formerly known as) based at Mount Sophia. Here, the atmosphere was relaxed but the spirit of excellence and drive for progress was well defined. I achieved a significant milestone establishing GIIS' first kindergarten, often with limited resources, as is common with any new venture. The task was challenging, but nonetheless, a great learning experience for me too. The management was very supportive and my fellow teachers were a great source of strength. It soon became like a family. I recall one instance when Mr Temurnikar mentioned to me that his dream was for our kindergarten to become a standard for the industry, and today I strongly believe that his dream has come true.
Teaching primary children has always been my passion. To shape the children and prepare them to face the challenges of the future gives me immense pleasure. Even now during the Parent Teacher Meetings, when I meet parents who tell me, "Our son/daughter adores you and whatever you say is always right for our son/daughter", tears of joy roll down my cheeks. As teachers, we feel proud when our students become global stars and realise that our small contribution has paid off in some way. My hobby is painting and while it allows my creativity to flow, it also helps me to de-stress. I encourage my students to be creative, and often, my young students surprise me with their amazing creativity.
Over the last ten years, the school has progressed with a worldwide reach, nurturing our Global Citizens and helping them to integrate with the multicultural society in Singapore and l in other countries.
No Comments