GIIS wins Golden Peacock Eco-Innovation Award by IOD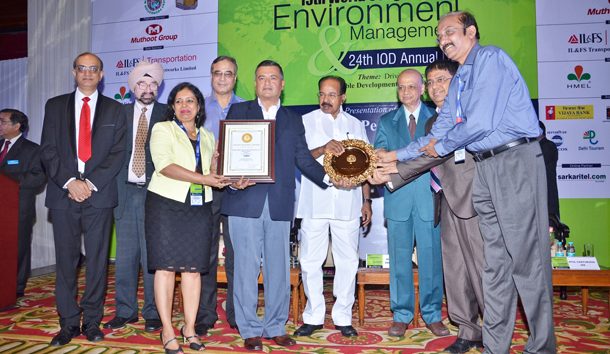 L to R: Mr Rajeev Katyal, Lt. Gen. J S Ahluwalia, PVSM (retd), Ms Melissa Maria,
Mr Atul Chaturvedi, Mr Rajiv Vasudeva, Honble Dr M Veerappa Moily, Justice (Dr) Arijit Pasayat, Mr Atul Temurnikar and Mr B G Shenoy with the Golden Peacock Eco-Innovation Award
Taking an emphatic step for creating an ecological footprint has garnered GIIS Balestier Campus the Golden Peacock Eco-Innovation Award by Institute of Directors (IOD). The award was presented to GIIS team led by Mr Atul Temurnikar, Chairman and Co-founder, GSF; Mr Rajiv Vasudeva, Country Director (Singapore), GIIS; Mr B G Shenoy, Director, GCEE; Ms Melissa Maria, Principal, GIIS Balestier Campus, and Mr Rajeev Katyal, Country Director, GIIS India, at the 15th World Congress on Environment Management in New Delhi, India on July 19, 2013. The award was presented by Honble Dr M. Veerappa Moily, Union Cabinet Minister for Petroleum and Natural Gas, Government of India and Justice (Dr) Arijit Pasayat, former Judge, Supreme Court of India and Chairman, Authority for Advance Ruling (Customs, Central Excise & Service Tax). Also present at the event were Lt. Gen. J S Ahluwalia, PVSM (retd), President, Institute of Directors, India and Mr Atul Chaturvedi, IAS, Chairman, Public Enterprises Selection Board (PESB).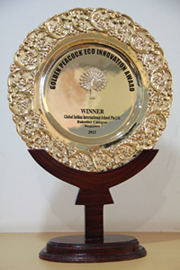 Golden Peacock Eco-
Innovation Award trophy
The theme of the Congress was "Driving Green Economy for Sustainable Development and Inclusive Growth". The prestigious Golden Peacock Awards for Environment Management, Occupational Health & Safety, and Eco-Innovation were presented during the congress.
GIIS Balestier Campus, Singapore, was decorated with Gold Star Award for its hygienic practices and appealing appearance. The Restroom Association of Singapore after conducting a stringent check of the aesthetic restrooms on campus had given a rewarding verdict. As a part of the ongoing efforts by GIIS Balestier Campus, to make the campus environment friendly, restrooms were given a makeover. The door panels of restrooms have been artfully painted with designs revolving around nature, which embraces forests, grasslands, seaside, underwater world, desert and flower garden. These panels make a statement about basic hygiene and water conservation to be followed at the loos. It also encourages students to appreciate and admire the bright and colourful world. This has been achieved as part of a collaborative effort by the staff and parents.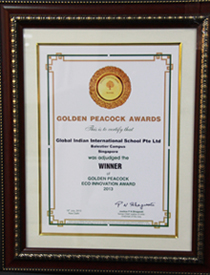 Golden Peacock Eco-
Innovation Award certificate
"Our efforts to create a strong awareness in all students towards eco awareness and hygiene have borne rich fruits. It is an honour to be recognised with the Golden Peacock Eco-Innovation Award by IOD. The GCEE team worked very closely with the campus leadership team in this endeavour," Mr Rajiv Vasudeva said.
As indicated by IOD, Eco Innovation is going to be the key for business success in the new millennium. According to Dr Madhav Mehra, President, World Environment Foundation, 'Innovation' is to 'knowledge economy' what 'efficiency' was to 'industrial age'. He says "Wealth in the new century is not going to be created by optimisation but by innovation. Most of products that we use today have already reached a stage of maturity and 90% of these will disappear in the first 10 years of the 21st Century. Our cars, houses, clothes, TVs, Computers, phones and even food are going to be changed in ways we cannot even imagine today. All this is grist to innovator's mill. Innovation will be the key competitive differentiator in the 21st Century."
Golden Peacock Eco Innovation Award 2013 recipients
Organization
Category

1

Hindustan Aeronautics Limited
Bangalore
AERONAUTICS

2

Global Indian International School Pte Ltd
Balestier Campus
Singapore
EDUCATION

3

Rallis India Limited
Gujarat
FERTILIZERS & CHEMICALS

4

MCX Stock Exchange Limited
Mumbai
FINANCIAL SERVICES
PROVIDER

5

Samsung India Electronics Private Limited
Gurgaon
FMCG

6

HCL Infosystems Limited
Noida
IT

7

Indian Oil Corporation Limited
Bongaigaon Refinery
OIL REFINING

8

TATA Housing Development Company Limited
Mumbai
REAL ESTATE

9

JSW Steel Limited
Bellary
STEEL

10

DP World Private Limited
Nhava Sheva International Container Terminal
Mumbai
TRANSPORTATION (PORTS)
No Comments