GIIS partners TIMES NOW for @aps@Emerging India Forum 2016@aps@
GIIS students marked their presence in the Times Now 'Emerging India Forum 2016' on 18 March 2016 held at the Suntec Exhibition and Convention Centre in Singapore. GIIS associated with the Emerging India Forum as an 'Education Partner'. The forum had a panel of experts to discuss the Indian Budget and its impact on regional economy. The event witnessed participation of over 250 delegates in each territory including High Commissioner, Ambassador, Analysts, Economists, high profile audience - traders & investors. Six students from IB Diploma and CBSE Class 11 of Global Indian International School received an opportunity to be part of the event.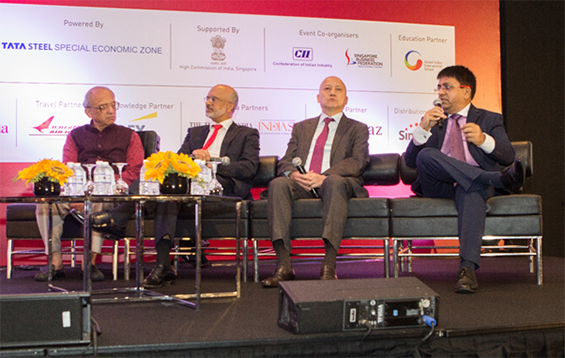 Mr Atul Temurnikar spoke on skills in India during the panel discussion
Deputy Indian High Commissioner Ms Paramita Tripathi gave her opening remarks, followed by the first Panel Discussion, which was based on @aps@India Budget 2016: Impact on Singapore & Wider Asia@aps@. Mr Atul Temurnikar, Executive Chairman and CEO, Global Schools Foundation, was part of the panel and shared dais with other eminent personalities like Mr Piyush Gupta, CEO of DBS Group; Mr Swaminathan Aiyar, Economist & Consulting Editor, Economic Times; and Mr Tan Cheng Guan, EVP & Head of GBD. Other dignitaries present in the forum included Mr Arun Misra (Chairman, CII ER Task Force on Investment & MD, Tata Steel SEZ), Leo Puri (MD, UTI Asset Management Company), Mr Teo Eng Cheong (CEO, International, Surbana Jurong Private Limited), and Mr M J Akbar (National Spokesperson, BJP).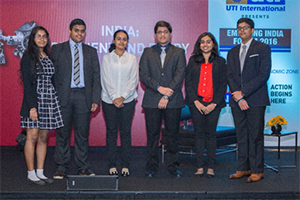 Students found Emerging India Forum
informative and helped them gain knowledge
on India@aps@s economy
In conversation with Mr Temurnikar, moderator of the first panel discussion, Ms Paromita Chatterjee asked about the current situation of skills in India. To this, Mr Temurnikar replied saying, "We need to look at manpower contribution in K-12 schools and higher levels. They are close to 8 million students dropping off each year from various school system. We need to improve schools and education system so that dropping off rates come down."
Commenting on investment in education sector, Mr Temurnikar said, "Education itself is an opportunity. India has huge investment opportunity, where one can invest in rural or small town cities, where maximum enrolments are expected. The Public Private Partnership (PPP) in the education sector, which will help us to come up with more manpower (because) you can keep talking about @aps@Make in India@aps@ but if manpower is not enough, skills in India are just touching the top layer."
After the first panel discussion, Mr Piyush Goyal, Minister of State with Independent Charge for Power, Coal, New and Renewable Energy in the Government of India, joined the forum through a Live video call and gave useful and valid insights into the banking and business development in rural as well as urban sectors of India.
After the panel discussion, forum was open for Q&A, in which Adithya Balasubramanium from GIIS Queenstown Campus asked a question to Mr Goel. Adithya asked, "Does India have too many players in the banking services?" To which, Mr Goel replied, "We need to have two sets of banks. Large banks, which can work in the international space and we need another set of banks, which can help us reach out to people in rural areas."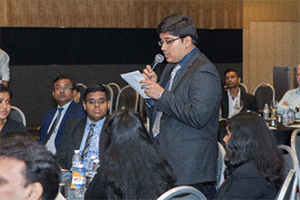 Another student from GIIS Queenstown
Campus Ravikiran asked panellists about the
banking sectors in India
Another student from GIIS Queenstown Campus Ravikiran asked the panellists, "What is your opinion about the opportunity for financial sector in India, which is shrinking money market after the global financial crisis in the world?" Mr Puri replied to his question saying, "The financial sector is underdeveloped. There are three broader points, one is of course banking system and how that can be reformed, second digital and thirdly, capital marketing."
According to Adithya, "The discussion enhanced my knowledge and gave me a better understanding about Indian Industries. I even got a chance to interact with the personalities like Mr Gupta, Ms Tripathi, Mr Aiyar and various other people who had attended the forum."
"It was a very informative meeting where everyone got an opportunity to learn something new," said Ravikiran. The panel discussion was followed by a networking session, where students had the opportunity to meet and converse with the dignitaries present from different fields.

View more images: https://goo.gl/EY92Ac
No Comments