Asia's Global Performance Excellence Awards (2012) by APQO for Education won by all 3 GIIS campuses in Singapore - Again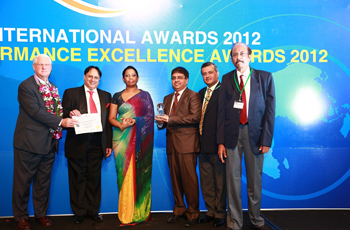 L to R- Mr Charles Aubrey, Mr Shan Ruprai, Mrs Pavithra
Wanniarachchi, Mr Atul Temurnikar, Mr Rajiv Vasudeva,
and Mr BG Shenoy with the GPEA for GIIS Queenstown
Campus, Singapore
All three GIIS campuses in Singapore proved that excellence in education matters the most by winning the Performance Excellence awards by APQO (Asia Pacific Quality Organisation) for 2nd time in a row. The awards were presented at a prestigious award ceremony at the 18th APQO/International Conference on Quality in Colombo, Sri Lanka on October 14-17, 2012.
Global Indian International School has created a momentous record in the history of Global Performance Excellence Awards (GPEA) - awarded by Asia Pacific Quality Organisation (APQO) - by being the only organisation to have won all three awards in the Education category in the same year, for the second consecutive year.
GIIS campuses in Singapore bagged the following awards in the Education category:
GIIS East Coast Campus, Singapore, won the World Class Award – the highest award in education for exemplary performance.
GIIS Queenstown Campus, Singapore, won the Best in Class Award, the second highest award in the education category.
GIIS Balestier Campus, Singapore, won the Quest for Excellence Award, the third highest award for education excellence.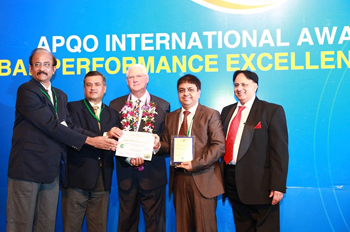 L to R- Mr BG Shenoy, Mr Rajiv Vasudeva, Mr Charles
Aubrey, Mr Atul Temurnikar and Mr Shan Ruprai with
the GPEA for GIIS Balestier Campus, Singapore
The awards were presented by Chief Guest Mrs Pavithra Wanniarachchi, Minister of Technology and Research, Govt of Sri Lanka, Dr Charles Aubrey, Chairman, APQO, and Mr Shan Ruprai, President, APQO to Mr Atul Temurnikar, Chairman and Co-founder, Global Schools Foundation, Mr Rajiv Vasudeva, Country Director (Singapore) GIIS and Mr B G Shenoy, Director, Global Centre for Education Excellence (GCEE). Also present at the event was Ms Victoria M Vallestero, APQO Secretary General.
Keynote speakers at the conference included internationally recognised quality gurus like Dr Chales Aubrey (USA), Mr Shan Ruprai (Australia), Mr Harnek Singh, Vice President/ Director, Business Excellence, Singapore Technologies Engineering Ltd, Lt. Gen. Dahi Khalfan Tamim, General Commander in Chief of Dubai Police, United Arab Emirates, Mr Gregory Watson, Immediate Past Chairman, International Academy for Quality and Ms Mangalika de Silva, Secretary, Sri Lanka Association for Quality.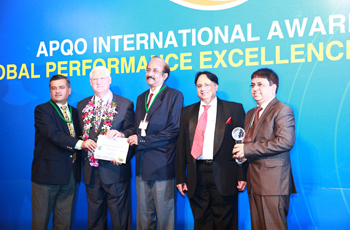 L to R- Mr Rajiv Vasudeva, Mr Charles Aubrey, Mr BG
Shenoy, Mr Shan Ruprai and Mr Atul Temurnikar
with the GPEA for GIIS East Coast Campus, Singapore
Mr B G Shenoy was awarded the Presidents Award of Excellence by APQO for his contributions for APQO and GIIS.
"APQOs honourable recognition of GIIS quality practices in education further strengthens our mission to nurture young minds in a holistic manner. Acknowledgements from global excellence organisations like APQO stand testament to GIIS proven and benchmarked practices. Education is the cornerstone of making a better tomorrow. GIIS undeterred focus on facilitating unique learning platforms for our students enable us to mould global citizens with universal values", said Mr Atul Temurnikar.
"GIIS campuses in Singapore have relentlessly tested new avenues to provide fruitful learning opportunities for students. Their focus on imparting learning through academics, activities, sports and engagement in community welfare has enabled all-round character development of our students. I congratulate GCEE team led by Mr Shenoy, our Principals, Vice-Principals and faculty members on their success", said Mr Rajiv Vasudeva.
About GPEA:
The GPEA is the only formal international recognition of performance/business excellence. It is a strategic enabling tool for global performance excellence. It helps to strengthen the strategies and performance of organizations to succeed in the fast evolving global market place.
APQO
The APQO was founded and organized by National Quality Organizations in Asian and Pacific Rim countries including the American Society for Quality and was incorporated in the Philippines in 1985. It is a non-profit organization formed to be a primary mover for quality and continuous improvement for goods and services and quality of life in the Asia Pacific Region.

No Comments