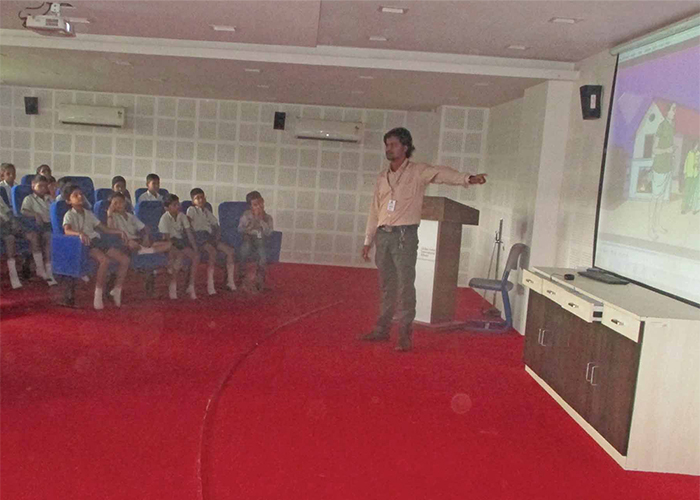 Gandhi Jayanti, India's 3rd national festival, was celebrated at GIIS, Surat to commemorate the birth anniversary of the father of our nation-Mahatma Gandhi. GIIS Surat celebrated Gandhi Jayanti with immense zeal, zest and patriotism. A special assembly was organized by the primary section to pay a heartfelt tribute to Gandhiji. Children were acquainted with the anecdotes about Gandhiji's Biography and principles of his life. The students got engrossed and enjoyed the living instances on Bapu's life. They were also familiarized with the significance of 'Satya, Ahimsa and Satyagraha' and its true importance in one's own life. The role played by Mahatma Gandhi during the freedom struggle of India was also shared with the students.
Going a step forward, to help children understand all about the freedom struggle, the students of primary section learnt about Gandhiji through a feature film on the biography of 'Gandhiji'. The film surely had an impact and positive influence on our students. Followed by a presentation to highlight the values and the ethics he strived to inculcate in the society, a lot was told through that feature film. Children of primary section were given to learn how he led our nation in the fight for freedom and sacrificed his life for social equality. The teachers even told children about the Dandi March and about the swadeshi movement, wearing homespun cotton clothes, and about how he stressed on leading a simple but noble life.
Global Indian International School (GIIS) campuses across Asia religiously follow teachings of Mahatma Gandhi as each campus propagates his values and life lessons. As a part of the Mahatma Gandhi Centre of Universal Values (MGCUV), each child is introduced with virtues, values, and morals that not only transform their character, but also make them a responsible citizen and individual at heart.