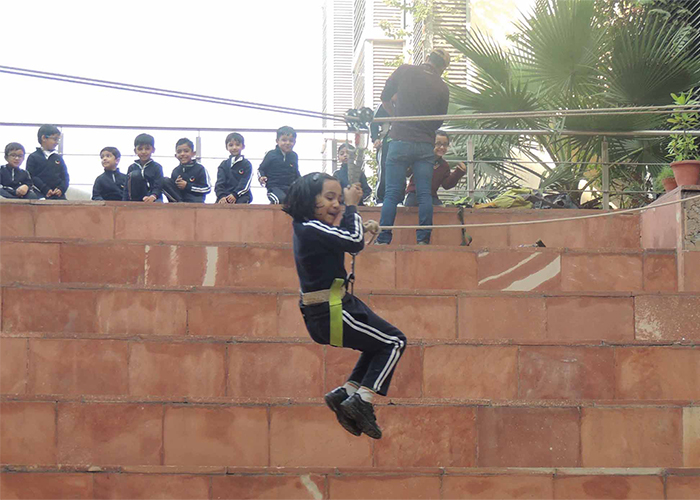 Children love to play outdoors cause its gives their creativity a great push and enables them to become self-dependent and responsible. Apart from giving them an opportunity of self-discovery, outdoor activities benefit children in more ways than imagined. They help in developing muscle strength, hand and eye coordination, develop communication skills, gain self-confidence, etc.
Keeping in mind the bucket of benefits outdoor activities have over children of various age groups, Global Indian International School (GIIS) Noida, in partnership with Rock Sports Academy, organized an Adventure Camp for the students of Pre-Primary and Primary sections in the school campus. The adventure sports were carried out across different days for various classes i.e. Pre-Primary and Grades 1-2.
Pre-Primary: The programme was carried out under expert supervision of Rock Sport team to ensure that each and every child gets to experience the plethora of activities under complete security. Variety of activities were organized for the tiny tots in the school including Commando Net, Burma Bridge, Tug of War, Wall Climbing, etc. Little stars of the pre-primary wing had an amazing time during the in-house adventure camp. Each activity was taken up and completed enthusiastically by our tiny tots, and completed every sport till the very end of the game. The most exciting part of our students was the commando net and Tug of war. The little ones also managed to cross the Burma Bridge quite confidently. Throughout the day the students were actively engaged in various activities leaving them craving for more.
Grades 1-2: learning beyond books always comes handy as we believe that children develop varied life skills at a better rate when exposed to outdoor activities for practical learning. Following the approach, adventure sports camp was also organized for students of grades 1-2 in the school premises and variety of activities were conducted to help them develop various skills like hand and eye coordination, muscle and brain coordination, motor skill development, etc.
In the camp, students were divided into different groups and each group was assigned an instructor along with the teacher. The students were briefed by their assigned instructor about the activity. Commando net, Burma Bridge, Dragon Move, Hopscotch, Tug of war, Zip line and many more activities were conducted in zip line.
Since children from Pre-Nursery to grades 2 were too young to be exposed to actual on site adventure sports experience, a mini camp was setup for them within the school campus, to give them the exposure that helps them in building cognitive and social skills at par.