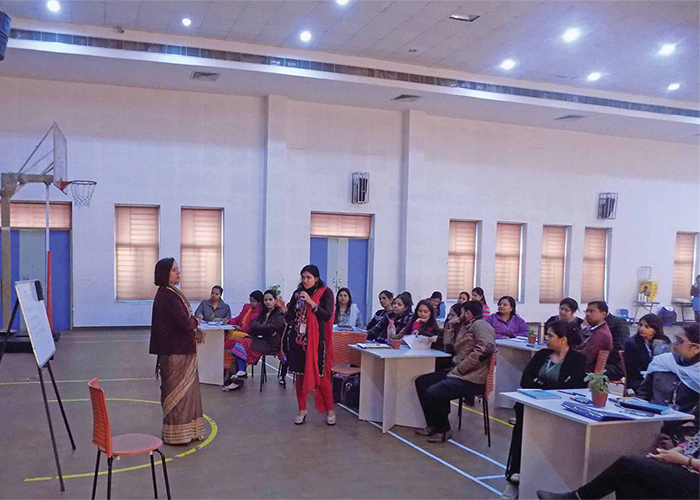 Life skills – as the word describes, are the abilities required to effectively deal with demands and challenges of life. Students and teachers both require life skills to lead a happy life with a positive attitude that enables them to become an engaged member of the society. But, what sprouts as a gap here is the mismatch between what students learn during lessons and what they face outside the classrooms. Teachers' often land up in situations where it becomes difficult for them to understand the special needs of children as they prepare them for the life ahead.
Encouraging teachers to develop their own set of life skills and use them to prepare the youth to face the challenges effectively, an interactive day long workshop was conducted by the Central Board of Secondary Education (CBSE). Ms. Santosh Vyas (Vice Principal, Sadhu Vaswani International School for Girls) was the guest lecturer for the day. Around 40 teachers from Global Indian International School (GIIS) Noida participated in the workshop to learn about various ways and techniques of developing and enhancing life skills among students across all age groups.
The session began with an ice breaker activity that enabled participants to understand the real objective of an elaborated session on Life Skill building. Each participant was asked to introduce themselves using an adjective starting from the first alphabet of their name. This way, everyone got an opportunity to get in the flow of the sessions planned ahead.
Beginning with the perspective building session on Life Skills, need-analysis questionnaire was shared among all, to help them analyse and choose one ability which they think best suited the set of situations given. This activity was aimed at bringing out the knowledge of basic skills required to face day to day challenges. Further, each one was handed with another questionnaire to answer questions in details (like what one understands by the term Life Skills, different kinds of Life Skills, why are they important, etc.) to test their knowledge about the subject being discussed. By the means of this distinctive set of activities, individual understanding of the concept, its techniques and ways of implementing the same were well established among each participant.
Advancing to session 2, the need of enhancing life skills among students was discussed in detail. Thinking skills, social skills, and emotional skills and their types were taken up in detail one after the other. Followed by the discussion, use of various techniques (like discussion, debate, role play, storytelling, etc.) to highlight the value/importance of life skills in students were explained and deliberated. Various groups were made and each group was given a role play theme to enact and bring out various life skills that the characters of the play represented.
Closing session 2, various tools to access life skills were also taken up in next session. The objective to be achieved, as per CBSE, by conducting this workshop, was to make teachers well equipped with knowledge that can help them manage and deal with innumerable (small or big) instances happening inside/outside the classrooms. The workshop not only made our teachers more sensitive and understanding towards students, but also helped in imbibing life skills in their teaching style so that children of today get education that adds value to their personality as a whole.