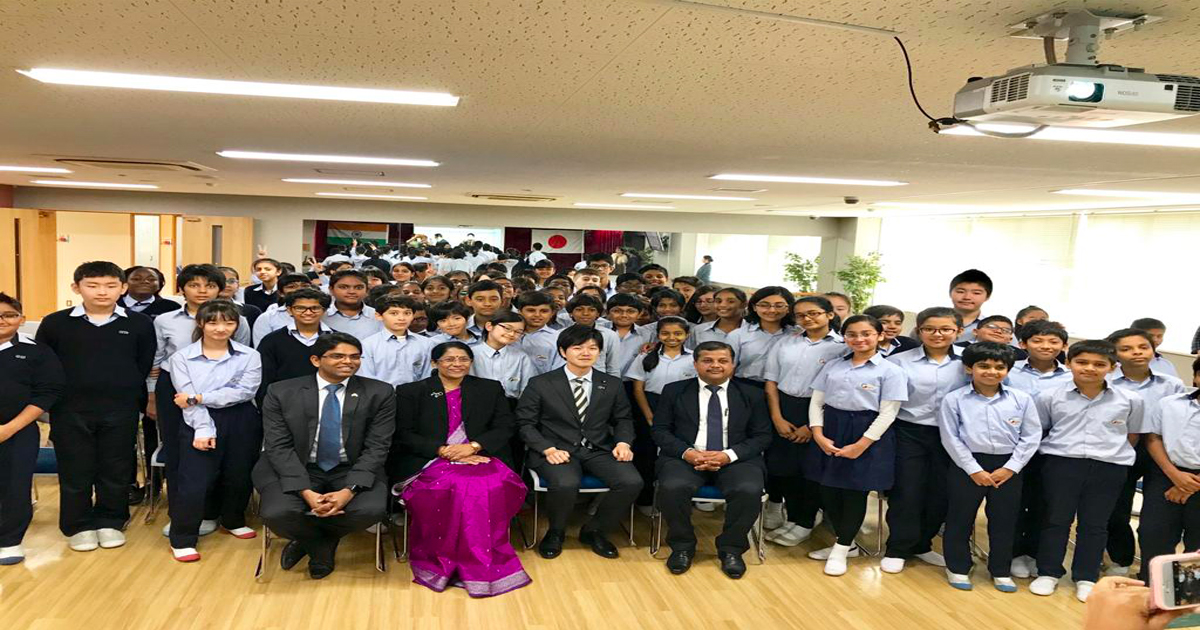 TOKYO, 4 DECEMBER, 2018: Honourable Mr Norikazu Suzuki, the Parliamentary Vice Minister for Foreign Affairs, Government of Japan, visited the GIIS HigashiKasai High School Campus in Tokyo on November 29th. He was accompanied by Mr Naveen Kumar, the Second Secretary at the Indian Embassy, Tokyo and other office staff members.
During his visit, the Vice Minister was given a tour of the school by the Associate Director Operations at GIIS Tokyo, Mr Prashant Bafna, the School Principal, Ms Rajeswary Sambathrajan and the Vice Principal, Dr Sandeep Singh.
The students of Grade 6B performed for the eminent guests with the recitation of verses from the holy books of Hinduism, Islam, Christianity and Buddhism. It was followed by a dance performance by Grade 3 students.
Later, while addressing the students, Honorable Mr Norikazu Suzuki commended the school, its students and teachers for their hard work and commitment. He wished everyone involved with the school well for the future and also extended an invitation to the students to visit the National Diet of Japan - the country's bicameral legislature.
The honourable Vice Minister is a member of the Liberal Democratic Party of Japan and also a Member of the House of Representatives. He has been elected 3 times from the Yamagata 2nd Electoral District. The Vice Minister was presented with a memento of a painting done by the School's Librarian, Ms Bipasha Roy in assistance with 2 students.