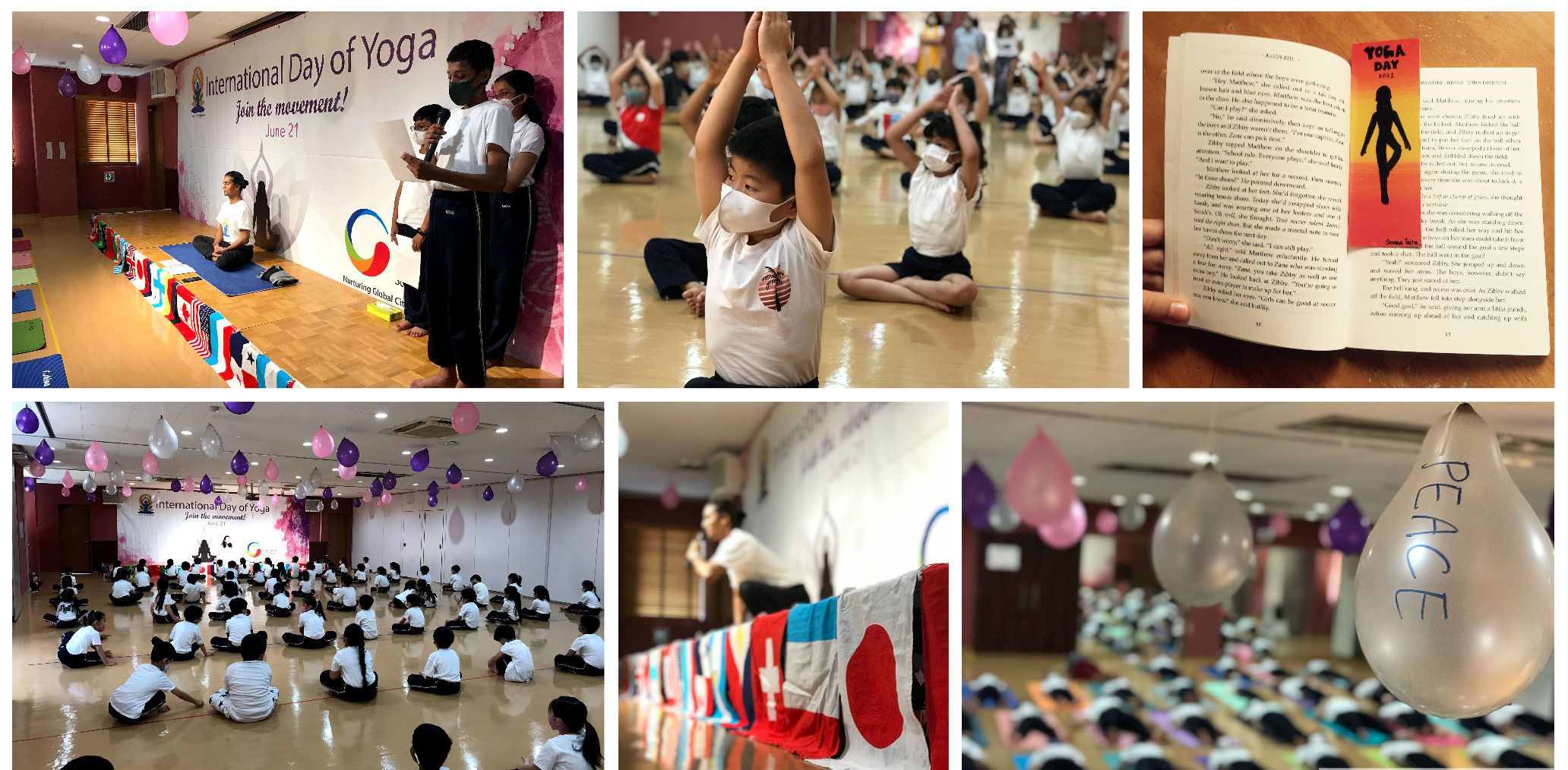 International Yoga Day took place simultaneously in both Nishikasai and Higashikasai campuses. This year, the special sessions were led by the guest teachers Mr. Ashutosh Singh for senior students in both campuses, and Ms. Miha for PYP students. The NK primary students had sessions with HK's regular yoga teacher, Ms. Noriko. In total, ten yoga sessions were held. They were all conducted in the school auditoriums.
The sessions for senior students had started from short speeches by children about the Day of Yoga, it's history and value.
It is a tradition for students and teachers to wear white T-shirts which represent purity, healing and protection and it is followed from the first celebration of Yoga Day in GIIS.
The atmosphere of unity and well-being was emphasized by the beautiful decoration of the school auditoriums.
In NK Campus, a Yoga banner in the center was illuminated with lights from different sides representing the goal of being together. The sides of the auditorium stage have been decorated with the flags of different countries, representing the internationality and unity of yoga. To top it all off, from the ceiling, balloons were suspended corresponding to the color gamma of the banner. On each balloon a word concerning yoga was witten. By the end of the day, every student in Grade1 had received 1 balloon with the wishes of Yoga Day.
To highlight the importance of Yoga Day, for the first time in the history of the school, 2 subjects - yoga and art were integrated together. The children had expressed their attitude to yoga by designing and the coloring of the bookmarks by the guidance of the art teachers of the two campuses Ms. Manika and Ms. Samantha.
The children had left the school very happy and spiritually full. It was an incredible day dedicated to yoga, wellness, a healthy way of life and, of course, unity.