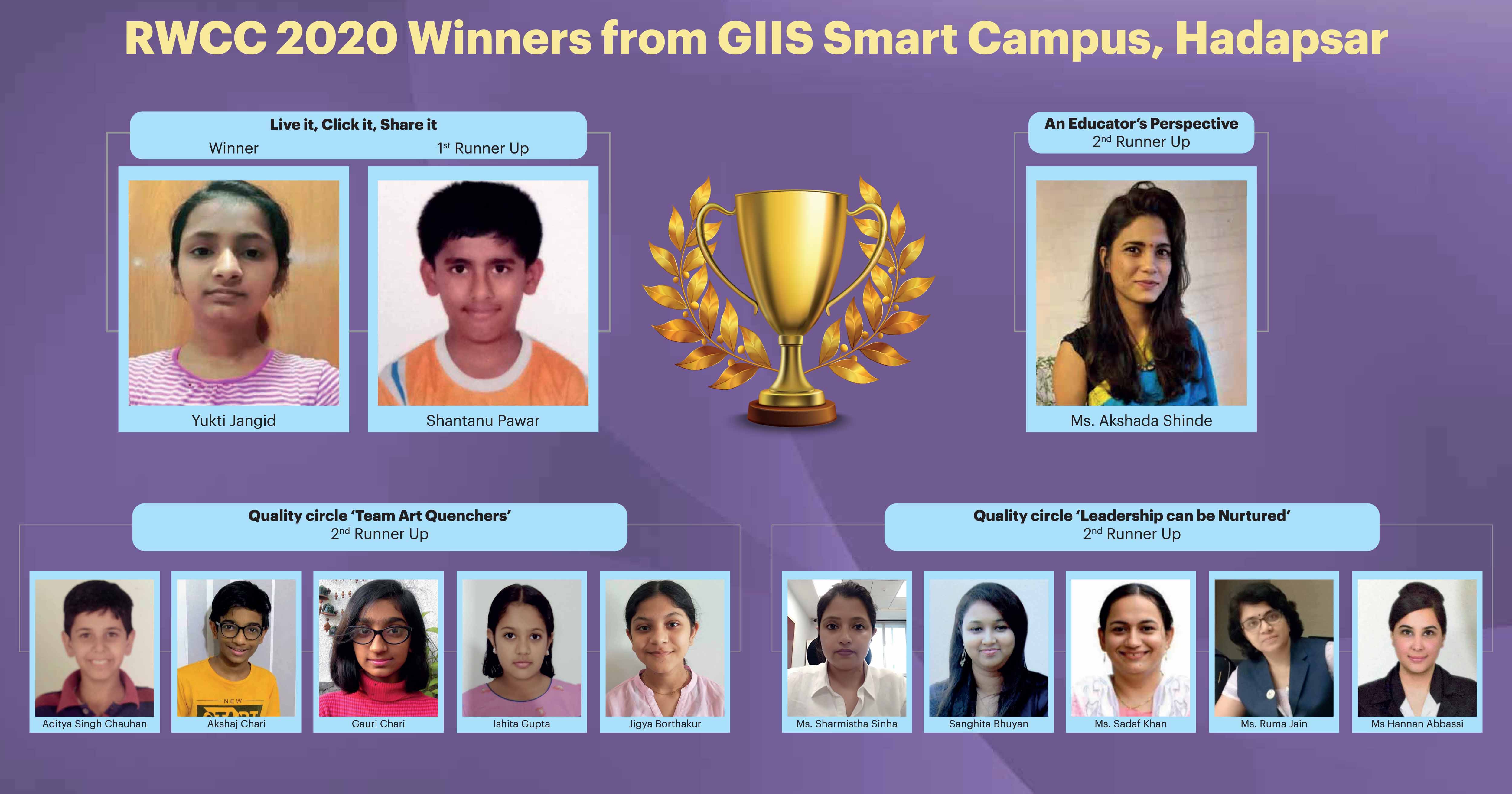 The Global Indian International School (GIIS), SMART CAMPUS, Punggol, Singapore hosted RWCC ((Real World Challenges Convention) competitions virtually this year on the theme "RISE" to demonstrate Respect, Integrity, Skill, and Empathy to be Leaders of Tomorrow.
The participating students were from various GIIS campuses across Asia, UAE, and Japan; GIIS students from India campuses i.e. Noida, Ahmedabad, Whitefield, Bannerghatta, Balewadi (Pune), Surat, and Hadapsar (Pune) participated with full energy and left no stone unturned to win awards in various categories of the convention.
More than 800 enthusiastic students from 14 GIIS campuses participated actively in 14 different competitions conducted across levels.
The convention started with the welcoming of judges and the introduction of all the campus through an online platform. The aim of the event was to bring together schools from Singapore and other Asian countries to celebrate creativity, entrepreneurship, leadership, and to sustain the same enthusiasm in teaching and learning, and also to inculcate problem-solving skills in the young minds.
This was a unique event where teachers and students got the chance to showcase their knowledge at the global platform where students and teachers shared their views on the topic chosen by them. Teachers also showcased their artistic and writing skills through 'An Educative Prospective' following the theme of the competition.
It was indeed a prestigious moment for teachers, students, and parents. Besides the competitive tide going high, there was also a stride of happiness across GIIS Hadapsar campus as the students performed exceptionally well and received tremendous appreciation from the respective Judges.
Let's take a look at the final result of RWCC:
Competition

Category

Participant (S) Name

Position

Live it click it and share it

Secondary

Yukti Jangid

Shantanu Pawar

Winner

First Runner Up

Quality circle 'Team Art Quenchers'

Secondary

Aditya Singh Chauhan

Akshaj Chari

Gauri Chari

Ishita Gupta

Jigya Borthakur

Second Runner Up

Quality circle 'Leadership can be Nurtured'

Teachers

Ms. Sharmistha Sinha

Ms. Sanngita Bhuyan

Ms. Sadaf Khan

Ms. Ruma Jain

Ms. Hannan Abbasi

Second Runner Up

An Educator's Perspective

Teacher

Akshada Shinde

Second Runner Up
Overall it was a unique experience for all the students as well as teachers as they participated together and won prizes in different categories. The event ended on a happy and exciting note.
Lastly, GIIS Hadapsar congratulates all the students and teachers for their big win, and thanks all the parents without whom this event won't be successful as their thorough support from home helped students to achieve success on a global platform.