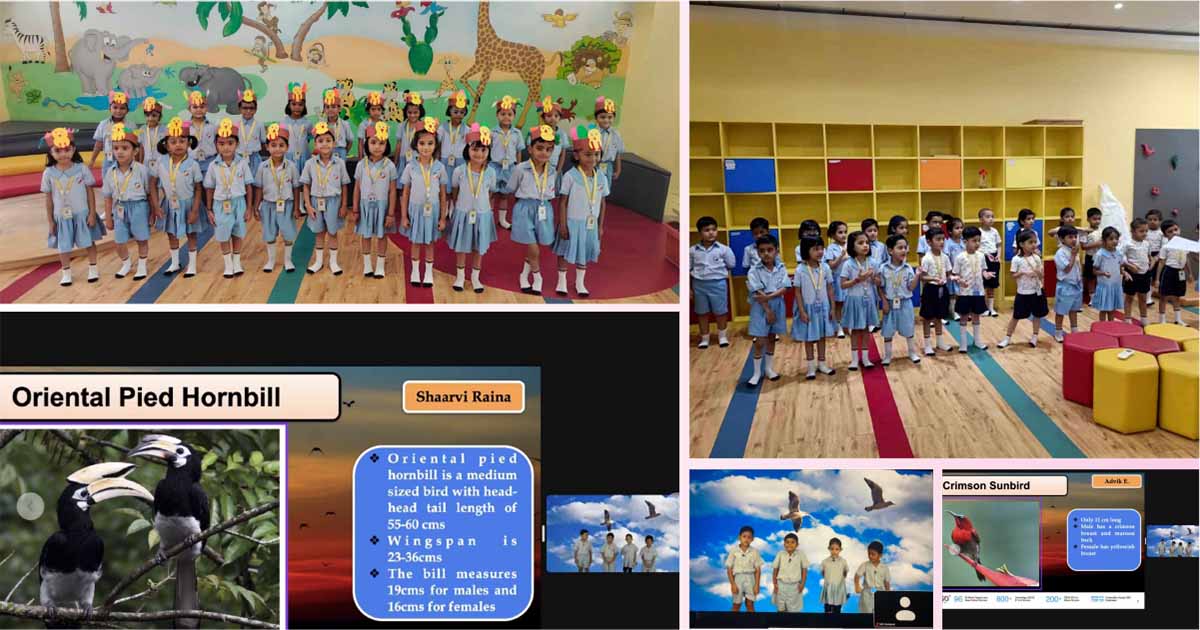 In a testament to the power of global connectivity and educational innovation, the Global Indian International School campuses in Hadapsar, Pune, and Punggol, Singapore, came together for a virtual session as a part of the Global Connect Series. This year's theme was, centered around the fascinating world of birds. The objective was not only to enhance and elevate the language skills but also to encourage innovative thinking among the participants. This gave students a fresh approach to learning for students on both sides of the digital divide.
Via the virtual platform, students from both campuses demonstrated their enthusiasm and expert knowledge of a wide variety of avian species. Ranging from perching birds to creatures of the night, from birds of prey to flightless marvels, and even including extinct and endangered species, these presentations offered a captivating glimpse into biodiversity. The presentations even underscored the dire necessity for conservation initiatives in this regard.
The event delved into the cultural significance of these feathered beings and their roles as national symbols. The engaging exchange enriched the understanding of all students on the avian world and its connections to their respective cultures.
Mrs. Vaishali Borde, Academic Head-Early Years and Co-scholastics inspired the participants with her motivating speech. She emphasized the transformative power of collaboration and the capacity to overcome challenges. Kindergarten-II students were the stars of the event. They showcased their dedication and hard work through a bird-themed program that mesmerized viewers from the participating campuses.
This virtual engagement not only deepened the students' appreciation for avian life but also provided a unique platform for them to interact with native speakers and embrace diverse teaching methodologies. Dr. D. Lakshmi Prasanna, Principal, GIIS Hadapsar shared a touching memory as she reflected on her own childhood marveling at the depth of understanding displayed by today's young learners.
Ms. Sujata Chatterjee, Coordinator of Pre-Primary and Grade-1, concluded the event with heartfelt vote of thanks to all participants, underscoring the Global Connect Series' role in creating memorable and enriching experiences for students from India and Singapore. This remarkable initiative has not only bridged geographical boundaries but has also nurtured a deeper sense of global awareness and collaboration among the future leaders of tomorrow.