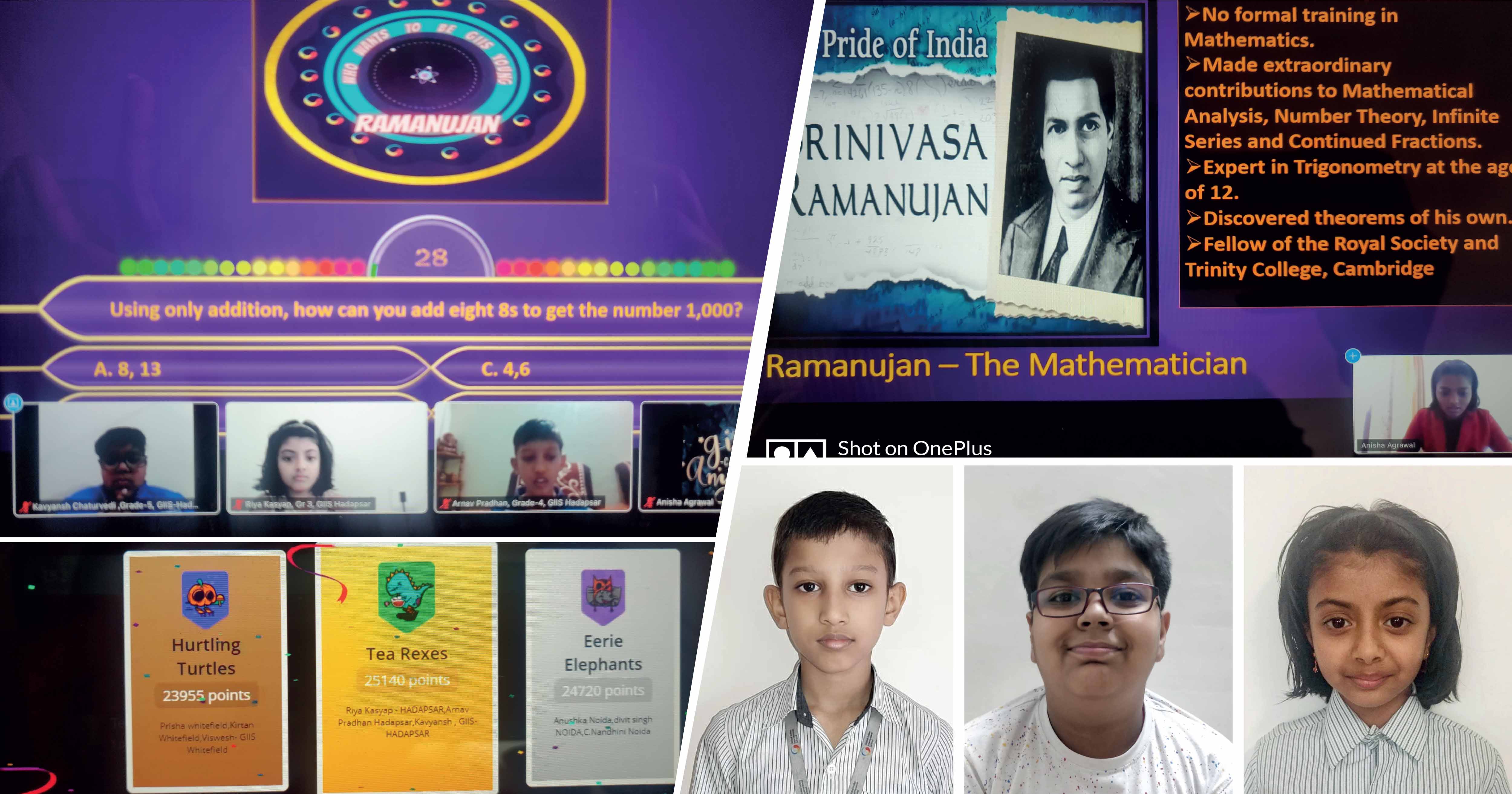 We are happy to share that students of Global Indian International School (GIIS) Hadapsar have won first prize in the virtual Inter-GIIS Ramanujan Maths quiz competition organized by GIIS Ahmedabad. The competition was conducted as a part of the Global Student Exchange (GSE) programme to pay tribute to the world-famous mathematician Dr. Srinivasa Ramanujan on his 133rd birth anniversary.
Srinivasa Ramanujan was born on 22, Dec 1887, and his birth anniversary is celebrated as 'National Mathematics Day' around the world. He was known as the shining example of a 'Mathematic Genius.' In order to mark his birthday, the competition witnessed the massive participation of GIIS students. Students from various GIIS India campuses i.e. Surat (Gujarat), Noida, Hadapsar (Pune), Bannerghatta (Bengaluru), Balewadi (Pune), and Ahmedabad (Gujarat) participated with absolute preparation to sweep off the victory in the quiz competition. The competition had six participating teams who exhibited their knowledge on the subject during the competition.
GIIS brought a world-class event for the school students through Ramanujan Math Quiz Competition. This competition was specially organized for the primary segment and participating teams were from grades 3 to 5. Students got an opportunity to participate and explore the world of Maths with several rounds in order to make them understand the significance of Maths in the day to day life.

The winning team from the campus had Riya Kashyap (Grade-3), Arnab Pradhan (Grade-4), and Kavyansh Chaturvedi (Grade-5) as participants representing GIIS Smart Campus Hadapsar. With their confident attitude, the students answered all 5 rounds correctly. With this, GIIS Smart Campus Hadapsar was announced to be the Winner of the Ramanujan Quiz Competition.
The competition consisted of an array of interesting rounds such as mental round, reasoning round, visual round, puzzle round, and rapid-fire round. It was an interesting competition that engaged students from the beginning till the very end.
It is indeed a great moment for all of us at GIIS Hadapsar. Here's wishing a big congratulations to the winning team and their mentors.